AFFLUENT RECORDS WINS AN OSCAR
By Khalid J. Strickland a.k.a. Dirty Angel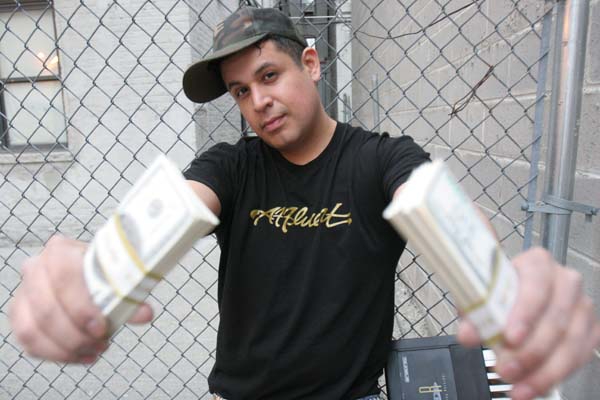 Who says rhyme doesn't pay?
     After earning his stripes as an elite A&R rep and producer at music-industry powerhouses Def Jam Records and Violator Management, Oscar Sanchez is having success as a four-star general, heading the newly-minted entertainment label Affluent Records. 
     Affluent's highly-anticipated maiden project, released in the summer of 2006, is a collaborative album between acclaimed political-rap duo dead prez and the late, great Tupac Shakur's running mates, The Outlaws.  The tight LP, ominously titled "Can't Sell Dope Forever," features stellar guest appearances, including cameos by Bone Thugs 'N' Harmony member Layzie Bone and San Francisco rap sensation Messy Marv. 
   The album's songs are not only embedded with a much-needed and substantial theme, but the well-crafted lyrics are backed by top-notch beats that will summon heads to rhythmically nod.  With hip-hop music currently stuck in a quagmire of tunes that glorify dealing drugs, the fledgling Affluent Record's first release is a bold and refreshing one.
    "We expect this release to be one of our top distributed projects for 2006," stated Mike Bull, VP of label relations at Caroline/EMI Records, shortly before the company put Affluent's flagship album in stores worldwide.
     During an exclusive interview with Insomniac, which took place in his East Harlem residence, Affluent CEO Oscar Sanchez detailed some of the factors that he believes will make his label a force to be reckoned with for years to come.
     "We artist develop," Sanchez said in reference to what seems to be a lost art in today's recording industry.  "That's the only way I know how to work.  We work with artists to give them a better deal than most indie (labels) out there.  We operate like a mini-major… we have the outlets that the major labels do and we utilize the same routes.  You'll always get good production from us.  It's always about the music and we're a producer-driven company that happens to have a great brand.  I have the experience.  I've done it for everyone else (at my former companies) and everyone else has been successful.  Now I'm going to do it for us."
     Oscar's tenure at Def Jam served him well as he absorbed invaluable lessons from Def Jam's co-founder, living-legend Russell Simmons, and other giants of the music business.
     "Def Jam was an education that I could never pay money for anywhere in the world.  It was the greatest education I'd ever gotten in my life.  Russell is the greatest personality, the greatest marketer, the greatest promoter… he would make you feel at ease and educate you with everything and make you love it even more."
     Sanchez also gave due respect and praise to the former Chairman and CEO of Def Jam, Lyor Cohen ("very savvy and intuitive"), Violator Management CEO Chris Lighty ("taught me how to conduct business properly") and the Co-CEO of Violator, Mona Scott ("one of the most impressive people who made a change in my life musically"). 
     "These people took in a street kid with a lot of hustle and ambition and gave me a direction, a focus and let me grow," Sanchez added when discussing his former employers and mentors.  "They brought me in as part of their family."
     In addition to the "Can't Sell Dope Forever" album, Affluent will also release music from Curtis Young a.k.a. Hood Surgeon, a talented rapper/producer from Compton, California who is the son of rap music deity, Andre Young, better known to the world as Dr. Dre. 
     "(Curtis Young has) a company called So Hood Records and we're going to be putting out his first two albums," Oscar said with excitement.  "He produces, he arranges… he's such a complete artist and you can tell that it's definitely in the blood.  Curtis is really good even if he wasn't Dre's son.  He looks like Dre and he has Dre's tone, like Dr. Dre 2010.  He's so much like his father that he's got to show his own way without being under his daddy's wing.  (Hood Surgeon) is definitely the future of Cali."
     A sneak preview of Hood Surgeon's unreleased songs reveal speaker-rattling, Cali-funk beats topped with hard, aggressive lyrics delivered in a Dre-like baritone.  Although his voice is very similar to his famous father's, Curtis Young has a tight flow that is all his own.
     Armed with a cache of solid hits, seasoned veteran Oscar Sanchez has made a confident charge onto the music-industry's battlefield.  There's no doubt that he will lead Affluent Records to victory.
     For more information visit www.affluentrecords.com.
     For more stories and other work by Khalid Strickland a.k.a. Dirty Angel visit www.supremearsenal.com and www.myspace.com/blackpacino.