WITH A FRESH START, STYLES P  READIES "SUPER" NEW ALBUM
By Khalid Strickland a.k.a. Dirty Angel
The streets may now rejoice…
When I first interviewed Styles P, around this same time last year coincidentally, the self-proclaimed "hardest rapper out" wasn't in the best of moods.  Although Styles' sophomore album, "Time is Money", was set to be released on Interscope Records, the moment was bittersweet.  That's because his excellent solo debut album, "A Gangster and a Gentleman", had been released four years earlier in 2002.  With the airtight singles like "Good Times" and "The Life" (featuring Pharaoh Monch) getting burn on the airwaves, Styles P literally struck gold with "Gentleman".  However, when it was time to follow up that commercially (and critically) successful work of art with another album, Styles' record label failed him miserably.  When it came to releasing "Time is Money", Interscope dropped the ball more than a NY Jets wide receiver.  When the album finally hit the stores in 2006, after numerous delays, the label treated it as an afterthought; promotions for the outdated project were slim-to-none and "Time is Money", as decent as it was, slipped under the radar.
A year later, things have changed for the better.  Styles is no longer stuck in the Interscope quagmire and his third solo album, "Super Gangster, Extraordinary Gentleman", will be released by Koch Records on December, 4th, 2007.  The LP's beats are provided by a Murderer's Row of top-notch producers: Pete Rock, Alchemist, Swizz Beats, Hi-Tek, Vinny Idol and Green Lantern all contribute heat.  The cameo appearances are equally impressive: Ghostface, Black Thought (of The Roots), Beanie Siegel, Akon and Ray J pitch in with their considerable talents.  I've heard a few joints from this album, such as the asphalt-hard "Super Gangster" and the guitar-driven banger "Holiday" featuring Max B; they were all red-hot and I'm looking forward to copping it.  I, like a legion of others, consider Styles P one of the best lyricists in the game.  When Styles gets together with his LOX brethren Jadakiss and Sheek Louch, the streets rejoice; the Yonkers trio, aided by their raw chemistry, brings the ruckus on every track they bless.  Of course, Jada and Sheek show up on Style's latest offering, and the results are requisitely off-the-chain.
During our recent interview, I could tell that Styles P is very excited about "Super Gangster, Extraordinary Gentleman". The man also known as "The Ghost" made it clear why he's so psyched this time around.  And for all you gossip-hounds out there, Styles let me know how he felt about his former D-Block crew member, J-Hood, who not-so-amicably left the fold.
Dirty Angel: What is this album going to add to your long catalog?
Styles P: Lyrical domination… once again.  I mean, it's just something I think will add to my… what the hell would you call it… uh… damn, I forgot the word right now.  It would just add to my umm… my living legend status.
Angel: No doubt… your legacy.
Styles: Legacy (laughs).  There, you hit it.  It's a fancier word for legacy but I couldn't find it.  I wanted it to be too fancy so I lost the word (laughs).
Angel: What was your mind state when you started working on this new joint; in light of what happened with Interscope and all, did you approach the making of this album any differently than your other stuff?
Styles: I think I kind of used the approach I used on my first album, but just in a more mature light, and more open-minded.  I think the second album I kind of made in thought… I was coming home from jail; I knew "Good Times" had a lot of good commercial success.  I wanted to try to capture that success in there.  But it was way off-timed, mad things went wrong with the label and all kinds of s**t happened, so I just said, "You know what, I'mma just use the organic approach".  Keep it natural, just pour out my soul.  I kind of was catering mainly to Styles P fans… the people who really copped the mixtape and people who really stand by me.  And I was thinking, you know, they'll just spread the word and the others could get it or they could not get it.  I just really wanted to make some good, strong music for the people that I actually make the music for again.
Angel: So are you more satisfied with "Super Gangsta" than you are with "Time is Money"?
Styles: Yeah, definitely so.  I'm ecstatic actually. I ain't even satisfied, I'm delighted.  I'm excited, like… I'm counting down the days 'til December 4th, and not on sales-wise or anything.  I wouldn't care if that s**t… I mean, I do care, don't get me wrong… I ain't gonna cry or do nothing if it's not a huge selling success.  I'm just excited for my fans to get that kind of music and just to put my imprint on making that kind of music, on what I do.  I'm saying… this is what I do no matter what.  Through any circumstances, this is what I do.
Angel: I've seen you on the street several times and when I see you, you don't have a thousand bodyguards around you; it's just usually you and your peoples from D-Block.  What separates Styles P from the rapper who needs all that security around them 24-7; that needs n****s to go to the bathroom with 'em and stuff like that?
Styles: Being outside.  I mean, I'm out there.  I'm not compromising who I am for nobody and 'cause of what I do.  I'm not gonna run 'cause of what I do.  'Cause if I wasn't successful and doing what I do, and I was on the streets and I didn't make it in something that was legal successful, then most likely I would be successful with doing something illegal.  And then you got to face the same kind of, you know, the same kind of thing.  What, you gonna run and hide? So I take it as if I was successful doing anything I'm not going to run and hide.  I'm part of the streets… before I made it I was outside, all wee hours.  I was going to places, other people's towns, doing other things. So why, when I make it and I do this, would I stop?  I mean, I'm not scared so why would I carry myself like I'm scared? If something's gonna happen, it's gonna happen.  If it ain't, it ain't.  I ain't gonna run neither.  I mean, I'mma run if I gotta gotta run, but if I ain't gotta gotta run I'mma stand there and do what I got to do as long as it calls for.  I ain't gonna stand there and go to jail, though. 
Angel: So when you had that infamous conversation on Hot 97 with 50 Cent, you were very civilized when you spoke.  Ya'all manned up and ya'all talked very professionally with each other.  Do you think you could've done that eight or nine years ago with the mentality you had?
Styles: No way.  No way.  No way possible it would have worked at that time… all them years ago.  I mean, as you get older you get wiser.  As you go through more and you get sued, and you gettin' arrested here and there… and paying lawsuits and paying lawyers… and just being away from your family…   and pressure and always having a headache or… just always having that negativity around you, that s**t gets troublesome, man.  It's real troublesome, plus like I said, the name of the album is "Super Gangsta, Extraordinary Gentleman" (because) it comes to a point to where you have to handle yourself in a smooth, cool way.  Where people don't even know it's like… supposedly no street s**t or no gangster s**t.  Like, if it's the Mob, they kill each other's people, and then still sit down and have a talk.  That's what a real smooth G will do, you understand what I'm sayin'? So it comes to a point where your s**t elevates, you just take it to a different category; a different level.  I don't have nothing to prove anymore.  I'm not egotistical.  If it's not worth it I'm not getting in it.  If my family's not in danger or my life is not in danger I'm not really trying to do nothing stupid, 'cause it ain't worth it.  I proved my point, I can walk the streets; they know I ain't scared, they know what I've done for years.  So there's nothing to prove.  I just want to be a man; a good businessman with good business ethics.  I just want to show I can sit down at the table and be cool with other people.  'Cause truthfully, before rap, you get into other s**t when you in the hood and you getting' into s**t… and somebody else lives a couple of blocks away… and you doing whatever you doing and they doing whatever they doing.  And, somehow you got to get over that and live through it or go all the way to war… or somehow meet in middle terms or… you know what I'm sayin'? So if you can go through that for years and years of your life, to not be able to talk to somebody you could actually get a dollar with, that would be kind of stupid of me.  I'm not young and dumb like that.
Angel: In light of the last major label situation you dealt with as a solo artist, you've stepped yourself up into a better situation creatively and financially.  What was your mind state as far as, you guys as a collective (The Lox) signing with Def Jam?  I mean, you signed with a major…
Styles: We ain't all signed with Def Jam; Kiss signed with Def Jam.  LOX, we ain't sign nothing yet.  It's just Kiss with Def Jam, we're just still working on the album.
Angel: Is there anything you would change about the rap game right now, or are you satisfied with the direction that things are going in?
Styles: There would be more emcees in it… everybody would be more lyrical if I could change something.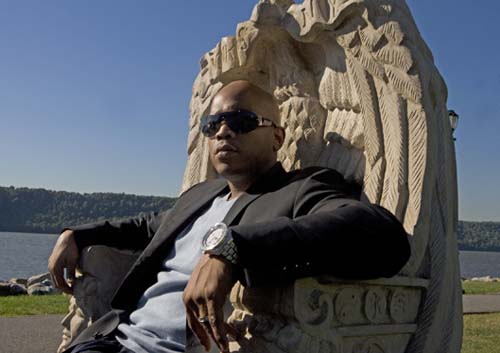 Angel: Hip-hop is under the heaviest attack it's ever seen since its existence.  If you could send one collective message to all these people that are detractors of hip-hop… people who say hip-hop is the reason Mike Vick did what he did, bringing it up in all kinds of stuff… what would you say?
Styles: F**k ya'all.  Stop being prejudiced, 'cause that's just underlying prejudice; underlying hate, not understanding.  Because if that's the case, understand that most of hip-hop is influenced by most of
Hollywood; most of the movies.  Listen to most of the rapper's names, listen to the most of what they talk about, listen to most of their references.  And get the f**k out of here and go attack Hollywood, the video game peoples.  Attack all the f****n' TV shows that show f****n' all kind of sexual s**t in the f****n' broad daytime.  Attack all of them people at the same time, then come say some s**t to us, and then maybe we might care a little bit.  Other than that, f**k ya'all, get out of here.  Ya'll wasn't trying to help nobody before they made it with rap, why would I… I don't even give a f**k about them people 'cause before rap, you wasn't coming to nobody neighborhood.  Where was you when they didn't play (Styles P's revolutionary song) "I'm Black"? Where was you going, "Yo, let's get 'I'm Black' spun"? Where was you going, "Yo, let's get Talib on the radio, let's get dead prez on the radio, let's get Mos Def on the radio"? You just saying what to get off the radio.  Say what to get on the radio and maybe I'll give a f**k about what they're saying; other than that, f**k them.  This is real hip-hop, like this is back in the days hip-hop.  F**k the critics, like we would say back in the days, man.
Angel: I got one last question, man, and I know you've heard this a thousand times today.  But I just got to ask just in case you're down to answer it.  Do you have any thoughts on the way J-Hood handled his departure from D-Block?
Styles: Yeah, I think that was dumb wack.  He spoke to me two weeks before he did all that internet s**t, or the week before.  I told him he could go and everything was cool and all that.  He did it for just what you and everybody's doing right now; to ask about him, to get some publicity.  I mean, it worked for him… it was smart, but it was corny smart.  I think, it was corny, dry and matter of fact, it didn't work for him 'cause he shot himself in the f****n' foot. 'Cause the DJ's ain't f*****' with him now.  And I got to tell people all the time, "Nah, I don't want him beat up".  Every day somebody coming to me, "You want me to beat him up or smack when I see him?"  I'm like, "Hell no".  I wish him the best, though, still.
Angel: So you have changed then (laughs)… from eight or nine years ago.  You're handling things more diplomatically.
Styles: Nah, I mean… we grew him up, he's young.  It ain't really worth it, he ain't built like that.  Sometimes it's only worth going to war if you got a worthy adversary.  It don't look right going to war against the wrong adversary; I learned that too over the years. 
Angel: Makes sense.

Styles: You got to have the right opponent to go to war.
For more information on Styles P, visit www.myspace.com/stylesp.
For more stories and work by Dirty Angel visit www.supremearsenal.com and www.myspace.com/blackpacino.