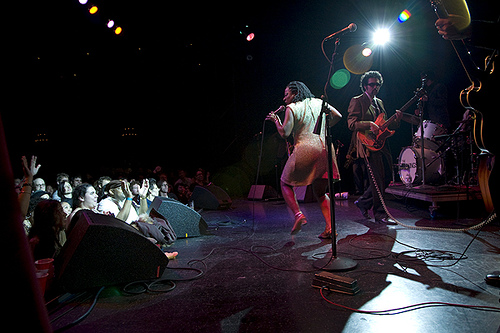 Sharon Jones is one of the most inspirational artists on the show circuit. It's not just her soulful voice, nor is it her hard and heavy dancing on stage, nor her soothing retro sounds that are reminiscent of class acts such as '60's female groups The Shirelles, The Marvelettes, The Dixie Cups, and others, that makes her such a powerful inspiration. Even Jones' uncanny, pure energy and movements, that seem to be channeled from the late James Brown, don't make her such a rousing figure. The inspiration is her story: A struggling singer who worked at a state prison as a correction's officer, and although she has always dreamed of singing for a living, the break didn't come until 2002 when she turned 49 years old. That's when she recorded her first album with a tiny record upstart out of Brooklyn called Daptone Records.

In the age of "American Idol," major media entities, and the overall discriminatory mentality of those who decide on who's going to be "hot," it is purely a welcome breath of fresh air to see Sharon perform and thrive in a business that blatantly mandates that only the young, commercially beautiful, and ultra thin are worthy of being given a chance. An industry where only artists like Fergie have a shot at attention. These are the barriers that would normally keep out a non-traditional, massive talent. However, since her debut, these things haven't affected Sharon in the slightest; she hits every stage as if it was the last performance ever, anywhere.
Sharon works her audiences hard too, and they love it. And, she pushes her band even harder; and, they submit by delivering pure funk and soul music that would make you think the door to the venue was a portal back to a 1964 sweat box party.
When Sharon Jones and The Dap Kings perform- the joint is jumping. Their album "100 Days 100 Nights" is crammed with music that will put you through an array of ups and downs, however, the sound is so powerful that regardless of how Sharon's stories touch you emotionally, you can't help but to smile when you realize that this is new music. That's another part of the inspiration. Just when you thought record labels, media conglomerates, and American Idol have finally tapped the last nail on the homogenized coffin of American music, here comes Sharon to make it all right; at least while she's on stage, or on your player. Knowing that her back up band, the Dap Kings, has been recruited to play with Amy Winehouse from time to time, and that Sharon was recently cast in a movie with Denzel, is promising. Who said that even immense talent isn't enough to break someone into the business once they've passed a certain age? It might have been something I picked up from watching a network television talent show series, or from listening to commercial radio. Luckily, I first saw Sharon performing on a viral Internet site. That sparked the interest, not commercial rotation. That's why I got the album. That's when I knew I had to see her live- music television had nothing to do with it. When I caught the show, she didn't disappoint. More importantly, she reminded me why I love music. A fondness that, with few exceptions, had become a waning memory. Today, I'm motivated to find more acts with talent. Whether they're 14 or 72, if the music touches me, that's all that counts- that's inspiration. Israel Vasquetelle