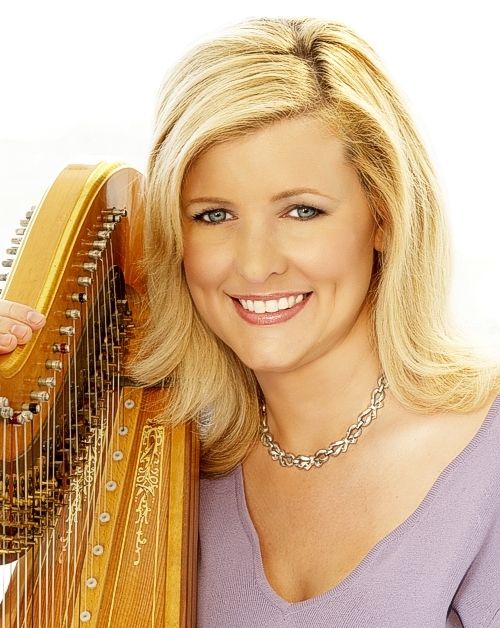 Merry Miller is an extraordinary artist and businesswoman. Don't take my word for it, she was named in Crain's New York Business magazine "40 Under 40" issue. She is the former Executive Vice President of Programming at the Learning Annex, and instrumental in building the organization's revenue from $3 million to $100 million in three years. During that time, she coordinated visits from the who's who of business and entertainment. She's coordinated visits from some of the biggest leaders in the business, from Donald Trump to Russell Simmons. If that's not impressive enough, Elle magazine named her one of the most "intelligent women in the world." She's co-hosted The View, and has appeared on numerous news network programs. Beyond all that, Merry is a talented Harpist, and when she's not performing, she runs companies that among other things, focus on selling her niche music releases.

In this interview, entrepreneur and former Miss Dallas discusses her career and provides plenty of information for anyone looking to succeed in the music industry. Regardless of the genre, Merry drops some significant gems for aspiring artists and music entrepreneurs. There's plenty to learn from harpist and indie mogul Merry Miller.
Talk to me about how you transitioned from musician to entrepreneur.

Merry Miller: I'll start with this. I did piano when I was five at a school district in Texas, Mesquite. I heard when I was about eight years old that the school district had a harp. So my mother was musician. She put me on the waiting list for school's harp. I got the school's harp when I was 11 years old and I started finding my first professional gigs when I was 13.
Now here's how I ended up in business. I was always business-minded, and I was always a musician. When I was 15 years old, I qualified for a program at our school to get out early – basically to graduate early and start university.
So, I called the booking agent in Dallas that was booking me for the majority of my gigs, Carol Marks, a pretty substantial agency. I asked her if I could just do anything in the office. So when I was 15, the music agency brought me in to be an intern and I started in the mailroom. That's how I began the business side of it.
I would play the harp at night. In the afternoons I would work in that agency, and I would go to high school in the morning. And then my senior year of high school it was the same thing. However, I would only go to high school until 10 in the morning and I would go to college until 2 and then I would work in the music agency and, of course, you know, play the harp on weekends.
That's how I began. And by the time I was 18, I moved up to junior agent. Then I decided to continue on that route. I always knew I either wanted to be a music agent or head of programming – well the president of a TV network was my ultimate goal. So what Carol allowed me to do was really learn all the steps of it because she also got me involved in music management when I was about 18 years At around 19 years [old], started working fulltime as an agent. And I did that until I was 23. Here's where the business part really kicked in, when I was about 17 years old in Dallas, I started playing all the corporate events for Sumner Redstone and Viacom.
So I was already making all the connections, plus from the music agency side I had a pretty vast Rolodex. When I was 23 years old I moved to New York and I called Viacom. The executives at Viacom got me a job as a media buyer so I could learn that facet of the business, and I started at Gray Advertising.
But my entire career has always come from people I met either at a harp gig or through playing the harp. Then I left for a year to tour as a harpist. I still played the harp every weekend professionally and throughout the week, but I always had a salary position as well.
So the harp was my side business depending on which year it was of my life, I'm 40 now. It was either fulltime business, and then I would have an executive side job. Or, I would have an executive position and the harp as my side, but I never let it go.
Then I worked in music management with 21st Century Artists for a little while. Artist management was kind of fun. And then I left that to go to another music agency. And then where it really flipped and turned was around 1999-2000. I got a call asking if I would be interested in coming to work for Rock and Roll Fantasy Camp when it launched, booking all the artists that would end up teaching, the famous artists that were involved in it, Pete Townsend… I took that job, and the partner in Rock and Roll Fantasy Camp moved over to be president of Learning Annex when Bill Zanker the original founder in the 70's bought it back in 2000. So Harry brought me over with him from Rock and Roll Fantasy Camp to Learning Annex and that's when I started as a programming director in 2000.
I quickly moved up to Executive Vice President of Programming for the entire company. And then I built the company – I really built that company from 2002 to around 2006 was the bulk of it. And then I made Crain's 40 Under 40 in 2007 for taking the company from $3 million to over $100 million in less than 2 years.
Merry Miller: I learned that content is king. The more areas of marketing that you do in any business, the more insurance you are for success. Something will hit if you just hit everything. And then the same goes for my career. Now during my busiest times with Learning Annex, I had to cut down to where I could only play harp on weekends. I left the Learning Annex two years ago.
I was going to work at ABC… and [it] didn't work out. All my friends had babies. I mean every girlfriend had a baby like within six months. I noticed that whenever I played the harp they would stop crying.
Interesting.

Merry Miller: So I decided to cash out my IRA, a good part of it, [and] just work for myself and really build my own companies. I wasn't sure exactly what I wanted to do, but I knew that the harp could at least pay my rent if I really focused on making money with my music rather than just playing my music for the love of it.
Do I still play the harp because it's my heart? Absolutely, but I also have to treat it very seriously now as a company. I recorded Dream Baby, and it was a beautiful album.
Then once I got a CD, I really had to learn the music industry. I was so naïve, I thought you just make a record and then I'll just go meet with the buyers at Best Buy and Babies R Us and of course they'll order thousands of them- that's the way it goes.
You can't just walk in and meet a buyer at a major retail store, you need a distributor. You can't get a distributor until you have enough buzz and media behind you to prove that if they put you on store shelves you can move the units. So then I had to focus completely on promoting Dream Baby and building that brand.
And did you secure distribution?

Merry Miller: I did. I have a couple of distributors. Here's how I did that: I took out a loan at the bank. It was a little easier to get money then. I got a $1,800 booth at the largest baby show in America. And that's where I did- I really played and debuted, and got into enough small boutiques that I got a little bit of meat behind the brand.
Now what I did that helped me start generating cash immediately is I called every mommy organization in America from Hot Mom's Club to Big City Moms to Metro Moms – there's all these online. I went online and Googled "mom clubs," and they're everywhere. Ignore the porn that comes up, but there's a lot of mommy clubs. And I started playing the harp for free at every single baby event that I could in New York and in Texas.
Then I started playing every flea market festival from Canton to family festival days to Fourth of July celebration at the park. I took that harp and started playing outside, and I started selling my CDs. I would sell them two for $15. At first I would sell maybe $100 a day. Now I do over $1,000 anytime I play anywhere (in CD sales), consistently, if not more.
I learned how to nail exactly what I needed to play before I ever walked into a recording studio so that I'm not practicing on time. I had to learn as a business person how to get my costs as low as possible. I had to learn that I need to go to Uline.com and get all my supplies at cost- from bags down to CD covers. I used to burn my discs myself. Now obviously I manufacture them. I use Crystal Clear. I have not found anyone cheaper.
It's important for musicians to really be cognoscente of every single dime that they spend. I took all the money I had and then I made my second album Classical Baby, and then I did Holiday Baby. So by December I had three albums and I got a gig playing at one of the busiest malls in America, selling those three CDs. That gave me about $25,000 cash in one month. I could take that $25,000 cash, go into the recording studio and starting building out my adult album.
Wow, so you're saying that you sold more music in a direct manner than you did in traditional retail?

Merry Miller: Absolutely. I played 10 to 12 hours a day at that mall just to get tips and sell CDs. I made really nice postcards – it's like $70 to get 1,000 of them, and I had my graphic designer do them. They're two sided, 5×7 glossy full color with media accolades, my photo, my website, and a coupon code. I started giving those postcards out to everyone in the mall and then that's what caused my iTunes sales to start rising. It's what caused my Amazon sales to start rising. It built me.
It branded me. That's how I really started getting people to know who I was- harpist Merry Miller. Then every one of these baby events that I did, I would make sure that I had a banner ad and a link, or at least a banner ad with my name, and my album titles really large on every one of these websites of these mommy clubs.
Is that something that you bartered because you were performing for free?

Merry Miller: I bartered because I performed for free. To date I have never paid for advertising.
That's phenomenal.

Merry Miller: The other thing that really, truly helped to build my brand is I was able to get my baby CDs to every celebrity and mommy. I would just be like, "here's my best selling, Dream Baby CD. I promise you it will help your baby sleep. Medical studies back it up, love Merry." That's how I started getting celebrities to start using my product.
I had friends help me, but I spent probably 80% of my time in January and February doing nothing but writing a good press release, one sheeters on my product, and pitching media to just start getting as much media as I could.
I was able to get Good Morning America. I did the Today Show. I was able to get Fox. I was able to get CBS. I was able to get Parent's Magazine. I was able to get E! I have all the mommies in Hollywood using my product. And, I have all the mommy clubs as partners.
That's awesome.

Merry Miller: I worked fulltime… I happen to use Tunecore to upload all of my CDs. I found that they're the best service. CDBaby… They're wonderful too.
But if you want to build your online brand you got to get on every blog that you can. You have got to have a load of postcards with your name on it and you just put them everywhere. If you have a friend that works in a clothing store, ask to put your postcards on the counter. Put them up on boards at grocery stores, at gyms, at health clubs. It's not rocket science and it doesn't take money, it just takes time.
If we could go back to the celebrities, did they reach back out to you?

Merry Miller: Yes, many of them did and I got some wonderful testimonials. Most of them did through their management. I also called and followed up. Again, I had personal relationships with many of them, but I also called management and I just said "Hi, it's Merry Miller. I sent my best selling Dream Baby CD to Jessica Alba. Is it working? Is it helping her baby sleep? Does she enjoy it?" And most of them will be like "Yeah…" Or, they would say, "Let me get back to you or call me next week." And I'd call them back and they would say "Yeah, she got it, she loves it."
You mentioned that you were selling to boutiques.

Merry Miller: Right, now I do have retail. But again, you cannot get retail unless you have a distributor.
And a distributor will not take you unless you can prove that you have enough marketing stamina to move your units off the shelves.
I started with about three boutiques and then I went up to about 14 boutiques just on my own, just friends and cold calling. But I will tell any artist do not go into any boutique and pitch a buyer until two things happen: You have got your manufacturing costs down as low as possible, and you have a fantastic one sheeter with celebrity media that you have behind you, and a really good press kit.
You don't walk in and just hand them your CD and say "Here's who I am." No, no, no and the reason why I say get your costs down, because after I had had Dream Baby out for about three months I managed to get a meeting with the head buyer at Babies R Us. When you meet with a major buyer like B.R.U. ,Target, or Wal-mart, if you get there, you're not going to get Wal-mart I don't believe without a distributor.
But when they meet with you they're going to tell you what they are going to pay you for your CD. And what she told me they were going to pay for Dream Baby less than what I was currently paying for Dream Baby before I switched over to Crystal Clear.
And you've got to sit there and look at them and either take their offer or not take their offer. So don't have that meeting until you know how low you can go on your price to them and still make money.
I managed to get Babies R Us, so that was great. At that meeting I'd only been in business for about three months and I did not have my production costs as low as I needed to or my distribution center set up to even ship 4,400 units a month. Major stores require that you ship a certain way. Like for instance, on a certain pallet and certain width and it's just like any other product that you move. So don't go down that road – the distributor will handle that. You pay a distributor and they take 25% or 20% of every sale because they handle all of your shipping. You just seem sharper if you really go in there and you're prepared for that level.
Do you find that you're moving a lot more units outside of the traditional music stores?

Merry Miller: Yes…absolutely. I have a couple of pretty large retails, but my boutique sales are overriding my major stores. Like Barnes and Noble isn't as high… I have a little over 4,000 boutiques now.
Wow!
Merry Miller: But I got the majority of my boutiques through my distributor. …my baby CDs and my religious CDs (I have Christian CDs on the harp)… I also have relaxation CDs on the harp. I'm a niche market. I'm not Beyonce. I found that my CDs sold extremely well in boutiques, so I went with a distributor that specialized in boutiques everywhere, and had a strong presence at like gift shows.
I went to hear a phenomenal band at The Green Mile in Chicago, Al Capone's' old jazz club. At the very end of the show the lead singer said, "Oh we have CDs for sale." She didn't direct anyone to a table. I just went up to somebody that was with the band and I said "Where are your CDs for sale?" They said, "The bartender." So I went to the bartender and I waited about 10 minutes. He said, "We only take cash. We can't even process a credit card." I just thought this group is losing…
It's common sense.
Awesome. Regarding social networks, how do you use these to reach out directly to your audience?

Merry Miller: I do really well on social networks. Now I'm ashamed to say I do not maintain my MySpace page. I only have so much time in the day. However, I have a fan page on Facebook, and it does really, really well. I will send out alerts. I frequently go on and update. I'll update things like classics for everyone now available on iTunes and I'll give the link. Or Angel Baby now available on BabyMusicToGo.com, and get really good sales from there. I also do email blasts at least once a month.
I have about 6,000 people in my Rolodex. I use Constant Contact. But I don't just send an email blast, I have a great graphic designer, he charges me $50 to do a really sharp looking HTML email with the links. I send it out about every six weeks. Just a quick like, "here's my latest CD. Here's what's goin on." Or things like, "you know, Elizabeth Hasselbeck loves Dream Baby." I always make a good subject line, and then send it out. That always gets me between $500 to $1,000 worth of sales.
Do you feel that the sale of the CDs are going to eventually be less than the digital music? Obviously that's something where the industry has been seeing a trend.

Merry Miller: No.
No?

Merry Miller: No, and yes and no. I believe that my relaxation CDs and my romantic CDs, yes I think that the digital downloads, because people are putting them on their iPods to relax. That will outsell my actual units. But the baby CDs- no, digital will not outsell because too many people give baby CDs as shower gifts. And in the baby world for some reason parents still are not quite at a place to download baby music. They want the real CD. I think that's because the majority of baby music for parents are played in cars.
So when cars become digital, then yeah you'll see more and more downloads. As far as religious CDs on the harp, same thing. They're given too often as gifts. And the demographic that listens to harp music, and to songs like Amazing Grace tends to be…50 to 80 years old.
So a different demographic.

Merry Miller: That's my biggest. Yeah a completely different demographic, and I don't believe that they are downloading songs on their iPod as much.
You have had such a diverse background. I can't help but ask at least one question regarding your time at The Learning Annex.

Merry Miller: Yeah building that company.
Of all of the folks that you had the opportunity to see, present, and speak can you think of- and I'm sure there's probably plenty, but could you think of one very important lesson, or something that you took away of great value from seeing one of these presenters speak?

Merry Miller: Yeah, there were so many. I mean, Russell Simmons has given me great life advice. But Donald Trump repeatedly drilled into me, "multiple streams of income." I never understood what that meant, because I was still of the mentality…that you get a job on a salary, and you get a direct deposit every two weeks and that's your life. I never wanted to be an entrepreneur.
Now, I always wanted to be a musician and I wanted to be the president of a TV network. Now I own six companies and music's just one of them. But I didn't realize until I lost my steady income and had to go out there on my own. I didn't have to, but I quit The Learning Annex because I wanted to pursue my own thing, and I wanted to sell a TV show.
And I wanted to play the harp more. And I wanted to launch my baby business and build it to a Baby Einstein level. I'm quickly on that way with Dream Baby. But that was probably the best advice; just have multiple streams of income. And it's too – we live in such a great country to start a side business that there is no excuse for someone to be 100% dependent on that 9 to 5 job.
I don't care if you do customer service on Saturday and Sunday from your home or you just blog on the side if you write. It's so easy to start a website. It's so easy to start a side business now.
I mean even in the last couple of years from when I started, it's phenomenal. I cringe. You don't even want to know what I had to pay when I built the original BabyMusicToGo website compared to what I paid whenever I rebuilt it about four months ago- night and day. Two years ago what it cost to build a website was like $8,000 to $10,000 for the most basic. Now you can get them for $1,000, and they even have e-commerce on them.
And, in online marketing, the general public didn't have access to those call centers in India- those firms that only charge $100 a week to do fulltime marketing. Now we do, within a year they've opened their doors up to the public.
Of course, and ultimately it's about taking yourself seriously as a business?

Merry Miller: Very serious as a business. And to sit down and to think "how am I going to make money here?"
Merry Miller: It's about how many units you sell. And I will say this it doesn't get easier… I've gotten into major retail stores. Now my focus is, what am I going to do to move my units?
I've got so many different angles I can do on my story. But then what you do is you work very closely with sales rep. I just got into three hundred LifeWay stores, which is a pretty big account. So now my next interview that I do in February…
I'll go on air and rather than saying, "find me on HarpMusicToGo and iTunes," on that particular interview…I will say, "you can pick up my CDs at any LifeWay store in your city." The sooner that I move my unit off the shelves, the sooner they reorder.
Merry Miller: If you're just willing to, you know, invest in your time, wait tables, do whatever, but just start playing everywhere and building a buzz. Dave Matthews, before he had a change to explode- his management held out the reins that he continue traveling all over the country and build a huge following before album debuts on shelves so that people already know who [they] are. And it's very hard because Dave could have gone ahead and launched at that time. But he sucked it up and did what needed to be done.

Be Your Own Record Label, Sell Your Album Online with TuneCore