They never really went away; these iconic musicians have been rocking stages globally non-stop. However, they have a new album out now called "Into The Future." As one would expect from a group that breathes metal, punk, hard-core, funk, and reggae into their music, fans should delight at the opportunity to revel in another eclectic sonic experience. One track featured on the album is dedicated to the late great Adam Yauch (MCA of the Beastie Boys) who produced their "Build A Nation" album. It's been said that the Beastie Boys named their band with two "b's" because they were such huge fans of the Bad Brains.
The cover for "Into The Future" features an aesthetic that pays homage to classic art from their time on Roir Records. The design is the work of Shepard Fairey, the famed artist that created the mysterious "OBEY" stickers and stencils that seemed to be on streets everywhere at one time. He also designed the iconic Obama "Hope" poster.
After thirty years of rocking underground sounds, it's safe to say that if you listen to punk, hardcore, or even other genres outside of the mainstream, they've likely influenced some of your favorite bands. Their new album is available now on MegaForce Records.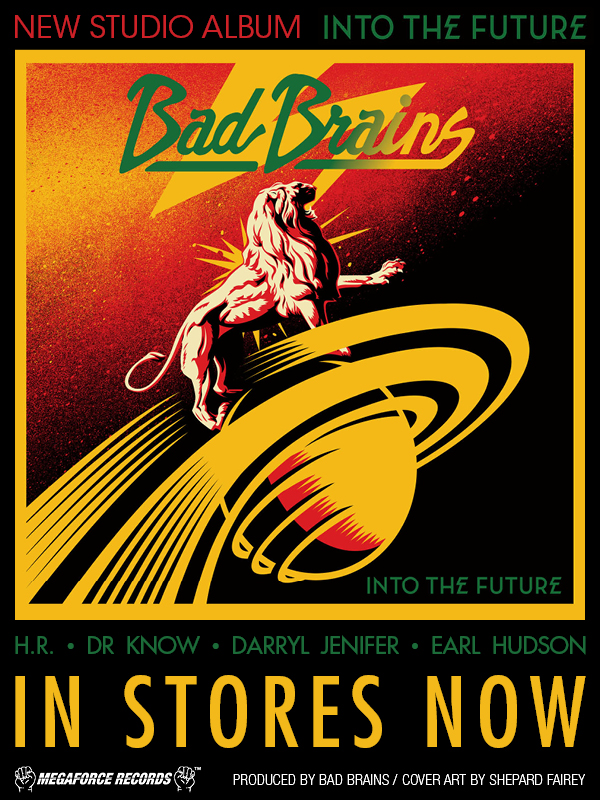 Bad Brains – Into The Future by Transdreamer
Here are some great interviews with the band conducted for Insomniac Magazine:
http://insomniacmagazine.com/2011/10/2011-bad-brains-interview-iconic-punk-rock-stars-offer-a-legacy-of-lessons-for-longevity

http://insomniacmagazine.com/2010/11/insomniac-magazine-interview-with-music-icons-bad-brains/