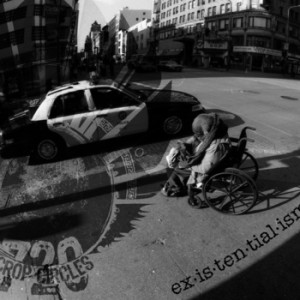 CROP CIRCLES720- EX-IS-TEN-TIAL-ISM
Echoes of Oratory Muzik
West Coast Hip Hop specifically California has a deep and stoic history. It hit its peak around the mid 90's and was very much a part of HH's golden era with artists emerging out of every crevice in Cali. After this period, the culture began to expand domestically and globally, but a shift began where mainstream and commercialism completely took over and many lines were blurred. Although this shift hurt Hip Hop as a whole, authenticity from the underground still prevailed. Artists were still putting out material, but had to be more clever as far as making money off of their craft. Today, with creative marketing/advertisement and building a loyal fan base, artists don't have to struggle as much. Enter Crop Circles720, a group of young hungry artists on an up and coming indie label named Echoes of Oratory Muzik who use social media among other tactics to spread their message.
Comprised of members like Ailments a.k.a. The Word Man, Clockwize, Artformz a.k.a. Arty Swell, Subtrax and Nat Key Cole, the group came together rhyming on the ill streets of La Puente Cali. In 2004, they released their debut LP "Organized Suicide" and although it didn't garner the attention it deserved, it was an extremely dope album. The latest release "Existentialism" is a 16-track monster that ups the ante from their previous release. It still has a dark/abstract tone but this time they chose to add more elements and injected more melody without sacrificing who they are. Their styles as individuals are almost incomparable. Though the member's styles are strikingly different from each other, on this full-length, they have some of the best group chemistry you'll ever hear.
The intro track typifies that Crop Circles720 sound, but it's "Cypha 720" that relies heavily on a few but effective layers: a simple and static-laden drum beat, classic yet off-kilter strings and an additional beat line; something akin to what you would hear from Freestyle Fellowship, but with more structure. The stellar production was provided by Abomination Oner, 1985R, Roger Moll's, Nameless, Vitality and Frank John James. While it seems like a basic equation, the combinations in which each producer creates and arranges the tracks suffice for several production gems. In considering this, the combo of the production with the emcees (like cameos from Memphis Reigns, Neila, Acid reign, Snagneto, Oddeo and Verbal ILL), works well through out the album. Overall each track gets you well acquainted with the group and their psyche.
I like music that provides a gritty, dark introspection, provided it's done well. The main emcees rap with unfettered fire, attacking everything from social issues to the music industry. Without a doubt, CC720's work is something to explore deeply, especially for the wonderful sounds generated lyrically and production-wise. For those with patience and a sense of superior hip-hop, "Existentialism" cannot be ignored. It is simply too remarkable. Support Crop Circles720 by visiting their site and BUYING the LP @ http://eoomuzik.bandcamp.com/album/existentialism. Bless C73 Eternal