YUGEN BLAKROK- RETURN OF THE ASTRO-GOTH Iapetus Records
Since the early 90's I've had a knack for thinking outside the box to find obscure dope Hip Hop (and Heavy Metal) in obscure places. Not only was I hunting down talent in the U.S. other than NY or Cali (like Minn., Indiana, Wisconsin and KC), but I was also looking overseas as well. My first introduction to Hip Hop from South Africa came from the group Cashless Society and their single "Blaze 'tha Breaks." Once this single dropped in 2001, I was introduced to a treasure trove of talent coming from the Motherland.
"Return of the Astro-Goth" is just a small sample of the deep pool of talent oozing out of S.A. I'm gonna get this of off my chest right now, if this review doesn't pique your interest and make you go and purchase a copy, you're seriously missing out on a great album! Arguably Yugen Blakrok has easily created one of the best albums of 2013. Hip Hop has always been geared to be universal so, the fact that this release is an international one shouldn't stop those from knowing who Yugen Blakrok is. With one listen, you'll have no choice but to find out what other gems Iapetus Records have cooking in their laboratory.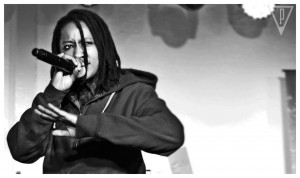 The best way to describe Yugen's style is simply imagine a female version of G.U.R.U. of Gangstarr (voice-wise) and lyrically falling somewhere in between Bahamadia and Jean Grae. Overall her voice is soothing but keeps your attention throughout the 15 tracks. Her subject matter switches from abstract to raw, in-your-face wordplay and allows one to contemplate the industry and her stance as an accomplished artist in this world. Production is done by the supremely talented Kanif Sebright as he concocts beautifully dark and lush/boom bap backdrops for Yugen and her counterparts to feast on.
What I love most about the LP is the fact that Return of the Astro-Goth is not cameo heavy (only two tracks), which allows the listener to really get to know YB and what she's about. You'll really find yourself getting immersed in her lyrical skills and subject matter.
I've found it extremely hard to pick a favorite track but if I had no choice it would be "Constellations" because it has an appearance from the talented and late ROBO the Technician but there are way too many other tracks I could pick. Other neck breaking tracks include, "Tetra Tarantula", "Beastleague", "Neo.Vadar" and "Darkstar" to name a few. Now you have to excuse me for gushing all over this album but I literally played it 7 times before reluctantly ejecting it out of my CD player (I like to keep it moving). I'd also like to highlight the mega-fresh album artwork done by Kobus Faber. The artwork really adds to the vibe of the music, making "Return of the Astro-Goth' a complete and classic piece of art! Please support Yugen Blakrok and Iapteus Records buy purchasing this manifesto either in physical form, digitally or both @ http://iapetusrecords.bandcamp.com/album/yugen-blakrok-return-of-the-astro-goth  By C73 aka CyPhEr73
P.S. I have to send a huge Rest-In-Power to ROBO the Technician who recently passed. He was a great talent and if you want to hear awesome music check out his self-titled LP also available at Iapetus Records.