It's been over 20 years that Insomniac Magazine's been shining a spotlight on the best in Hip Hop. Here's to another year of the music, vibes, and culture we all love. Wishing you and yours a great 2018!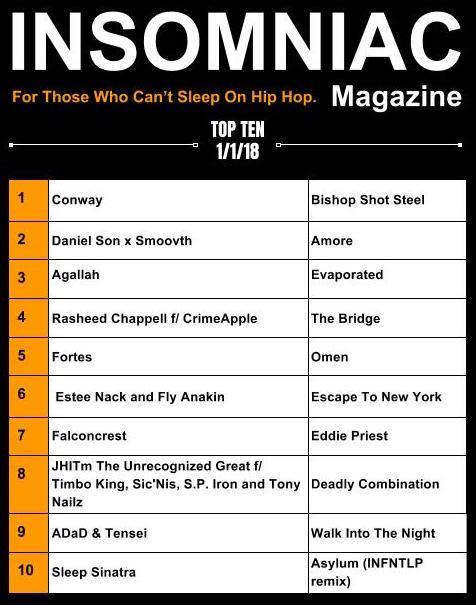 1) Conway – "Bishop Shot Steel"
Another impeccably raw track from Conway The Machine's "G.O.A.T." album makes Insomniac Magazine's top ten; this time, it's the prime slot. The lyrical titan runs an all out assault on the fickle and fake. This rugged rap gem could have easily served as a soundscape on the score for the infamous flick the title nods to. Wack rappers keep your distance, everyone else proceed with caution, "Bishop Shot Steel."

2) Daniel Son and Smoovth – "Amore"
The Historian crafts a banging soundscape titled "Amore." Hip Hop rhyme moguls Smoovth and Daniel Son lace it with their signature lyrical linguistics. You know the year's not done till these underground kingpins drop eleventh hour jewels.
3) Agallah – "Evaporated"
Lyrical and production mastermind Agallah brings through another stellar sonic blast. Check how the Hip Hop vet rocks on "Evaporated."

4) Rasheed Chappell f/ CrimeApple "The Bridge"
Rasheed Chappell and CrimeApple are lyrically murderous on their joint freestyle laid over the legendary "The Bridge" beat at D.I.T.C. Studios. This bombastic banger has Hip Hop nostalgia, impeccable wordplay, and street swagger for days. Hit play and tell somebody.
5) Fortes – "Omen"
The self-produced banger by multi-talented Fortes is straight Hip Hop heat. The producer, emcee and engineer reveals a dope track, and that's certainly a good "Omen" for 2018. Check the flavor.
6) Estee Nack and Fly Anakin – "Escape To New York"
Estee Nack and Fly Anakin brought through some fly and gritty rap steez as they "Escape To New York." Check the smooth grooves as these talented Hip Hop creators flex their skills.
7) Falconcrest – "Eddie Priest"
Slick raps over distorted guitar laced riffs with a 70's spy flick vibe are the sonic steez flexed on "Eddie Priest." Check Toronto's Falconcrest and producer Sadhugold intriguing track, and spread the word.

8) JHITm The Unrecognized Great f/ Timbo King, Sic'Nis, S.P. Iron and Tony Nailz –  "Deadly Combination"
JHITm The Unrecognized Great gathers a lyrical commando unit that's well equipped to drop linguistic bombs on the opposition. This raw posse cut features Timbo King, Sic'Nis, S.P. Iron and Tony Nailz. Check the sonic strategic movements on "Deadly Combination."

9) ADaD & Tensei – "Walk Into The Night" 
ADaD & Tensei fuse blues and Hip Hop on the sonically pleasing "Walk Into The Night." This creative blend of sounds is a welcome approach in a genre that's riddled with lackluster growth. Check for the duo's upcoming "Danger Us" album dropping on January 12th, 2018.

10) Sleep Sinatra – "Asylum" INFNTLP remix
Sleep Sinatra's lyrical dexterity is on full display on the celestial string infused INFNTLP remix of "Asylum." The track's other worldly vibe beckons to be used on film score.