Although there are varied styles represented on our list each week, common elements for nearly every selection are the work ethic and dedication to the art that these talented Hip Hop artisans put into their craft. Take time to spread the words and sounds of these practitioners to let the game know, authentic Hip Hop is indeed in full effect each week on Insomniac Magazine's Hip Hop Top Ten. Salute!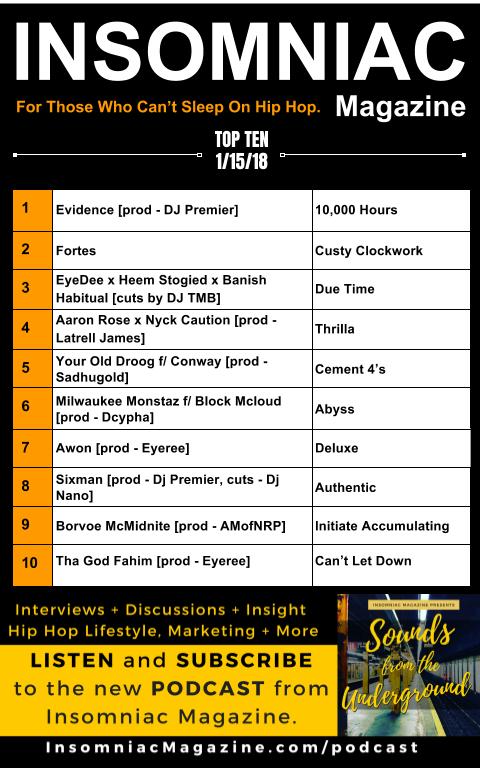 1. Evidence – "10,000 Hours"
Commandeering the top spot, Hip Hop veteran Evidence once again delivers pure unadulterated Hip Hop. The rhyme master expertly spins impactful verses on this exquisite boom bap constructed composition by production legend DJ Premier. Check the pros as they show how they've put in their "10,000 Hours" of Hip Hop mastery.

2. Fortes "Custy Clockwork"
Near the top of the top ten is lyricist and producer Fortes who churned out a slow-burning banger entitled, "Custy Clockwork." Here, the talented emcee spins sonic speech-craft on this formidable piece of prose. Hip Hop's evolved into so many flavors, this one is delectable.
3. EyeDee f/ Heem Stogied x Banish Habitual – "Due Time"
Prolific producer EyeDee cranks out dope beats like there's no tomorrow. On this hard hitting banger he brings phenomenal emcees Heem Stogied and Banish Habitual along for stellar lyrical reinforcements. Don't sleep, "Due Time" is a fire track with saucy scratches by DJ TMB.
4. Aaron Rose x Nyck Caution – "Thrilla"
Aaron Rose and Nyck Caution ignite the game with an amped performance on "Thrilla." The Latrell James constructed banger is a strong addition to Pro Era's stellar body of work. Hit play for some thrilling Hip Hop.

5. Your Old Droog f/ Conway – "Cement 4's"
Lyrical monsters Your Old Droog and Conway drop thick as concrete bars on "Cement 4's." Producer Sadhugold constructs  potent production on this Hip Hop heavy.

6. Milwaukee Monstaz f/ Block Mcloud – "Abyss"
Milwaukee Monstaz and Block Mcloud come through with a hard hitting track with impressive rhymes and a banging beat. Dcypha is impactful on production duties. Spread the word, the Monstaz are on a tear.
7. Awon – "Deluxe" 
Awon comes correct on a silky smooth Hip Hop "Deluxe" track constructed by boom bap architect Eyeree. The minimalistic composition hits the spot.
8. Sixman – "Authentic"
Sixman drops music video for a straight up boom bap banger. With DJ Premier at the production helm, you know this track is official. Don't sleep on a slice of "Authentic" Hip Hop.

9. Borvoe McMidnite – "Initiate Accumulating"
Impeccable game spitter Borvoe McMidnite aka The MC of the Night crafts potent rhymes over this AMofNRP production. Check the sonic steez on "Initiate Accumulating."
10. Tha God Fahim x Eyeree "Can't Let Down"
Tha God Fahim lays down his poignant and powerful brand of prose on "Can't Let Down." For the second time on this week's top ten, boom bap overlord Eyeree gets a production on Insomniac Magazine's exclusive list. Ready for some potent Hip Hop, hit play.