2018 is off to a powerful start with a bevy of top notch Hip Hop tracks to put on repeat. There's no shortage of impressive lyrical and production talent in the game, it's just that mainstream sites don't dig too deep to find the gems. In our 22nd year of shinning a spotlight on the best in quality Hip Hop, we keep the tradition going. Here's another Insomniac Magazine Top Ten filled with  the cream of the crop. Spread the word- Hip Hop lives.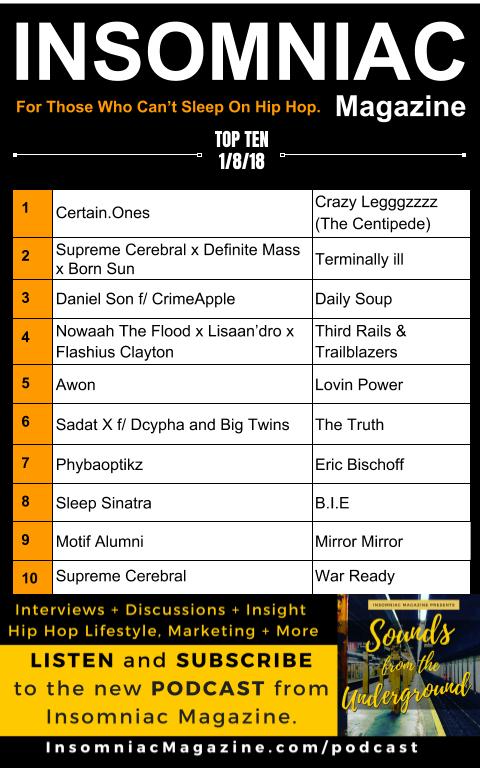 1. Certain.Ones – "Crazy Legggzzzz (The Centipede)"
Certain.Ones takes the top spot this week with another slick track featuring this impressive Hip Hop collective. "Crazy Legggzzzz (The Centipede)" is loaded with lyrical wordplay, punchy puns and skillful deivery. Producers Neto and DJ Skar construct an irresistible head-nodder that Hip Hop heads will be sure to keep on repeat.

2. Supreme Cerebral x Definite Mass x Born Sun – "Terminally ill"
Supreme Cerebral, Definite Mass and Born Sun put in work on this impressive D.Mar produced banger. "Terminally Ill" features irresistible synths, a tight beat and top tier lyricism. Let's keep it simple, the track is ill. There's no doubt, this collaboration will be on repeat. Check their techniques.

3. Daniel Son f/ CrimeApple – "Daily Soup" 
Daniel Son sets the table with a sizzling and savory serving of Hip Hop on this impeccably seasoned Giallo Point joint. Additional ingredients include raw raps chopped out by CrimeApple. Proceed with caution, "Daily Soup" is hot.

4. Nowaah The Flood x Lisaan'dro x Flashius Clayton – "Third Rails & Trailblazers"
A tyrannical triad of titans rip the this track. Farma's production is potently proper, so proceed with caution, the third rail is lit.

5. Awon – "Lovin Power"
Awon shares impactful prose on what moves him in Hip Hop and life. "Lovin Power" is an immensely soulful track produced by Soup. Now, this is a movement we need more of- positive inspiration.
6. Sadat X f/ Big Twins and Dcypha – "The Truth" 
Hip Hop veteran emcee Sadat X drops jewels with his signature flows on this Big Bob Pattison finely crafted track with cuts by Dcypha. Queens heavy rap game spitter Big Twins holds down the second verse with hard hitting rhymes. Take note, this is how the pros break down "The Truth."

7. Phybaoptikz – "Eric Bischoff"
Crate Divizion mic wrecker Phybaoptikz rocks well over the smooth grooves crafted by Stu Bangas . "Eric Bischoff" is a laid back by lyrically deadly track. Proceed with caution or get body slammed.

8. Sleep Sinatra – "B.I.E"
Sleep Sinatra delivers expertly executed flows of prose on this solid dose of hipness crafted by top tier producer TCOR.  Don't sleep on this jazz laden soundscape called "B.I.E."
9. Motif Alumni – "Mirror Mirror"
Motif Alumni drops a track with soulful production while juxtaposing smooth yet gritty verses. Check the steez on "Mirror Mirror" with Motif playing double duty on mic and co-production with Falling Down.

10. Supreme Cerebral is "War Ready"
Supreme Cerebral drops lyrical bombs on this Pete Twist sonic assault with cuts by Dj Ragz. Authentic Hip Hop claims another victory courtesy of this boom bap battalion.