Insomniac Magazine Exclusive: Interview with MC WhiteOwl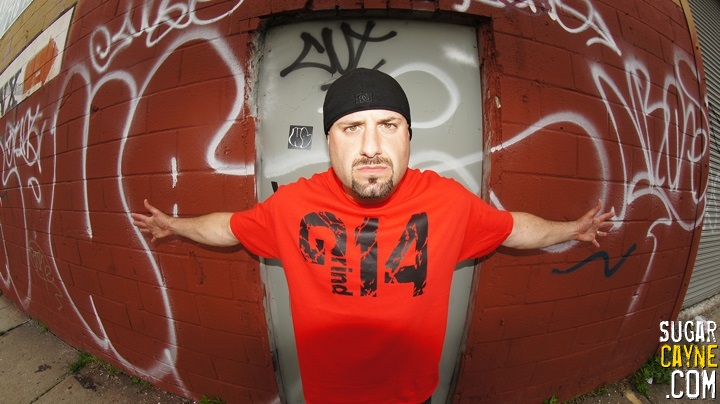 My first memories of Hip Hop are amazing ones. I used to go to work to the Bronx with my dad and I heard the music and saw the breakdancers and graffiti writing on the walls. Hip Hop was just so DOPE. It started to consume me in the best of ways. -MC WhiteOwl
You're a triple threat as an MC, DJ, and producer. Detail what appeals to you about each talent and also tell readers about your history and which artists and songs initially sparked your interest in Hip Hop.
First of all, thanks for interviewing me. If you are reading this, Peace, Blessings and Hip Hop. My name is WhiteOwl aka MC WhiteOwl. I was born in the Bronx and raised in the suburbs of Greenburgh, Hartsdale,NY. Top influences for me were Rakim, Slick Rick, EPMD, Three Times Dope, KRS-One & BDP, RUN-DMC & DJ Jam Master Jay (R.I.P.), Public Enemy, Masta Ace, D.I.T.C., DJ Marley Marl, DJ Pete Rock & CL Smooth, A.T.C.Q. (Phife Dawg R.I.P.), De La Soul, Showbiz & A.G., DJ Red Alert, Brand Nubian, Big Daddy Kane, the list goes on. Songs that inspired me were: 1) "Microphone Fiend" – Eric B & Rakim – #1 all time, 2) Slick Rick – "Mona Lisa," 3) Public Enemy – "Don't Believe The Hype," 4) Big Daddy Kane – "Ain't No Half Steppin," 5) MC Lyte – "Cha Cha Cha," 6) De La Soul – "Buddy," 7) A Tribe Called Quest – "Can I Kick It," 8) Three Times Dope – "Funky Dividends," 9) Eric B & Rakim – "Paid In Full," 10) Brand Nubian – "All For One."
My first memories of Hip Hop are amazing ones. I used to go to work to the Bronx with my dad and I heard the music and saw the breakdancers and graffiti writing on the walls. I remember the trains in 1982-1983, but it wasn't until a while later that I tied it all together. I started to realize that the dancers and painters and DJs were all part of this. I really fell in love with Hip Hop between 1985-1986. I began to hear the music through older kids at school. Tapes would appear and there were older brothers that were DJs. Hip Hop was just so DOPE. It started to consume me in the best of ways.
The Fat Boys and RUN DMC were the first artists that made me stop and REALLY listen. Then Kool Moe Dee, LL, and Eric B & Rakim. Then I started to tune into the FM radio, 98.7 Kiss & 107.5 WBLS. I started taping shows like a lot of kids. Of course back then it seemed like almost everything that DJ Red Alert, DJ Marley Marl & DJ Chuck Chillout played was a hit. It really felt like that. I started buying cassettes at the store with my allowance money in 1986 or 1987. Crazy Eddie on Central Avenue was my spot.
As a music fan, I wanted to become a DJ because I remember knowing that the DJs controlled the mood in a room.
I think the first cassette album I purchased was The Fat Boys – "The Fat Boys Are Back." Then I got the "Miami Vice Soundtrack" with Grandmaster Flash and Melle Mel on it. DOPE!!! At that point, if I bought a good cassette, I would read the liner notes and see who the artists thanked. I bought a lot of 12″ vinyl records based on the names in the "Thank You" section of the album because I didn't know who was who. That's how I found Stetsasonic, MC Lyte, Milk D & Gizmo, Bizmarkie, and some other really dope artists. BUT a friend gave me the "Paid In Full" album on cassette in 1987. When I heard it I knew I had to be a part of this somehow. That was it. Rakim was and is my favorite emcee. To me, The R is the Greatest Of All Time. No question.
As a music fan, I wanted to become a DJ because I remember knowing that the DJs controlled the mood in a room. I do remember that in 1988, I came home from school and cut paper into a circle and put it on my parent's Sanyo turntable platter. Then, like a lot of kids, I put a penny on the cartridge's head and tried to scratch. I was instantly addicted. I bought my 2nd belt drive turntable in 1989 and I practiced a lot. I started buying doubles. "It Takes Two" by Rob Base & DJ E-Z Rock was my first set of records. I think I had 10 records in all for about a year. After that I started buying vinyl instead of cassettes. What made me a good DJ was being aware of what people were in the mood for. I spun at a lot of really dope spots in NYC as DJ WhiteOwl from 1994 – 2006(The Wetlands, Ruby Falls, Karma, Flo, Glo, No Malice Palace, Bar 13, Bar 16, Bowery Ballroom, etc).
I started rhyming in 1989 or 1990 with my friends for fun. Then in 1992, I DJ'ed a dance in the gym for about 60 kids. I was one of 3 DJs in my grade and DJing was amazing. Watching people dance and have a good time. BUT, I picked up the mic and rhymed out loud. That was the start to a long love affair. I needed that buzz again and again.
Production wise, I really enjoy sampling. I love to produce because I love to dig, but my knowledge of the equipment is limited. My beats are usually completely based on the sample and I usually feel that I need someone to help flip the samples better. I use the Akai MPC 2000 and it's a slow process. However, I feel I have a good ear and the joints that I've done are cool.
I'm a music addict. I love Hip Hop, Reggae, Soul, Roots, Dancehall, and Rock. I definitely feel that having a wide variety of musical knowledge helps you when you're making beats. Hip Hop is the fusion of the best parts of all other music. But mainly, for the last 10 years, I've focused on rhyming and writing.
What do you see in the creative and artistic approach of emcees from the past compared to today's lyricists?
For me it's always been the same. I've always written rhymes and freestyled and collected music. Hip Hop has a strict set of rules that seem to be passed on from generation to generation. It used to be if you said you were going to "Freestyle," you were rhyming as you went along, on a beat, and you could not keep repeating words. Now you hear rappers say the same words and rhyme them over and over. Or they recite a written and call it a freestyle. All those little things used to matter so much more. Albums used to be more rare. Artists would release something every year or two. Now it feels like a constant flood. The battles were also so much more spontaneous. It was more special in the old days when you bought the physical products. It felt like a lot more time was put into each element of the craft. Anyway, I don't harp on that. Hip Hop is ALIVE and well. If you can't find it you are not looking hard enough.
What makes you stand out among the overcrowded pack of rising spitters on the scene?
I have something to say and I feel that the Universe needs me to say it and to try and get it out. I'm a smart human. I need to be heard. I studied Hip Hop through the years and I'm here to spread positivity and help Hip Hop culture prosper. I'm a historian and I need to spread the knowledge of Hip Hop that I have. I have spent a lot of time thinking about why I do this. This is a way of life. It's an addiction. I NEED to rhyme. I need to record music. Remember, the Hip Hop my generation grew up listening to was our current events source, our teacher, and a motivating factor in our lives. Hip Hop is rewarding in a way that nothing else is for me. When someone likes my music or my rhymes that RESPECT is priceless. I DO NOT take it lightly. I own a small company and I'm successful in my business. But that success isn't rewarding like making good music. I only work the 8am – 6pm for the paycheck. Respect to DJ Kool Herc, The Last Poets, Coke La Rock, DJ Grandmaster Flash, Grandmaster Caz, DJ Grandmaster Flowers, Fab 5 Freddy, King Charles, LoveBug Starski, and all of the founding fathers and mothers.
With a list of dope tracks hitting the blogs in the past year, you're fast becoming one of the most prolific lyricists in the industry. FATCATHAYZE156 and DJ Statik Selektah were the main producers involved in lacing many of those joints. When did you originally meet each producer and begin collaborating?
I met FATCATHAYZE156 in the Spring of 2015. I heard his beats on Instagram and I was blown away. We met and decided to collaborate on a song or two. I was impressed with his knowledge of sampling and his beats were ridiculous. He is a workaholic and I heard about 10 joints the first time we met. A week later I heard 10 new joints. Hayze is an extreme Hip Hop head. He's a purist and he works with a strict set of codes and ethics. That's the old school mentality that I need to be around. He's a master of many machines. So we met in Manhattan and agreed to hit the studio. First visit we created "Hatchet" and Wake Me Up In New York." Those two joints were the start of something special.
Right after we did those two joints I recorded TheBeeShine Cypher with Akbar and Rhinoceros Funk, which was recorded and mixed by DJ FredOnesTME at TME. This was the second BeeShine Cypher and it was extremely special. There were 6 DOPE emcees on that Cypher and it was a blessing to me to meet everyone at TME Studios in the Bronx, NY. FredOnesTME is the engineer that owns TME and he's also a phenomenal mixer/mastering pro. Fred is really nice with ProTools. Fred is also absurd on the turntables and he's a great person.
The week after I did TheBeeShine, Hayze and I met at "The Dead Poet," a bar in the upper west side of Manhattan, and we hatched a plan to create an EP called "Beatz, Rhymez, Drugz." Starting in October 2015, me, Hayze, and Fred started working on the EP. Fred is a big influence and he helped Hayze and I polish our sound up. After a winter filled with music and a lot of studio work, we released "Beatz, Rhymez, Drugz" on CD and all over the web in March 2016. The album was a blessing. We've received a lot of attention for the music. Now Hayze and I are working on the second project with Fred. I expect that a label or distributor will pick us up. We need to find the right situation so we can focus on music. The music is too dope to not continue.
I met DJ Statik Selektah through my friend Deezy of "Place Money Here." Deezy is an artist who used to promote clubs in NYC. He used to book me as a DJ back in the day. I think I first started spinning for him in 2004. Deezy does all of my art for the records and he runs his fashion and design company, "Place Money Here." Anyway, Deezy knew Statik and told me about how dope his music was. I had heard some of his music but I wasn't aware of how amazing his catalogue is. I met Statik and he played me beats and the first time we met, I knew I had to ask him to produce something. He agreed and we made a song called "Rollin" that was on my first solo release, "Higher Intelligence" in 2013.
Statik recently produced 3 new joints for me. "One Chance" which Statik produced and recorded is one of my favorite songs I've ever created. It really captured the desperation that I was feeling at the time. Just needed to crush a beat and Statik made that possible in the best of ways.
When it comes to all-star collabos, you've appeared on some of the best. Rhinoceros Funk of Guerrilla Grooves Radio & Akbar of Mental Giants were featured on "No Interference"(which charted at #1 on Insomniac's Weekly Top Ten) and Serge Boogie of Chosen One was showcased on your new joint called "Slave." When did you first link up with the Guerrilla Grooves crew? And also discuss your origins and affiliation with Certain.Ones.
Thanks for the kind words!!! It always feels really good to see my music on Insomniac's blog and the weekly lists. To see my songs next to my favorite artists' music makes me proud in a way I can't describe. Statik Selektah produced "No Interference." He made that beat and I had a feeling that Akbar and Rhinoceros Funk would help me on it. I thought of that famous Grand Daddy I.U. lyric from his classic hit, "Something New," and Statik killed the cuts. I have wanted to use that line in a song for 20 years. "No Interruptions, No Interference." Super Salute to Grand Daddy I.U.
As we discussed earlier, I met DJ FredOnesTME, Miggz The Music Programmer, Rhinoceros Funk, Akbar, L.I.F.E. Long, Yahzeed, Juls Money & Danny Kodak at TME when we filmed the Bee Shine #2 with John Robinson, Punchline, and King Kirk of The Sporty Thievz. TME is just a phenomenal hub for Hip Hop. DJ FredOnes is the DJ for the LEGEND, JUST ICE. Nuff said. Fred adds so much experience and knowledge to everything he does. He is also the DJ on Guerrilla Grooves Radio. It's on every Tuesday from 7pm – 10pm on http://www.myradiostream.com/GuerrillaGrooves
They do an amazing job of consistently bringing the dopest new Hip Hop to the internet once a week. While the show is being broadcast and Fred is getting busy live, there is a party going on in the lounge. EVERY TUESDAY. Really special vibes.

Guerrilla Grooves – http://www.guerrillagroovesradio.com/
Certain.Ones is a 12 person collective and it's all run by Bobby Craves. About 3 years ago I met Serge Boogie online on Soundcloud & I reached out to him to collaborate on a song. His music really struck a chord with me. I could hear the flow that he had was really original and very refined. After Serge and I worked on a joint called "Hello Jenny," Serge introduced me via email to B.C. I spoke with Bobby and he explained that he was working on this large project called Certain.Ones. Bobby is Head Engineer and also the engineer. Wann Sklobi is the producer/beatmaker.
Considering that the members are all over the globe, the music that we have created has really been a treasure. For me personally, speaking on the phone with Serge and Bobby, but not knowing them, that lead to some really crazy coincidences and our brains were operating on the same wavelength. Hip Hop is universal…
I swore a lot of the lyrics were speaking directly on the struggles that I was going through, but I didn't write those lyrics. Always a bug out.
Hip Hop is the religion…So much music is always being made. The output and quality of Certain.Ones has been incredible. All 13 members have highly developed, unique styles and really special resumes. Go check them ALL out!
Members are: Bobby Craves – Michigan & NYC (emcee, head engineer, creator), @BobbyCraves
Wann Sklobi – California(beatmaker, producer), @WannSklobi
Serge Boogie – Ohio(emcee and writer), @sergeboogski
Stress – Texas(emcee and writer), @Stress512
Champ The Poet – Virginia(emcee, producer, Spoken Word artist, pod-cast radio host) @ChampThePoet
Mort Grim – Detroit, MI(emcee & writer) @MortXGrim
Mook-Neto – Chicago, IL(emcee, writer, producer, engineer) @UnkleMook
VerseS (emcee, writer)
Puma Simone – New Haven, CT (emcee, writer, producer) @PumaZimone
BAdBelly – UK(emcee & poet) @Badbelly
Dzl – Australia (emcee & writer) @dzl1
Infinite – www.Soundcloud.com/CertainOnes
MC WhiteOwl @MCWhiteOwl – https://www.youtube.com/user/DJWHITEOWL76
You're about to hit listeners with enough heat to take us through the first quarter of 2017. Please give fans a sneak Peek of what they can expect from upcoming songs and videos.
"Credit" – WhiteOwl (produced by FATCATHAYZE156) – I'm trying to sum up the crooked and criminal banking system and discussing credit cards and the scams that the big banks run. I thought of the concept and I knew that the B.I.G. (R.I.P.) chorus would be huge. Shouts to DJ FredOnesTME who helps Hayze and I bring all of our production to the next level. There is a lot of wordplay and double entendres in this joint. You need to listen. Wells Fargo committed their acts of Crime a week after we finished the joint. Hayze's beats are always really bugged and original. I never heard anybody flip samples like my Cousin, FatCatHayze156. This beat is wild.
"Vaginal Horns" – WhiteOwl ft. L.I.F.E. Long (produced by FATCATHAYZE156) – a dope beat that FATCATHAYZE threw us and we just got busy. I love this chorus. I just wrote it dumbing out. The chorus is: "Cock-Tails, vaginal horns, this is something different, deviate from the norm…" L.I.F.E. Long is an amazing emcee and he really blessed us with this. Again, DJ FredOnesTME held us down with the engineering.
"Chinese Dreidels" – WhiteOwl(produced by Jakk Wonders) – I met Jakk Wonders through DJ Eclipse of The Rock Steady Crew, La Coka Nostra, and Rap Is Outta Control. DJ Eclipse is an unbelievable wealth of Hip Hop knowledge and he's an amazing DJ.
He had me up on the HalfTime Show on 2/17/16 and I heard some Jakk Wonders beats.
Then we met through email and Jakk sent me the beat for "Pickle Juice." We've been creating some really dope tracks over the past 6 months. This track was created by Jakk Wonders and he called it "Harlem '87," but I'm naming it "Chinese Dreidels" and it's going to be crazy. I picked the sample. He flipped it.
"One Chance" – (VIDEO) – The video is about to drop. It's very dramatic. Olise Forel and Sun of Moving Silence really helped shape this video. It was Olise's concept and I enjoyed making it. Salute to them. It's been a pleasure getting the opportunity to work with them.
What are the pros and cons you've experienced in the music industry so far?
I started in music as a hobby and fell in love with it early on. My first DJ gigs for money were in high school and I first interned at a record label in 1994. In the beginning, I had no idea it would take me to the places that it has. I've been all around the USA, had an all-expenses paid trip to the Gavin Radio Convention, been backstage and met countless performers, etc. However, at the beginning of my DJ'ing in 1999 – 2003, I still had to work a full-time job while spinning to afford to live in New York City. I make music for myself but also to share with the world. I put my heart and soul into the Hip Hop I create and I expect that it's going to all make sense in the end.
Pros of the industry: For a little while I made money doing what I loved, and when you're doing that it's not work. Also, the experiences, friends, memories, traveling the U.S.A., MTV, DJ'ing all over NYC.
Cons: I haven't been an active part of the industry since 2004 which is when I actually stopped working as a DJ. Since then, music doesn't pay my bills, so I get to create what I want. On the other hand, it's a struggle to get heard. So the con is that I'm working and creating music, but I can't figure out how to make a living off of it. I'm praying that things change soon. I'm working my ass off.
What is your main motivation for pursuing your craft and maintaining your underground grind?
Music is my therapy. Music is a way of life. Eventually, I'd like to create music again for a living. But for now, that is a dream. But I can see myself creating music and selling what I create, and I'd also like to have a radio show and expose all different types of Hip Hop music to the masses.
Any final thoughts and shoutouts?
Shoutouts to Insomniac Magazine and staff for the interview.
Massive respect to the Hip Hop community in NYC, my family and friends, my wife, my 2 beautiful children, and everyone that has helped me in my Hip Hop career. My brother Lee, Cousin Todd & Cousin Greg, Jeff Pearlman, and all of the DJs, emcees, and producers I work with. Special thanks to DJ FredOnesTME, FATCATHAYZE156, Bruno Beats, everyone at TME, Rhinoceros Funk, L.I.F.E. Long, Juls Money, The Art of Lyrics, Miggz The Music Programmer, DJ Eclipse RSC and the entire staff of Rap Is Outta Control, Bryan of The Bee Shine, DJ Notaro, Jakk Wonders, Deezy aka Deezus and Place Money Here, Statik Selektah & The Showoff Radio Fam, all of the blogs including Insomniac, EgoTrip, Ok-Tho, Dot Got It, Solo Vibes Music, Spit Fire Hip Hop, all of the members of Certain.Ones, RESPECT, Blessings and Hip Hop.
– Interview by Kevin Keith