Last September, Insomniac Magazine interviewed The Bronx's rising sensation, G. Fisher. As the Q & A progressed, we discovered that the dynamic spitter had plenty more in store for fans besides dropping dope lyrics. The visionary artist is very much about his business as evidenced by the creation of a multi-media production company called Enterprize Entertainment. Below we shine a spotlight on the major players who comprise the collective as they share their plans for the future.
G. FISHER (C.E.O./Artist)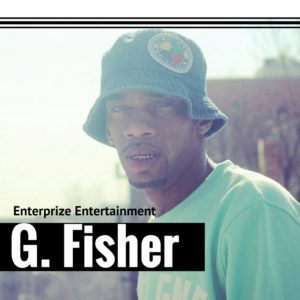 Please tell readers what led to the formation of Enterprize Entertainment and how the label & roster differ from other notable imprints such as TDE, MMG, and Young Money.
Enterprize Entertainment was originally formed late 2001 in Baltimore, Maryland after the founder of the independent label I was signed to was murdered. Originally formed by me and my moms…actually shouts to her…she's always been my biggest supporter. I've been in all kinds of situations but I've always been on my Enterprize Entertainment shit since a teen. I always looked up to Jay Z, Puff, and Master P as far as being a business man. Most people don't know I was a producer and wanted to be an exec before I actually wanted to rap (laughs). I feel the difference between Enterprize and some of our contemporaries is that our business model is completely different based on the fact the industry changed so much. We're coming in the game attacking every possible angle from music to content creation & distribution and all forms of multimedia in general. Also, we're all pushing at the same time. Usually, there's a hierarchy of release and it's like you gotta wait. With us we all moving at the same time and we push and promote each other. Lastly, our goal is to be totally self-contained and vertically integrated. We're getting there (laughs).
What makes everybody on Enterprize unique is we're all different but alike. I can say D Dave is the bully. He can rap hardcore, disrespectful bars but his music can really touch your soul and strike a chord because he's been through a lot and puts it all in his music. 1st is crazy! Even though she's a female she gotta have a dude on the inside cause she starts rapping and another person comes out (laughs). She has a serious point to prove every time she rhyme. She don't take a bar off…but she can actually sing and do a lot when she opens up. But similar to most of our music it's extremely personal. Jmel Gunna, he's just different! He doesn't even know how talented he is and his musical knowledge for his age is amazing. He knows songs word for word he shouldn't have ever heard (laughs). He can do trap, club, and then switch it to Brooklyn hard bars in a minute. He just gotta stay focused cause he a wild boy(laughs)! Gator Great also doesn't know how talented he is yet. He can harmonize. He got melodies and pain in his bars for days. You really can't put his style in a box at all. He's just gonna do as he feels. Kidd Called Quest is a super dope producer. He sticks to what's in his heart and when it comes to that hard shit, that New York street shit, he's unmatched since dudes like Preemo and Pete Rock. He'll be remembered like them for that hard-hitting sound. Dark Keys got whateva sound you want because he's a musician and he studies music. I think he has a degree. I'm not sure. But he matched the hard NY sound with some down home soul. A lot of his beats have an eerie feel to them. Me, I'm different, because I really try to master every flow and feel like I can do whateva I want(laughs). Fast flow, bounce, concept song…Shit, I made a song about the periodic table and then went and made what some would call a party trappish record. But I'm the same dude who dropped a critically acclaimed DJ Premier produced record and killed Sway In The Morning.


Tell us a little bit about the clothing line and magazine that will be released and how these ventures will make an impact on the market.
My clothing line name is Movers Limited Clothing or Mvnyc. It's a brand inspired by the streets and what I think is fly…Period. We'll be doing the full launch first quarter this year. I'm getting a lot of good feedback. The streets are feeling what's dropped so far. My print magazine is called Enterprize Magazine and the accompanying website is enterprize-magazine.com. The website is launching in January and the print version will drop in February. The mag will basically have a business behind the industry theme along with the basics that people love. We're just going to try to push the envelope and technology as far as possible to create and deliver the content & information people are looking for. I think both ventures will impact the market and change the game a bit because I like to stay on top of technological advances that we could apply to whatever we're doing. Especially if we can be the first or just do it different.
Envisioning the development of the label 5 years down the line, in what ways do you see it growing in both the business and creative sense?
In five years I see Enterprize Entertainment at the forefront of the industry and becoming a business model others follow. I see us contributing to the building of new distribution models and channels & diversifying into more forms of entertainment and content production like producing shows for Netflix, HBO, and more, all to expand the brand. We have some plans we won't divulge just yet.
KIDD CALLED QUEST (Producer)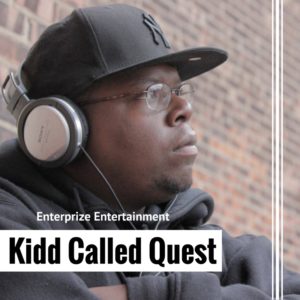 What makes a Kidd Called Quest cut unique from other tracks currently on the market?
Honestly, the thing I think that makes a Kidd Called Quest track unique from other tracks is that I always try my hardest to make something that fits in perfect with who I'm working with. I don't just go and throw anything at an artist. I always make a fresh batch of beats specifically for an artist, but at the same time I will keep 2 other artists in mind who would sound good on the beats too, just in case the main artist the work is aimed for decides to pass up on the beat. That's how I worked with almost every artist. For most, I give a dope song concept or idea from the type of feeling the beat gives me, help the artist craft an idea and direction the song will go. From there, I help the artist I work with push the music. I just be myself with the beats.
How would you describe your sound?
Over the last few years, my sound has changed a lot and progressed. I was known for chopping up and flipping soul and rock samples with some hard drums I use to have a real raw street sound. I still do but I started to experiment more with 808's and other sounds. My sound has switched up a lot. I ain't want to sound like a beatmaker from yesterday, so I started changing up my sound and style so it would stand out and appeal to everyone. Also, at the same time, I ain't want to sound like what the next producer is already doing. I still do what I'm known for doing but I switch up my drum sounds to give my beats that feel with the hard bass but still kept it all Kidd Called Quest hard-hitting boom bap.
What first drew you to production and when did you realize you possessed talent behind the boards?
I was like 12-13 when I began learning how to make my own beats. My brother had an old keyboard he never used. So I used to go mess around with it, started playing all kinds of different melodies on it. From there on I just stuck to that keyboard. I learned how to layer sounds and make my own patterns and count bars. I got a different keyboard that had actual real sounding drums and sounds. I was able to tweak out all the sounds and make them hit as hard as I wanted. It also introduced me to the art of sampling. From my brother and his boys hearing my beats and my man Divine who taught me how to use the MPC and saying I have a natural ear for Hip Hop and other people telling me to keep at it…I knew from there that I was nice at what I do. It was the props that I was getting that made me want to keep going. From that point, it motivated me to get up and go get a job to save up and buy my own MPC.
Who are your favorite producers and why?
I have a lot of producers I like and that influenced me to make beats. But DJ Premier, Hi-Tek, and RZA are my favorites. I liked the way Hi-Tek's drums and bass lines smacked and fitted his samples…the way he played keys over his samples and his gritty sound. His sample selection to me…he always sampled stuff other producers never touched and that's what made him stand out to me. DJ Premier – his dirty gritty drums and the way he chops up stuff, used sounds to fill in beats, I always thought was crazy. Premier would take a record you know and make it sound different, like it came from something else, along with his sound effects and cutting records on hooks. Then RZA, he just had a sound that I always thought was unique, flipping vocal samples, making it sound like the beat was speaking to you and his raw drums to me was crazy. I always liked his real dark, soulful sound and how he used to make his drums hit a certain way on the beat.
As a producer who's been in the game for some time, what advice can you give to aspiring beatmakers to help them avoid pitfalls in the industry?
Just accept the fact that everything does not always go your way or happen how you think things will come. You just have to work and keep going. Money will come when it comes. You can't expect to get paid off the jump start. Just be humble but not too humbled. Get your name out, etc. After some time someone is going to catch on to your work.
What types of tracks are you working on now & what do you do to ensure each artist has a distinct sound?
I'm always doing something. It's pretty much like I said before…'always try my hardest to make something that fits perfect with who I'm working with. I just make sure the final product is solid once it is finished.
BEADS Z. WIDER (Marketing Director)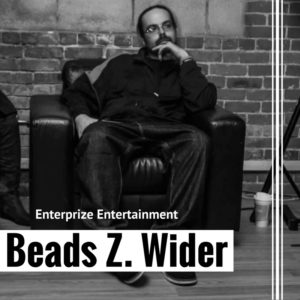 For readers looking to enter the industry in a behind the scenes capacity, please tell them what being the Director of Marketing & Promotions entails by walking them through a typical business day at Enterprize Entertainment.
A typical business day at Enterprize is always exciting. One of the best parts of being a part of a family like Enterprize is the fact that we have so many self-sufficient, moving parts.
Everything starts with daily check-ins with our Point Guard and General, G. Fisher. A lot of people think Fish is just an emcee but in fact he is finally delegating and bringing us all together so he can focus more on being one of the best emcees in the game.
Some days I might be given a record to spread throughout our extensive network. Other days I might be given 24 hours to make a splash and try to land exclusives on the majors.
Then we have days where music isn't involved and we just build on real life situations.
What is the most challenging aspect of the job and what is the most rewarding?
The most challenging aspect of the job is waiting for responses for premieres..but we have nice, prosperous relationships with some key players in the media so the wait usually isn't too long. On the flip side, the most rewarding part is seeing one of our releases catch traction and take off, whether online or through the airwaves.
What tricks of the trade have you learned to make your marketing techniques stand out and catch the attention of potential fans and consumers?
The only trick to the trade is to keep your name in honest standing and to provide quality content. Having prior relationships with many outlets due to my A & R and Consult roles, the transition into Publicist/Marketing Director has been easy for me. Having artists like G.Fisher, D_Dave, 1st & the rest of the team makes my job even easier.
Since you also have an extensive background in A & R, what would you say are the most important factors aspiring artists should take into account when submitting their demos? What elements would a demo have to include to catch your attention?
Professionalism is the biggest separating factor. Make sure you have an EPK. This simple element saves everyone tons of time. If you don't have an EPK, at least have professional artwork, proper social media links, a bio and contact information streamlined in the email since 99% of all work is digital now. I instantly put more priority if an artist has physical copies. It shows a different level of artist to someone like me. Merchandise and hard copies build a fan base.
Tell us about livebreathelovehiphop and murdagwrote and how their content differs from other Hip Hop sites.
Both sites have been steadily building a following since they began. Our content is our content which separates us…meaning we don't only post what's trending and popular. I really do take the time to go through my emails and listen to everything. So sometimes I get new music from smaller artists that I put up and sometimes I land records hours before the big sites. But that's due to me being active on a daily basis.
What is the most important element the label needs to maintain its success?
Accountability! You can have the most talented emcees, the most talented managers, the most talented everything…but if the individual pieces don't stay ready and focused, there's room for error and ego. When you really push for one cause under one umbrella there's space to shine whether you are the one in the spotlight at the moment or not.
D_DAVE (Artist & Head Of A & R)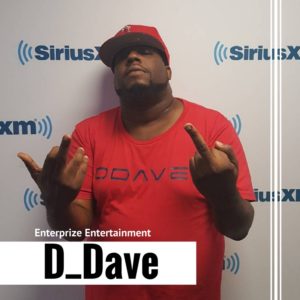 You are quickly proving to be a major stand out when it comes to wordplay and rewind-worthy quotables. How did you develop your rhyme style & when did you first realize you possessed the talent to rip the mic?
First, thanks for the kind words. I feel like in today's state of Hip Hop quotable lyrics are being overpowered by dope beats, catchy melodies, and funny adlibs (laughs). I developed my style growing up in Harlem & The Bronx and listening to artists like BIG, Jadakiss, Cam'ron, Jay Z, Fabolous, DMX, and Beanie Sigel. I mixed they styles with my delivery and wittiness to form my style. I first realized I had talent ripping the mic at the first showcase I ever did. I stepped on stage and transformed.
What is your approach to rhyming in the studio? Do you write everything down or do you freestyle most of the material?
I usually hum or mumble the melody. Then I put the bars to fit the pattern. But sometimes I'll go off energy and freestyle a hook or bridge. But I normally pen my lyrics. Or write in my head.
If you had to pick a favorite line from one of your tracks what would it be and why?
Aww man. That's like asking a parent who's they favorite child (laughs). I don't know if I have a favorite but one line that jumps out right now is "I covered your chicken wit' white sauce. Halal food"(laughs).
In your opinion, what advantages does being on Enterprize Entertainment offer that other labels can't compete with?
It's a label created by artists and ran by artists. Fisher laid out the plan and me being his brother made it a no brainer. And the work speaks for itself. We had a good 2016. 2017 gonna be even bigger and better.
What forthcoming projects do you have in store for the listeners?
There's so much work to look out for. We dropping "Soulbap"(Who Stole The Soul)followed by album, "D_Dave" and some surprise releases. Just stay in tuned to the squad. Enterprize, we coming to make NY great again.
DARK KEYS (Producer)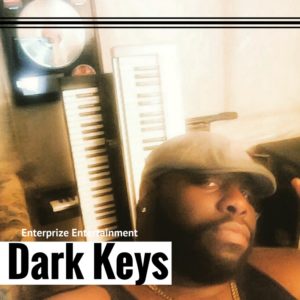 You recently released a brilliant holiday mixtape ("12 Beats Of Christmas") that's notable for its melodic transitions and clever rearrangements of familiar seasonal tunes. Tell readers about your musical background and how it has shaped your production style.
My grandfather, Eddie Carroll Sr., was a powerful soul singer who traveled with groups and bands. I remember as young as the age of 4 hearing him rehearse in the basement with the band. It was also at the age of 5 I started playing piano and I was classically trained and also played keys and organ in the church early at the age of 8. It wasn't until high school that I bought a workstation keyboard and started making beats on it. When I was a freshman in college, I set up a "make shift" studio in my dorm room and charged people $10 to record on a cassette tape with my beats. When I finished school I was studio hopping, hoping just to make beats when I could until I saved up to buy my first real recording gear. This was around 2002. In 2003 I met Showbiz of DITC and we started working on music & I was learning so much from him. Just to add, Showbiz played me a song long before it was a hit by Fat Joe called "Lean Back." From there I sold my first major tracks along with Showbiz to Ludacris in 2005. In 2007, I got my first Platinum Credit for working with Keyshia Cole. My production style has a soul sound with gospel influence. I'm never afraid to try new things with music.
Would you describe your sound as possessing more of a "clean" or "grimy" style or are you equally adept at both types of soundscapes?
I'm equally adept at creating both a clean and grimy sound. I grew up listening to EVERYTHING! So working with a wide range of artists keeps me open into creating ANYTHING I feel!
What initially attracted you to Enterprize Entertainment and how do you feel that your production skills will expand the label's musical boundaries and lead to major success?
I remember working at Headquarterz (D & D) in 2012 and I had a session to record Tashane (RIP) and G. Fisher. When hearing both of them MURDER that track that night, I've been a fan of Fisher since then. When Fisher hit me up and asked me to be a part of the Enterprize team, knowing that everyone has love for that real Hip Hop sound and also how collectively they work hard for their artists and producers, I had to be a part of this energy. So me being a part of the label will broaden the sound and challenge the artists to make records that can shape and create a sound of their own. I want to change the frequency of the listener to our sound. Once you got the audiences' attention, the success will come.
Name 5 things that are necessary to be a great producer.
Originality. Don't be afraid to stretch yourself. A great ear. Patience. Be humble.
What are some of the projects you're working on & what inspires you to come up with such unique productions?
I own a label called DK WorldMusic and I have a couple of artists signed. I just released an album with my artist, Pshade, called "The Walking Abstract." Also finishing up an album with an R & B artist named Lesha. She currently sings background and tours with Fantasia. She has a song out called "So Amazing" that is produced by me. I'm also gearing up a Hip Hop band/group called The Secret Society. I'm based in Oxford, North Carolina so the group is 7 emcees from my town who are DOPE!!! I'm also getting tracks together for Fisher, Cory Gunz, and a host of other artists…so things are going to be crazy. I'm inspired heavily by ALL the music I've ever heard…good or bad! That's real.
1ST AKA PRETTY GIRL (Artist)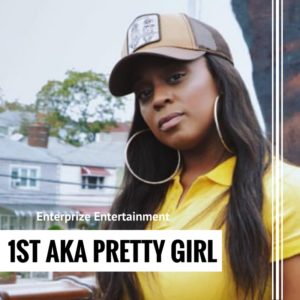 When did you first realize you had a talent for rapping and how did you initially link up with Enterprize Entertainment?
I realized I had a talent for rapping when I first heard Salt N Pepa's "Get Up." I actually made sense of the words I made rhyme. It was like a revelation(laughs). I came into Enterprize through the movement, which was a group of talented artists supporting one another. I became close with Fish and Dave and it just grew from there.
What are the challenges and benefits of being the only female artist on a male dominated label?
I could go on forever about this (smile). Let's see…the challenges are that I'm super emotional and extra where my guys are just like let's get it done. So when it comes to me and my work it takes a little bit longer (laughs), and the process is mad frustrating because I have a problem with everything (laughs). And since I'm the only female amongst some real dope men the fear of being overshadowed is always there. But I wasn't put on the squad for nothing. Fish believed I just needed that push and that's what they give me…so to jump into the benefits, is like they never let me stop, as much as I cry and I wanna just give up, my guys won't let me, and they challenge me everyday. Plus I get all their attention (laughs) & since I'm a super brat anyway, I love it (laughs).
How would you describe your rhyme style and what makes you different from other emcees in the industry?
Hmmm, I don't really have a specific style. I rap according to how I feel. Rap is my way of self expression. So however I feel is what impacts what I write…so my style is just BARZ. Nothing specific. I'm just doing what I love to do. What makes me different is I'm just me at the end of the day. I'm never going to fall into the category of trying to be this way to make it or that way to get attention. Man listen, I got Barz and that's it. My pretty face ain't my meal ticket. These Barz are and I'm sticking to it, and that's what makes me stand out. Females now a days act like we gotta conform to what society wants us to be & I'm not conforming to anything. Just being me whether they like it or not.
Do you prefer a particular type of track to rhyme over(hardcore, uptempo, club, etc)or are you diverse in your production choices?
I'm very diverse. My comfort zone would be uptempo beats because I like to play with my speeds and flow a lot. But since I like to challenge myself I can pretty much get on anything I feel like and do what I do very well. I don't like to put myself into categories. I'll give you that work on anything.
What goals do you hope to achieve as part of the Enterprize Entertainment collective and do you plan to expand your talents beyond music(film, fashion, etc.)?
I wanna be able to stand onstage with my team and have millions of people reciting our verses & giving us the respect we deserve. We all are beyond talented individuals who share the same dream and drive for the craft and together I wanna claim our spot on top. Expanding is definitely in my future. I'm working on a make up and clothing line at the moment for release in 2017, and I'm beyond hyped about it. I've always been the drama queen so I'm considering doing some acting if I get a chance.
JMEL GUNNA (Artist)
You are one of the few emcees who excel at rhyming over both Trap & Boom Bap beats. How do you adapt to the different soundscapes and is the adjustment difficult or very organic at this point?
It's really just a natural thing to me being a Hip Hop head & moving to Atlanta around the time the whole Trap scene took off…and I would say it's organic.
In your opinion, what is one of the biggest misconceptions underground Hip Hop heads have about trap music?
"All Trap music sounds the same."
How will you use your versatility on the mic to raise Enterprize Entertainment's profile and do you feel any other emcees even come close to delivering the kind of content you're bringing to the mic?
I'm going to stay consistent and give the people Raw Uncut Music. I'm a fan of dope music itself and there will be greats before me as well as after me, so I would say yes.
If you had to model your career after one emcee who would it be and why?
Rick Ross, because of his work ethic and his business savvy.
What are some of your favorite moments with G. Fisher and Enterprize Entertainment and what do you hope to achieve within the collective?
My favorite moment is when we got them beats on and we getting busy in a studio locking in. As far as what I want to achieve is to drop classic music & take my music career as far as I can.
GATOR GREAT (Artist)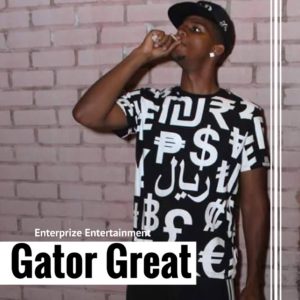 How have various incidents in your youth (growing up in a single-parent household, incarceration, the passing of your grandmother)contributed to the depth of your lyrical content?
I seen so much on a more positive and more negative note that I got tired and felt that I had to use my musical talent as an outlet to stay out of trouble.
How would you describe your lyrical style and which emcees do you respect and hope to emulate?
People like 50, Styles P, Jadakiss, and on an R & B note, Anthony Hamilton, are big for me because musically they make content many people can relate to and business wise they make great decisions.
What goals do you wish to achieve in the industry and what difficulties in the business have you faced so far?
I just wanna make it anyway musically like the best…and even if not, I'll do my best to make music people can relate to and music that evolves with the times and remains relevant, because problems like being around the wrong people didn't help me progress with my career.
What is the best part of being a member of the Enterprize Entertainment roster and how will you help the label reach the top?
What I love about being a part of Enterprize is that it's a family. Everything is in-house and there is major love & loyalty. I'm gonna help my team reach the top by staying on my job with my music ideas and team play.
As the interviews wrapped up, we circled back to G. Fisher to ask him to describe Enterprize Entertainment in one word. Radiating confidence, the collective's kingpin flashed a knowing smile and beamed with stern conviction:
"DOMINANT."
– Interview by Kevin Keith