You've been waiting for it, so without further ado, we present the weekly Hip Hop Top Ten.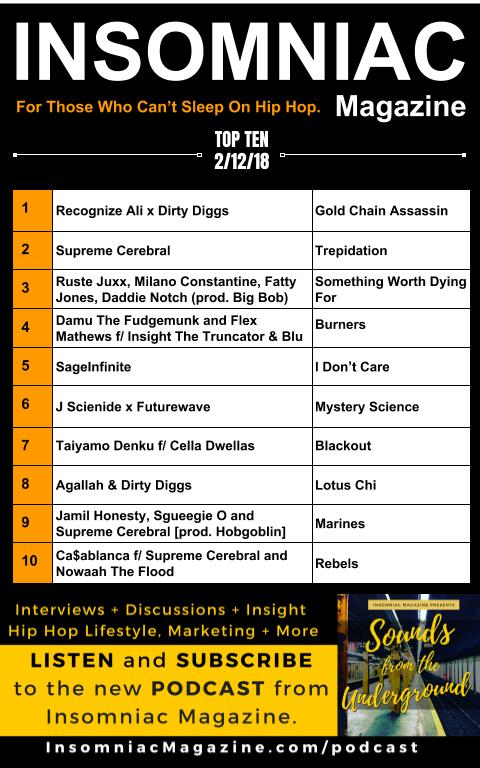 1. Recognize Ali and DirtyDiggs – "Gold Chain Assassin"
This week's number one spot goes to a track off of "The Shining" entitled "Gold Chain Assassin." Not only is this song tight, but the new album from  Recognize Ali and DirtyDiggs is loaded with solid rap gems. The duo takes aim and hits with a precise rap missile. Also take time to listen to the entire album. It's raw rhymes, funky and gritty production, and impeccable delivery in every sense. The release features a bevy of top Hip Hop talent, including Planet Asia, Rasheed Chappell, Eloh Kush, Killa Kali, Sage Infinite, The Commissioner, Washeyi Choir, and Tristate.

2. Supreme Cerebral –  "Trepidation"
Supreme Cerebral grinds out a slow churning gritty banger entitled "Trepidation." Check the lyrical heat on this Rob Viktum production.
3. Ruste Juxx, Milano Constantine, Fatty Jones, Daddie Notch – "Something Worth Dying For"
Ruste Juxx drops the rhyme hammer on his latest track featuring new era lyrical top tier talent Milano Constantine and Fatty Jones. The Big Bob crafted banger is impactful and, with it's dope dancehall flavored infectious hook courtesy of Daddie Notch, feels like it was transported from the early '90's classic era of Hip Hop.
4. Damu The Fudgemunk and Flex Mathews f/ Insight The Truncator & Blu "Burners"  
DC Hip Hop creators Damu The Fudgemunk and Flex Mathews drop a couple of banging tracks and instrumentals from their upcoming album "Vibrations & Dreams." Fans of quality Hip Hop will no doubt recognize authentic flavor upon hearing "Burners" and "The Answer is Yes." This week, the former track featuring Insight The Truncator & Blu make the top 10. Tell somebody, dope beats and rhymes are here.
5. SageInfinite – "I Don't Care"
SageInfinite drops a slick sonic stinger to ward off naysayers. Start your day off by listening to the J.O.D. constructed "I Don't Care," and get your head straight with this player hater repellent.
6. J Scienide x Futurewave – "Mystery Science"
J Scienide flawlessly flows on the mic with expert precision on this Futurewave sonic concoction. Get with the program and hit play on "Mystery Science," the latest banger from these two Hip Hop creators.
7. Taiyamo Denku f/ Cella Dwellas – "Blackout"
Taiyamo Denku brings us an ultra funky bomb track featuring Hip Hop legends the Cella Dwellas. "Blackout" is the definition of dope. Don't sleep on this Dcypha concocted production.
8. Agallah Don Bishop x DirtyDiggs – "Lotus Chi" 
Lyrical and beat mastermind Agallah Don Bishop and production wizard DirtyDiggs combine forces for a rich Hip Hop experience entitled "The White Lotus." The album features legendary west coast rhyme pro Planet Asia and mic rippers Rozewood and Washeyi Choir, and more. Check the action on "Lotus Chi," then get a sample of the full-length, which is available for pre-order on iTunes.
9. Jamil Honesty, Sgueegie O, and Supreme Cerebral – "Marines"
Jamil Honesty, Sgueegie O and Supreme Cerebral bring the lyrical warfare to the fight for emcee supremacy on this tight boom bap track. The rhymes flow effortlessly over a memorizing soundbed constructed by Hobgoblin.
10. Ca$ablanca f/ Supreme Cerebral & Nowaah The Flood – "Rebels"
Ca$ablanca puts impressive guerrilla lyrical combat tactics on display here. "Rebels" is a straight fire track that features raw rhyme rippers Supreme Cerebral and Nowaah The Flood. Production duties are handled masterfully by JF. Take cover and hit play on this ominous Hip Hop hitter.