Insomniac Magazine would like to offer the Hip Hop community and family a wonderful Christmas, wonderful Holiday Season, and prosperous New Year! Please accept this week's top ten list as a gift to you. Salute!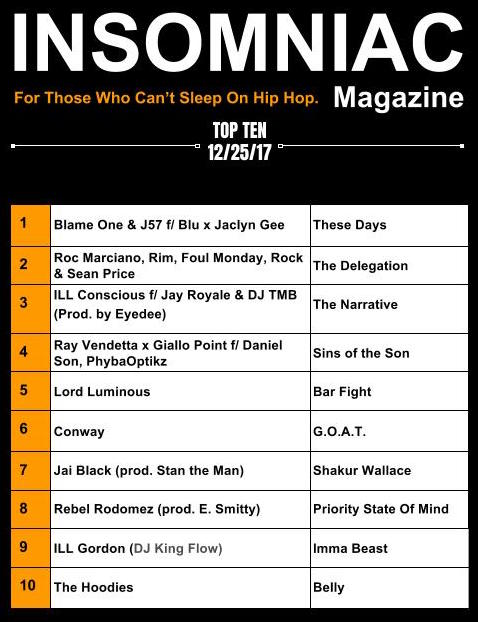 1) Blame One & J57 f/ Blu x Jaclyn Gee – "These Days"
Blame One & J57 deliver a smooth Hip Hop track with a soulful hook and fly raps. "These Days" features Blu and Jaclyn Gee and was co-produced by G Koop. The track is loaded with immensely talented artists, what more can you ask for. Hit play and become immersed in authentic chill Hip Hop.
2) Roc Marciano, Rim, Foul Monday, Rock & Sean Price "The Delegation"
Dusted boom bap beats and rhyme mastery is what you get on the new collaboration featuring Hip Hop masters Roc Marciano, Rim, Foul Monday, Rock and the late great Sean Price. Respect the this emcee conglomerate, and tell somebody, rap isn't necessarily Hip Hop, and rapping isn't always lyrical.

3) ILL Conscious f/ Jay Royale x DJ TMB – "The Narrative"
ILL Conscious and Jay Royale drop lyrical gems while DJ TMB laces the tight cuts on this Eyedee crafted Hip Hop heater. "The Narrative" features stellar production and impeccable rhyme flow. Hit play and tell somebody that Hip Hop is over here.
4) Ray Vendetta x Giallo Point f/ Daniel Son x PhybaOptikz, "Sins of the Son" 
Giallo Point provides a flow of steady and stellar production as the soundscape for Ray Vendetta's potent lyrical craftsmanship. The title track off of their mighty 14 track deep collaboration featuring Daniel Son and PhybaOptikz makes the top ten this week. Don't sleep on greatness, check the techniques on "Sins of the Son.
5) Lord Luminous – "Bar Fight."
Lyrical swagger and soulful sounds is what you'll find on Lord Luminous' newest track "Bar Fight." Check the steez.
6)  Conway – G.O.A.T.
Griselda lyrical titan Conway dropped a raw dose of Hip Hop with the title track of his full length. The gritty percussion intensive banger prominently showcases this rap phenom flexing his gift. There's no doubt you can't resist the potent rhyme flow on G.O.A.T.

7) Jai Black – Shakur Wallace
Stand Da Man produces a gritty soundscape for Jai Black's raw street linguistics. The hook pays homage to Hip Hop's ubiquitous fallen greats. Check the flows on this braggadocious rap ditty.
8) Rebel Rodomez – "Priority State Of Mind"
Rebel Rodomez brings us to another time and place on this E. Smitty produced banger. The sonic aesthetics on "Priority State Of Mind" have a classic Hip Hop vibe that's hard to resist. The boom bap is strong with this one.
9) ILL Gordon – Imma Beast
ILL Gordon comes correct on this aptly titled track. The talented emcee lays down raw bars over DJ King Flow's minimalistic but hypnotic production. Check the stylings of impressive Hip Hop practitioners.
10) The Hoodies – "Belly"
Stellar producer Stan Da Man lays down the production for "Belly," an irresistible track from The Hoodies aka E-Class and Young Poppa. The infectious grooves, hip wordplay and hook will have you coming back for more.