Don't Sleep On These New Hip Hop Tracks
By now you've heard about all the winners for this year's Grammy's. Congrats to Kendrick and the others who took home the music industry's most prized award. Now, it's time to celebrate the underground. Insomniac Magazine salutes all of the outstanding creators crafting superb Hip Hop that made our weekly Top 10 list. Tell somebody.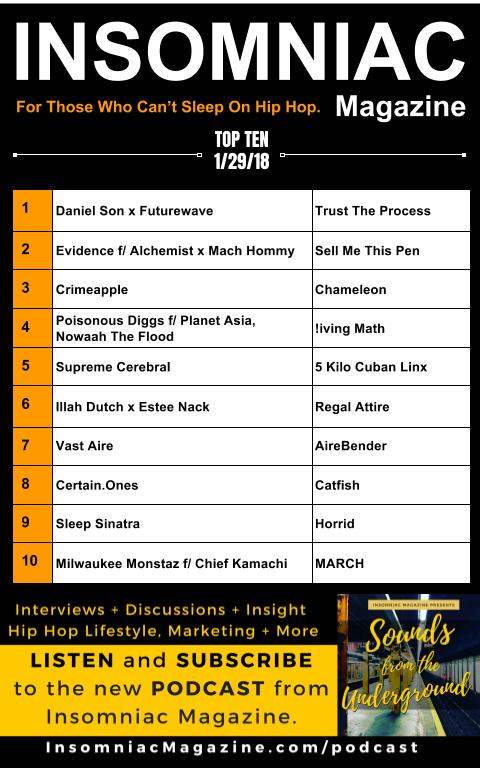 1. Daniel Son x Futurewave –  "Trust The Process"
Gripping the top spot is prolific raw rap spitter Daniel Son and Futurewave dominating with this boom bap dusted confection. These talented Canadian creators are crafting a new era of classic Hip Hop. If you don't "Trust The Process," then check the tape.
2. Evidence f/ Mach Hommy x Alchemist – "Sell Me This Pen"
There's no doubt "Weather or Not" is loaded with an ample dose of boom bap gold. Evidence is one of Hip Hop's elite; he's been dropping quality lyrical gems for decades with his iconic group Dilated Peoples and also on his own. Over the last couple of months, he's dropped stellar tracks off his anticipated album. "10,000 Hours" and "Jim Dean" are impeccable. At last, the album is out, and it's comprised of straight up top tier production and rhyme game throughout. This veteran emcee can more than hold his own on the mic, however, the release features contributions from other phenomenal Hip Hop creators, including Rakaa, Defari, Jonwayne, Krondon, Mach Hommy, Slug, Catero, Styles P, Rapsody,  Khrysis. And, production from Alchemist, Babu, Nottz, Samiyam, Budgie, Twiz The Beat Pro and DJ Premier. Don't wait another moment, hit play and absorb authentic Hip Hop at its finest.
3. CrimeApple  – "Chameleon"
CrimeApple rocks on this funk track with a tight 70's thriller themed soundscape constructed by Dros. The talented street spitter spins tales of the torturous type like no other. Check the tape.
4. Poisonous Diggs f/ Planet Asia, Nowaah The Flood do "!iving Math"
Woah, Hip Hop kings are out on this Poisonous Diggs' dagger dripping ditty. DirtyDiggs, Killa Kali, Planet Asia, and Nowaah The Flood put in work on this raw gem from the "Volume 84" EP.
5. Supreme Cerebral – "5 Kilo Cuban Linx"
Supreme Cerebral comes correct while ravishing the cut with precision spitfire venom. Eyedee stays cranking out steady boom bap bangers and "5 Kilo Cuban Linx" is no exception. Check in on the rugged and raw and tell somebody.
6. Illah Dutch x Estee Nack – "REGAL ATTIRE"
Raw raps fly throughout this new Illah Dutch and Estee Nack banger. The potent prose rides smoothly over the jazzy horn-laced boom bap track. Hip Hop's getting dressed with "Regal Attire."
7. Vast Aire – "Airebender"
Lyrical giant Vast Aire displays top tier lyricism on "Airebender." The Hip Hop vet flexes his signature rhyme-craft on this exquisite underground gem produced by Cosmiq. This is how a master emcee rips a track.
8. Certain.Ones – "Catfish"
TheWiz, DZL, Dali, Fortified Mind, Bobby Craves and DJ Evi Denz join forces to cast a Hip Hop heavyweight entitled "Catfish." The Certain.Ones crew flex their lyrical might on this dope ditty that's sure to impress astute aficionados.
9. Sleep Sinatra – "Horrid"
Introspective otherworldly dark dream sonic sequences infiltrate Sleep Sinatra's latest rhyme-scape. The Kendall Carter produced "Horrid" is up next, hit the digital tape deck. Look out for the "XMTHXST" EP out now.
10. Milwaukee Monstaz – "March"
The Milwaukee Monstaz are bringing the gritty and raw rhymes and beats that you've been waiting for. On this track the duo rock with Shabazz the Disciple. "March" to the play button and dive into some of underground Hip Hop's finest.