It might be Superbowl Sunday but, to be honest, the only game we're concerned with is the sport of beats and rhymes. Fans of authentic Hip Hop know we have no patience for entertainment coming during the half-time; the star studded Hip Hop spectacular is right here on this week's top ten.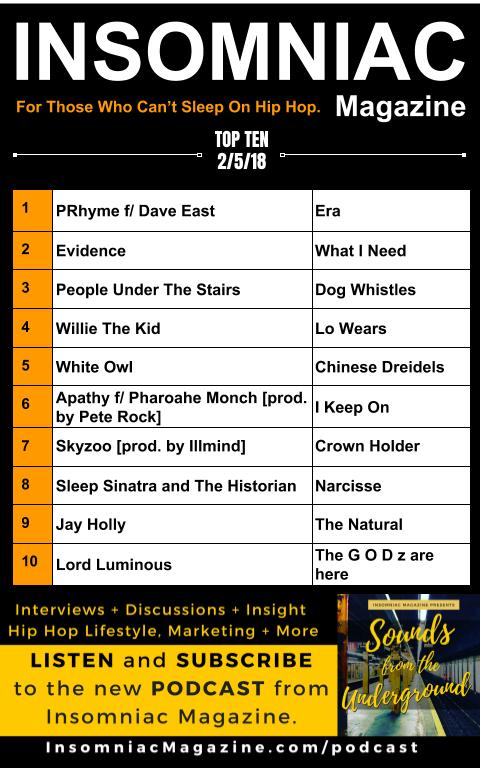 1. PRhyme f/ Dave East – "Era"
Royce Da 5'9 and Premier return with more stellar Hip Hop contributions as PRhyme. This time they bring along new school rap phenom Dave East. Wow! The 80's style big beat, sharp cuts and impeccable delivery really make this a new "Era" classic. Dive into the video and stream!
2. Evidence – "What I Need"
Evidence is back on the top 10 with another track from his flawless album "Weather or Not."  As we've told you, the release is loaded with an ample dose of boom bap gold. "What I Need" is another solid track from this member of Hip Hop's elite
3. People Under The Stairs –  "Dog Whistles"
People Under The Stairs has put work in the authentic Hip Hop space for two decades. Their latest song goes a long way in bringing facts to the speakers of Hip Hop fans and truth-seekers everywhere. The track is an impactful sociopolitical statement multi-talented emcee Thes One speak for the group's impactful "Dog Whistles."
4. "Willie The Kid" – "Lo Wears"
Multi-talented artist Willie The Kid delves into the film world by dropping a near full-length film along with a new EP by the same title. "The Fly" is a multi-media Hip Hop project, serving as narrative and music experience. This week, the first track on the EP, "Lo Wears." enters the Top Ten.
5. MC White Owl – "Chinese Dreidels"  
The eerie piano and hard beat laced track by MC White Owl made it on. The emcee comes correct with a banging track featuring raw delivery and dope production on his latest blaster "Chinese Dreidels."  Fat Cat Hayze brings the bombastic beats while DJ Fred Ones crafts the cuts. Hit play and absorb tight Hip Hop.
Get Hip Hop official: Make sure to subscribe to Insomniac Magazine's "Sounds From The Underground" Hip Hop Lifestyle, Culture, and Marketing Podcast.
On your Apple device subscribe on the Podcasts App

Listen on TuneIn or your favorite Podcast app:

6. Apathy f/ Pharoahe Monch [production by Pete Rock] – "I Keep On"
Apathy drops an authentic boom bap banger featuring the great Pharoahe Monch. You know it's going to be official when some of the dopest game spitters get together on a track, but with added production by Pete Rock, this is a certified gem.  Hit play on the impeccable "I Keep On."
7. Skyzoo [production by !llmind – "Crown Holder"
New York lyrical mastermind Skyzoo spins fly flows on this song crafted by Grammy nominated !llmind. Tight track "Crown Holder" is the second to drop off the "In Celebration of Us" release. Don't sleep on real Hip Hop!
8. Sleep Sinatra [produced by The Historian] – "Narcisse." 
Sleep Sinatra slides through a smooth sizzler entitled "Narcisse." The lyrical craftsman lays down solid rap game over the tight track constructed by The Historian. Check the tape and tell somebody.
9. Jay Holly [produced by Giallo Point] – "The Natural"
Jay Holly flows flawlessly on his latest bombastic creation "The Natural." UK Hip Hop beat mastermind Giallo Point flexes his flair for funky production on another tight track.
10. Lord Luminous – "The G O D z are here."
This prolific emcee and producer is a busy man. Lord Luminous is steadily constructing Hip Hop creations with lyrical impact and a gritty edge. He really appears to be on a mission to let the world know that mumble rap and vapid verses might be all the rage with the mindless masses, however, practitioners of true Hip Hop are in it for the culture, art and long game as opposed to overnight shine and vapor fame. Indulge in word craft, raw beats and authenticity with "The G O D z are here."