Insomniac Magazine: Don't Sleep On These New Hip Hop Releases 9/4/17
The weekend gets extended by a day which means you have even more time to catch up with Insomniac Magazine's Weekly Top 10! Check out the heavy hitters who made the list & best believe you'll see each & everyone of 'em here again. Yeah, they're THAT talented. Peep the chart below!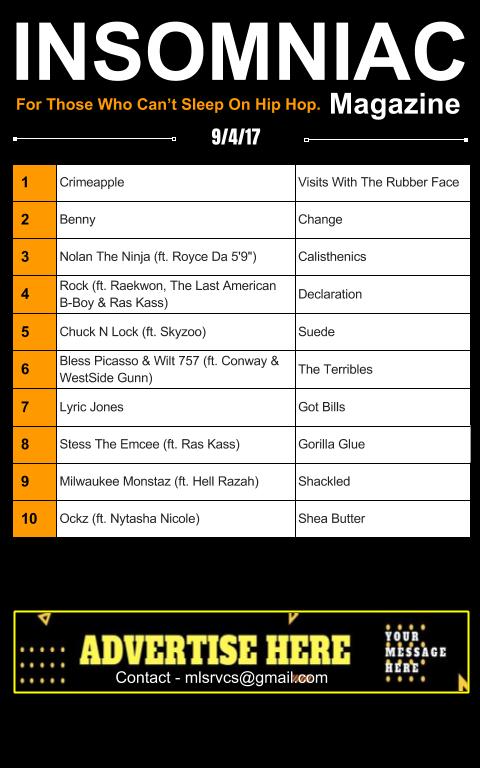 1) CRIMEAPPLE could be drifting in & out of consciousness in a near comatose state and STILL destroy every emcee who steps in his path! The lyrical phenomenon returns this week with a jazzy Sadhugold laced extravaganza called "Visits With The Rubber Face" that showcase his supreme mastery on the mic. Flexin' a laid back approach, the deadly spitter carefully eviscerates each opponent with colorful wordplay & biting punchlines that leave gaping holes in the comp. We KNOW how the man gets down when he steps in the booth. Y'all other blogs better take notice!
2) When BENNY & Daringer start cookin' in the lab the end result is a meal that will feed millions! As much as things "Change" some things simply stay the same…namely the top quality lyricism & production that has made the GxFR camp one of the most heralded collectives in the underground. Not a weak one in the bunch…No sir. Benny lives up to his Butcher alias by slicing & dicing the competition with savage bars that leave deep lacerations throughout the industry! Daringer keeps pumpin' out that head nod s**t & observes the raw carnage with amusement.
3) What happens when two of Detroit's deadliest mic assassins team up for an all-out audio assault? You get a new form of underground fitness called "Calisthenics!" NOLAN THE NINJA & ROYCE DA 5'9″ batter the boulder-crushing beat with such nuanced skills that they should teach a master class on rhyming! No one gets iller than these lyrical powerhouses when they combine forces! They're sicker than your average…
4) ROCK NEEDS TO STOP NOW!!! He keeps dropping heat from his upcoming "Rockness A.P." album and each song is better than the last! That shouldn't be a problem but we're just concerned that he's putting too much pressure on himself. F**k it…if the stress from constantly topping himself is the cost of all this sonic goodness then so be it! On the legendary spitter's latest release, "Declaration," he enlists RAEKWON, THE LAST AMERICAN B-BOY & RAS KASS for more clever wordplay & superior boom bap! Music this good can't be real…but it is! And we're the lucky bastards who get to listen!
5) CHUCK N LOCK linked up with SKYZOO for a joint so funky we had to disinfect the entire office…TWICE!!! "Suede" is just one of those jams that shows how important minimalism is to Hip Hop. You've got dope, dexterous rhyme flows over a simple but effective loop…and it KICKS ASS!!! Sit back & drink mimosas while listening or ignore the latest dance trends & take it back to poppin' & lockin'! We're shadowboxing to the groove right now & it feels so good!
6) BLESS PICASSO & WILT 757 team up with CONWAY & WESTSIDEGUNN to terrorize your town on "The Terribles!" The Daringer(Yep, that guy again!!!) laced track is one helluva sonic piledriver further enhanced by the lyrically gifted participants who dominate the scene. If you don't get amped when hearing Gunn's hypnotic, nasal flow or Conway's creative rhyme schemes you're LOST. Bless & Wilt manage to match them in passion & raw intensity which bodes extremely well for their upcoming project. "These new n***as basuda"…but the talent involved on THIS track is straight DOPE!
7) LYRIC JONES reminisces on the day she quit her 9 to 5 & boldly made the decision to pursue rap full time on "Got Bills!" The Dre Phantom produced track is an inspirational call to action for aspiring artists afraid to completely immerse themselves in their craft due to a fear of financial repercussions. Don't give up your dreams! The struggle persists…but when true success is finally achieved the journey is what you'll cherish most.
8) LET'S BE SERIOUS…STESS THE EMCEE & RAS KASS will end the career of anyone who even THINKS about challenging them! "Gorilla Glue" is a demonstration of what you've got comin' to you in a battle and it ain't nuthin' nice! The Backpack Beatz banger(featuring dope scratches by DJ A To the L) is verbal warfare of the highest level. If you're lyrically inclined(and you BETTER be when checking out this list)you'll keep this on rewind!
9) MILWAUKEE MONSTAZ & HELL RAZAH break the chains of governmental oppression on "Shackled!" The world of Politricks threatens to slowly overtake your soul but TAIYAMO DENKU, MAXIMUS DA MANTIS, and the Sunz Of Man spitter peel back the layers of deception on a dcypha laced moment of clarity that will awaken your consciousness. Free yourself & take back control!
10) Let's conclude the summer with the smoothest s**t we've heard all week! OCKZ stands at the crossroads of lost souls & makes listeners feel the rush with the NYTASHA NICOLE featured soul gem, "Shea Butter." When kickin' it with the queen of a crime lord you better determine whether the situation is real or not. Make the wrong move and you'll lose a lot more than your status! Never give up…but always watch your back!
Well that's it for this week. Catch ya next time and…DON'T SLEEP!
– Kevin Keith