Don't Sleep On These New Hip Hop Releases
It's Top 10 time again, and we're here to bring you impressive tracks you should be aware of. Top tier talent,  power players, and some of the most impactful artists you'll come across in Hip Hop this week is what you'll find on the latest Insomniac Magazine Top Ten.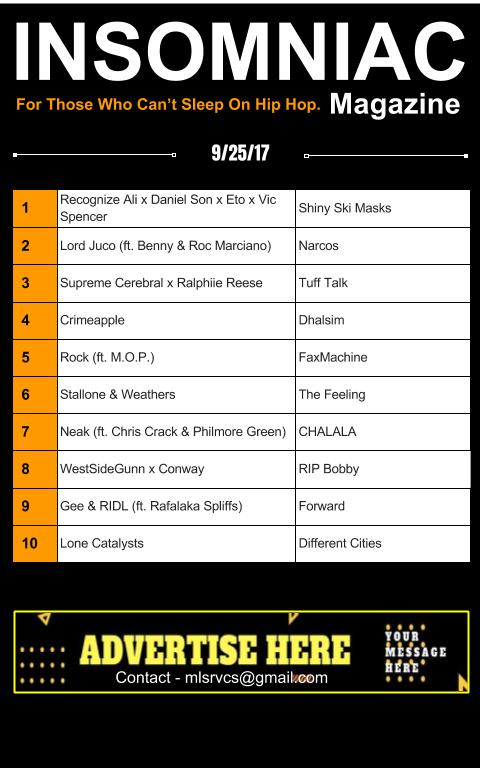 1) RECOGNIZE ALI!!! DANIEL SON!!! ETO!!!! VIC SPENCER!!! Four Masters Of The Underground unite to eviscerate an impeccably crafted Karnate soundscape called "Shiny Ski Masks!" The lyrical innovators pull off the heist of the century by stealing the show on a track that would easily outshine a lesser MC. Good thing these spitters know exactly what they're doing! They rein in the production and OWN every second of its runtime! Don't even read anything else…Reward your ears by playing the joint below!
2) LORD JUCO enlisted BENNY & ROC MARCIANO for one of his high-powered "Tiffany Joints" & delivered musical manna from the gods on the Rayne Drop laced "Narcos!" The confident flows & witty wordplay mesh perfectly with the menacing revamp of the Netflix series' theme. Intimidation's the name of the game but it's also a part of the business -"Came to the club, 6 guns, we only 3 deep…" They're shooting for the top & we're happy to oblige.
3) SUPREME CEREBRAL & RALPHIIE REESE can identify a bulls**tter a mile away! That's why all the "Tuff Talk" won't stop them from beating your ass!!! Kaoss Beats supplies the spitters with plenty of heat to advance their soul strut symposium while verbal darts hit the opposition where it hurts! Don't talk about it if you ain't lived it. Bugzy Nino & Ralphiie aren't afraid to back up everything they say!
4) CRIMEAPPLE issues in the new regime on his Buck Dudley crafted cut, "Dhalsim!" The bilingual mic barbarian has no problem cutting the competition down to size with his sharp wit & radiant metaphors. Buck is right there with him providing sonic support by conjuring a track that's pure EVIL! The power duo survey the town ahead. Darkness overtakes the land as white picket fences are adorned with the severed heads of their enemies!
5) ROCK joined forces with M.O.P to transmit hardbody rap to the masses on "FaxMachine!" The "Rockness A.P." slice of sonic destruction went directly for the throat & left deep lacerations from the chokehold these legendary emcees have on the underground! Real Hip Hop is in the building! Study them & take a picture!!!
6) STALLONE & WEATHERS return to the ring to deliver "The Feeling" of pure, unfiltered Hip Hop! Precyce Politix & K-Hill continue to carefully roll out tracks from their upcoming album…and this second single packs enough power to push them all the way to the top! After the lyrical onslaught & boom bap attack you may feel a little disoriented. You might even question if gravity is working right! One thing you won't question though, is the fact Stallone & Weathers have what it takes to dominate the scene!
7) NEAK excels with beats & bars as he enlists CHRIS CRACK & PHILMORE GREEN on a new soul excursion called CHALALA! The well-paced, self-assured flows of the talent involved aren't merely entertaining…They make the cut a MUST LISTEN! Get yourself in gear for a surprise at every turn & appreciate the artistry below!
8) WESTSIDEGUNN & CONWAY can't stay away from Daringer's cinematic soundscapes…and that's a damn good thing for the listeners & Hip Hop as a whole! On the Griselda Giants' tribute to wrestling icon, Bobby "The Brain" Heenan, GXFR's super producer summons up a nice batch of gripping hardcore soul. But "RIP BOBBY" REALLY comes alive when Alchemist delivers a "come to Jesus" moment by storming the set with some heavenly sonic heat of his own! The mid-point shift in audio excellence will transport you to a higher plane where piledrivers are dished out on the regular & wrestlers rage on through eternity! Griselda adds another win to the list. We're sure Bobby's somewhere smiling.
9) GEE teamed up with RAFALALA SPLIFFS for a brilliant RIDL laced jazz-infused gem of reflection called "Forward!" Instead of allowing past troubles to control their lives the lyricists focus on a positive future! Revelations of drama that threatened to consume the spitters lives leads to an impassioned chorus of upliftment! The artists drop jewels & show us how to embrace the NOW without getting dragged down.
10) LONE CATALYSTS do it for the CULTURE by contributing a dope new banger called "Different Cities!" The hypnotically compelling J.Rawls laced track spurs creative comrade, J. Sands, to reminisce about good days(AND BAD) on the road. The lyricist will forever have a whirlwind of faces sketched in his mind as Lone Catalysts continue their ascent while creating music that's unforgettable!
Well that's it for this week. Catch ya next time and…DON'T SLEEP!
– Kevin Keith