Don't Sleep On These Quality New Hip Hop Tracks
There's no doubt that the overarching sonic vibes on this week's top ten is pure boom bap. Let's get right down to what you've been waiting for, non-stop authentic Hip Hop. Absorb and share!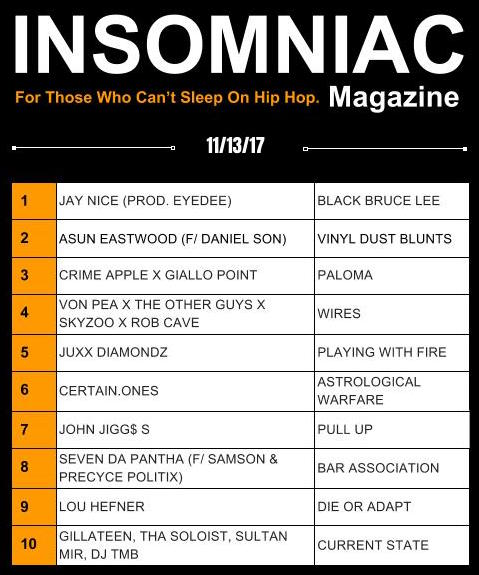 1) JAY NICE (PROD. EYEDEE) – "BLACK BRUCE LEE"
EyeDee and Jay Nice unleash a new track entitled "Black Bruce Lee" that impacts Hip Hop heads like precision martial arts. Stellar rhyme delivery and dope boom bap strike back on this EyeDee produced banger.
2) ASUN EASTWOOD (F/ DANIEL SON) – "VINYL DUST BLUNTS"
Asun Eastwood drops an exquisitely dusty boom bap ditty entitled "Vinyl Dust Blunts." Lyrical supremacy is in full effect with the two rap masters at the helm. Don't sleep on this tight track produced by Ol Man 80zz.
3) CRIME APPLE X GIALLO POINT – "PALOMA"
Lyrical mastermind Crime Apple and UK production phenom Giallo Point drop a rugged boom bap monster track that's sure to please the most discerning real Hip Hop head. Check the steez!
4) VON PEA X THE OTHER GUYS X SKYZOO X ROB CAVE – "WIRES"
Looking forward to the Von Pea X The Other Guys album "The Fiasco"? Us too. Here's another Hip Hop banger from the collaboration album that's sure to be straight up boom bap. "Wires" is a stellar track there's no doubt you're going to want to add to your playlist.
5) JUXX DIAMONDZ – "PLAYING WITH FIRE"
Juxx Diamondz brings the lyrical heat on his aptly titled new track. The raw track features a hook with an infectious rock vibe reminiscent of something from the classic female duo group Heart. Don't sleep on this lyrical powerhouse as he warns opps that they're "Playing with Fire."
6) CERTAIN.ONES – "ASTROLOGICAL WARFARE"
Certain.Ones show no signs of EVER slowing down as Reign Supreme, Feral Serge & Bobby Craves hit us with new heat! Gear yourself up for battle & check out some Farma G laced excitement called "Astrological Warfare!"
7) JOHN JIGG$ – "PULL UP"
Long Island dope game spitter John Jigg$ drops an amped track that's sure to beckon you to move. "Pull Up" is another reason to put this lyrical gem master on your list of emcees to check for.

8) SEVEN DA PANTHA (F/ SAMSON & PRECYCE POLITIX) – "BAR ASSOCIATION"
Seven Da Pantha is hitting' listeners with some serious soul courtesy of Truss One! Check out the Samson & Precyce Politix featured banger below & RECOGNIZE the "Bar Association!"
9) LOU HEFNER – "DIE OR ADAPT"
Lou Hefner's a hunter…you're a gatherer! It's real out here…You "Die or Adapt!!!" Check out the Mic Murderer on the ridiculously dope ass Bankshot laced banger below!
10) GILLATEEN, THA SOLOIST, SULTAN MIR, DJ TMB – "CURRENT STATE"
Gillateen, Tha Soloist, Sultan Mir and Dj TMB drop a soulful boom bap collab to the table. Classic Hip Hop vibes and tons of talent are in full effect, making you feel like you just hit the tape deck.