Hip Hop's never slowing. Bars and beats are always flowing. Insomniac Magazine keeps it rolling. Time for another week to keep the top tier going.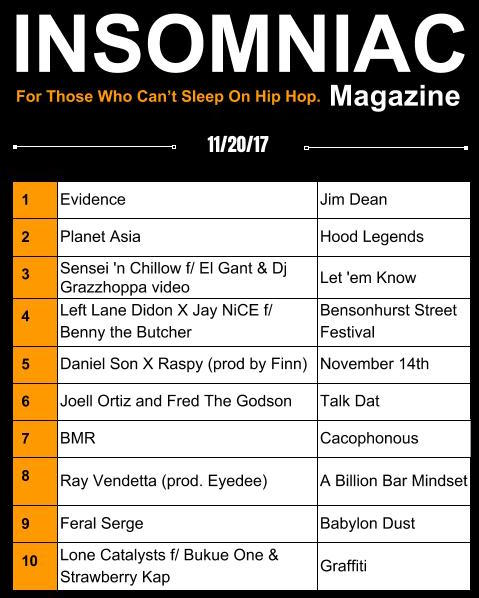 1. Evidence – "Jim Dean"
Securing the top slot is legendary emcee Evidence with a rock solid new track and video entitled "Jim Dean." The Dilated Peoples' veteran delivers stellar visuals for this authentic Hip Hop gem.  Spread the word!
2. Planet Asia – "Hood Legends"
Another west coast game spitter takes hold of a top slot with his latest contribution to the genre. There aren't many Hip Hop artists as prolific as Planet Asia. This amazingly talented lyricist has been grinding hard for two decades and shows no signs of slowing down. "Hood Legends" features Asia's impeccable signature flows over a flawless boom bap soundscape crafted by Bay area producer izznyce and precision scratches by The Architect. This impactful track is off of his upcoming album "The Golden Buddha." Look for his full length featuring heavy hitters AZ, Hus Kingpin, Marvelous Mag, and other top talent to drop in mid January, 2018. -Israel Vasquetelle
3. El Da Sensei X Chillow f/ El Gant X DJ Grasshoppa – "Let 'Em Know"
Wow! True lyrical content and flow reign supreme on this powerhouse track and video from Hip Hop legend El Da Sensei, Chillow and some help from El Gant and DJ Grasshoppa. We'll let the quality production, delivery and visuals speak for themselves.
4. Left Lane Didon X Jay NiCE f/ Benny the Butcher – "Bensonhurst Street Festival"
Looking for a release that's chock full of lyrical excellence and pleasing Hip Hop production? Look no further. Left Lane Didon and Jay NiCE bring everything you're looking for to the table on this one. "Immobiliare" is a carefully crafted sonic work of boom bap art featuring Conway the Machine, Benny the Butcher, Chris Skillz, and Tsu Surf. Don't sleep on real Hip Hop, hit play and take in this six-track heavy hitter.
Sound check. Did you peep "Bensonhurst Street Festival" featuring Benny the Butcher produced by Tone Beatz? My G, that track sizzles.

5. Daniel Son X Raspy – "November 14th"
Producer Finn lays down a banging boom bap soundscape for lyrical titan Daniel Son and dope rap spitter Raspy on this track. Today's not "November 14th" but you can still enjoy an impactful track from masters of the craft.
6. Joell Ortiz X Fred The Godson – "Talk Dat"
Joell Ortiz and Fred The Godson bring a real Hip Hop banger to the table that reps NYC hard. Check the steez, there's no doubt, it's sure to please.
7. BMR – "Cacophonous"
Fortified Mind and DZL drop weaponized lyrical razor-laced bombs on this solid Hip Hop banger comprised of pure sonic boom bap missles crafted by P-Tech Santiago. Don't sleep on BMR's "Cacophonous," spread the word, wack emcees take cover.
8. Ray Vendetta (prod by Eyedee) – "A Billion Bar Mindset"
UK heavy bar spitter Ray Vendetta drops a bombastic track called "A Billion Bar Mindset." Don't sleep on this Eyedee produced Hip Hop pleaser.
9. Feral Serge – "Babylon Dust"
Feral Serge once again delivers an impressive banger for the Hip Hop connoisseurs entitled "Babylon Dust." Hit play and spread the word about this talented emcee's latest.
10. Lone Catalysts f/ Bukue One X Strawberry Kap – "Graffiti"
This track from Lone Catalysts latest album is an authentic slice of the "Culture."
The release as a whole is pure unadulterated boom bap. The aptly named project is loaded with the sonic essence of the genre. J. Rawls and J. Sands have a rock solid track record for bringing quality Hip Hop to the table. They are without question the real deal. Take some time to step into the full album.