Don't Sleep On These New Hip Hop Releases
Insomniac Magazine delivers another round of raw heat for your listening pleasure! Sit back, relax, and check the sounds!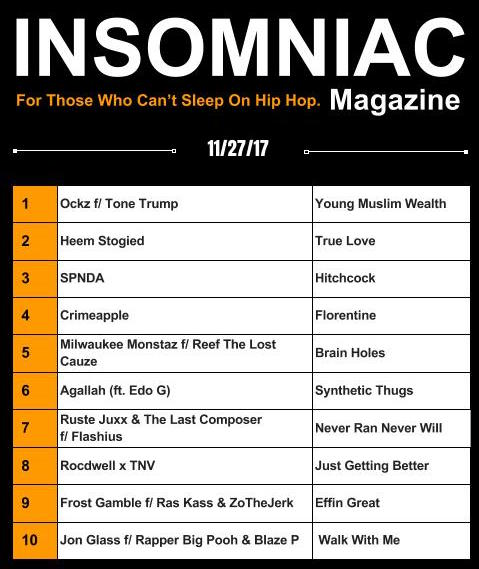 1) OCKZ teams up with TONE TRUMP for a RAKI laced banger from "The Prestige" called "Young Muslim Wealth!" The BK/Philly connection proves to be a solid one as the lyricists rip the boom bap soundscape to shreds! You don't want to follow them in the booth…you'll only look foolish by comparison!
2) HEEM STOGIED still keeps his grimy aesthetic intact while dropping a romantic joint about the object of his affections on the Flip produced, "True Love!" The Atlanta spitter has his eye on a certain black queen but questions some of her motives & idiosyncrasies. Despite the warning signs telling him to run away FAST he ignores them & merely views the situation as a challenge. One he'll win of course. Heem Stogied always prevails!
3) SPNDA grabbed everyone's attention with a sinister Grubby Pawz powered banger called "Hitchcock!" The "Steel Sharpens Steel" master cut radiates a sense of urgency & intimidation that threatens to shake the underground to its very foundation! Get yourself in gear for something raw and dangerous! Take a risk & PRESS PLAY!
4) CRIMEAPPLE launches into attack mode on a mellow Stu Bangas produced gem titled "Florentine!" The lyrical champion navigates thru the lush soundscape with ease as he lays down the law. 'Rappers are all butt…they need to get back in the ashtray.' Crimeapple on the other hand is a breath of fresh air!
5) MILWAUKEE MONSTAZ link up with REEF THE LOST CAUZE for a mind-bending display of lyrical insanity called "Brain Holes!" Dcypha fuels the proceedings with neck-snapping boom bap that'll leave other artists salty over the fact this crew is so dope!!! Don't f**k around with rap clowns…Milwaukee Monstaz are where it's at!!!
6) AGALLAH & EDO G call out the pill-popping toy gangstas on a brand new banger titled "Synthetic Thugs!" The MCs survey the brain-warped generation of so-called rappers who take pride in killing themselves & attempt to point them in the right direction! You can't be a soldier for the cause if your mind is twisted in a knot! No wonder these rappers mumble. They're brains are so warped they can barely think!
7) RUSTE JUXX & THE LAST COMPOSER join forces with FLASHIUS for some street certified heat that'll be booming in your jeep before you can finish reading this sentence! You'll never see these guys slippin' because they got the game on lock! "Never Ran Never Will" is the bold credo that encapsulates their fearless grind to the top. Catch 'em in your hometown putting it down!
8) ROCDWELL x TNV drop a triumphant gem for the listeners that's guaranteed to instill hope in the most jaded listener! "Just Getting Better" is exactly what the duo is doing…and you can feel their ascent to the higher echelon of Hip Hop supremacy with the delivery of every bar & beat drop! Elevate, achieve greatness, and check out the action below!
9) When the world completely collapses around us FROST GAMBLE, RAS KASS & ZOTHEJERK will rise above it all because they're doing "Effin Great!" Guided by a slo-mo, funk-drenched groove, Ras & Zo break down the materialistic madness & social insanity further heightened by the "Orange Era" we're currently living in. Look around…It's f***ery at it's finest. Frost, Ras, and Zo cut through the bulls**t to deliver the REAL!
10) Leaving you with a smooth power banger to ride out to, JON GLASS enlists RAPPER BIG POOH & BLAZE P for a soulful sonic journey titled "Walk With Me!" The emcees are feelin' some type of way about the shady machinations of the music industry & the lyrically-challenged "talent" its spawned in recent years. They've got a lot to say & Jon's creative soundscape enables them to relay their frustrations and drive the point home. Walk with the crew. You won't be disappointed.
Well that's it for this week. Catch ya next time and…DON'T SLEEP!
– Kevin Keith