Don't Sleep on These New Hip Hop Tracks
There's no lag in artistry and talent on another top ten brimming with lyrical and production mastery. Share the love for the genre and culture and tell someone that Insomniac Magazine's Top Ten reps the best in real Hip Hop music.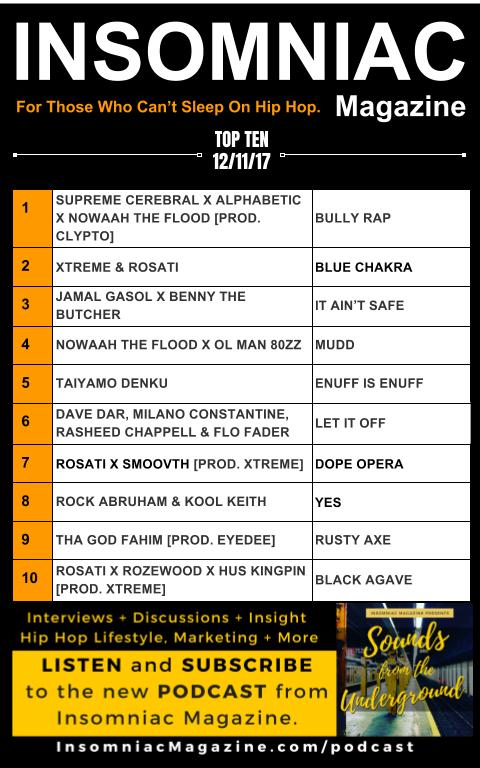 1) Supreme Cerebral X Alphabetic X Nowaah The Flood – "Bully Rap"
Wack emcees beware, lyrical masters are at work ahead. This track is cram-packed with some of the rawest rappers in the game right now. Supreme Cerebral, Alphabetic and Nowaah The Flood  deliver the goods on this finely crafted Clypto produced masterpiece. "Bully Rap" is in the building, tell someone.
2) Xtreme & Rosati – "Blue Chakra"
From "Bobby Womack Dreams" EP, "Blue Chakra!" proves Rosati's pen game is top notch as he dominates the Hip Hop landscape like Muhammad Ali in his prime! Xtreme blankets the production with sonic jewels that will keep your head nodding 'til the damn thing falls off!
3) Jamal Gasol & Benny The Butcher – "It Ain't Safe"
Dirty Waters & Buffalo unite on a Quis Star powered banger called "It Ain't Safe!" Check out Jamal Gasol & Benny in action below!
4) Nowaah The Flood x Ol Man 80zz – "Mudd"
Nowaah The Flood spits venom over a high-powered sonic landscape laced by Ol Man 80zz! Check out the heat below. They're straight out the "Mudd!"
5) Taiyamo Denku – "Enuff is Enuff"
Dcypha cooks up rugged production for Taiyamo Denku to lay down a verbal tirade on the banging track "Enuff is Enuff." Don't sleep on this gritty rap pleaser.
6) Dave Dar, Milano Constantine, Rasheed Chappell & Flo Fader – "Let It Off"
Dave Dar teams up with Milano Constantine, Rasheed Chappell, and Flo Fader for a cinematic cypher of lyrical excellence! Check out the crew as they "Let It Off" below!
7) Rosati X Smoovth – "Dope Opera"
Another impactful track from Xtreme & Rosati's collab "Bobby Womack Dreams." The astronomical rap chronicle continues with a power assist from #TheWinners brethren, SmooVth, on "Dope Opera."

8) Rock Abruham X Kool Keith – "Yes"
Rock Abruham brews up a new banger with Hip Hop's most enigmatic emcee Kool Keith! Ready to press play? Say "YES!"
9) Tha God Fahim X Eyedee – "Rusty Axe"
EyeDee crafts the gritty and raw production that serves as a soundscape for Tha God Fahim's lyrical tirade. You know you've been on the fiend for some grimy boom bap, well, here it is.
10) Rosati X Rozewood X Hus Kingpin – "Black Agave"
Rosati serves up his signature smooth lyrical gift with the underground's favorite game spitters Rozewood and Hus Kingpin on "Black Agave." Xtreme produces another true Hip Hop banger. Check how the pros do it-