Don't Sleep On These New Hip Hop Tracks
So many folks are distracted by the flavor of the week, typically comprised of weak lyrical content, incoherent flow, and tepid production. We know you're not, because you've once again tuned into top tier emcees and skillful producers crafting the best in the genre. Check the top ten and tell someone this is Hip Hop.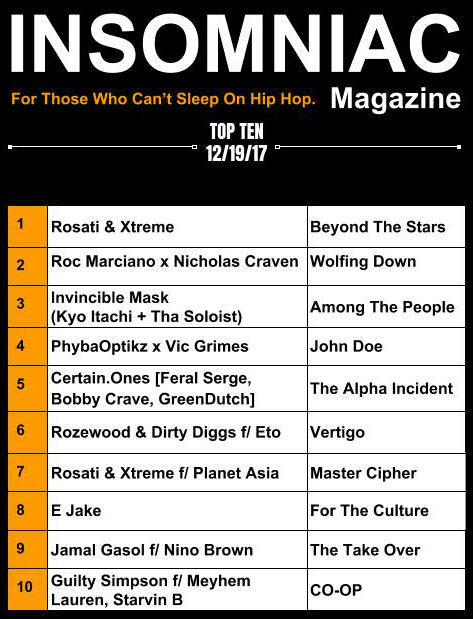 1. Rosati & Xtreme – "Beyond The Stars"
Another impressive Hip Hop banger from the dynamic duo's EP, "Bobby Womack Dreams." Rosati's smooth flow and Xtreme's soulful production make this a top tier pick.
2. Roc Marciano x Nicholas Craven – "Wolfing Down"
Nicholas Craven crafts a Hip Hop work of art with "Craven N." The release serves as a sonic canvas for this producer's masterful creation. The album is loaded with some of the cream of the lyrical crop, including this solid track featuring the lyrical stylings of the one and only Roc Marciano.

3. Kyo Itachi x Tha Soloist – "Among The People"
Talented producer Kyo Itachi and lyrical master Tha Soloist join forces as Invincible Mask to deliver an authentic finely crafted gem filled album. With classic sounds throughout," this full-length features a bevy of classic vibes that show and prove it to live up to its title. The album is loaded with great music. "Among The People" is definitely a track that you need to check out.

4. PhybaOptikz x Vic Grimes – John Doe
UK multi-talented Hip Hop creator PhybaOptikz spits verbal dangers over the gritty soundscapes crafted by the great Vic Grimes.  Crate Divizion reps Hip Hop to the fullest on the "John Doe" track.

5. Certain.Ones – "The Alpha Incident"
Certain.Ones open the door to spacey prose and boom bap flows found within their latest banger. The digitally dusty and sonically funky track showcases the triple dose of stand out talent from Feral Serge, Bobby Crave and GreenDutch. Take a careful step forward and drop 1,000 parsecs into "The Alpha Incident."

6. Rozewood x Dirty Diggs f/ Eto – "Vertigo"
Rozewood and Dirty Diggs deliver a solidly crafted Hip Hop work of art called "Ghxst.Poltergeist." The project exudes futuristic sonic aesthetics. The album is loaded with stellar tracks. "Vertigo" featuring Eto made our top ten this week. Don't sleep, check their techniques.

7. Rosati x Xtreme f/ Planet Asia – "Master Cipher"
Yet another song from the "Bobby Womack Dreams" EP makes its way on the top ten. With silk rhyme weaver Rosati and all pro lyrical game spitter Planet Asia, what else would you expect besides a "Master Cipher."

8. E Jake – "For The Culture"
Off of the "Barcos" mixtape, this track features E Jake's finely crafted lyricism and impactful production by Vanderslice. Go ahead and play it "For The Culture."
9. Jamal Gasol x Nino Brown – "The TakeOver"
Playing out like a gritty crime drama, Jamal Gasol and Nino Brown unleash a raw rap banger aptly titled "The TakeOver." Turn the volume up on this sonic street pleaser.
10. Guilty Simpson f/ Meyhem Lauren x Starvin B –  "CO-OP"
Guilty Simpson's gritty "CO-OP" delivers smooth yet grimy flavor built to please those seeking raw bars and chill beats. This Cuns & Sine One produced track features the lyrical stylings of Meyhem Lauren and Starvin B. Check the steez.