Insomniac's Hip Hop Top Ten: Don't Sleep On These New Releases
STOP everything you're doing!!!…It's time for the Top 10! Check out the latest edition of Insomniac's Weekly Hip Hop chart below!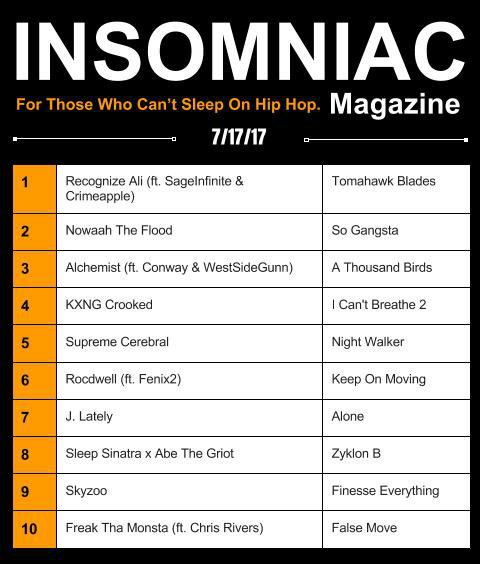 1) RECOGNIZE ALI keeps "God's Vision" firmly in focus as he delivers a Karnate produced sonic explosion called "Tomahawk Blades!" SAGEINFINITE & CRIMEAPPLE heavily factor into the heat as they explore the depths of their creativity with barz that go far beyond the norm. Prepare for what they do to the beats and remember it's all for prosperity!
2) NOWAAH THE FLOOD proves yet again that he has one of the greatest content/flow combos in the game on a Kurse crafted G-Funk inspired slice of soul titled "So Gangsta." The mega lyricist's vocal tone & delivery instantly compel listeners to pay attention as he sends blessings to the dice shakers, jezebels, and other hood regulars. It's 50/50 love all across the board…but NEVER mistake his kindness for weakness.
3) ALCHEMIST continues to grind out those dope singles from "The Good Book Vol. 2" project with Budgie. The latest release is the CONWAY & WESTSIDEGUNN featured "A Thousand Birds" that finds the Griselda Gang doing what they do best – spitting ill rhymes over the hottest tracks! Alchemist & GxFR put in the work & we get quality joints as a result!
4) KXNG CROOKED addressed Eric Garner's murder on part one & now he pays homage to Philando Castile on the incendiary new track, "I Can't Breathe 2." The west coast rhyme master takes us inside the aftermath that was filmed on Facebook Live & calls out the racist police system that perpetuates these hate crimes on innocent people of color. The song is intense, sad, & brilliant…And in a perfect world it would never need to be recorded.
5) SUPREME CEREBRAL delivers a story about a reckless prostitute who "only judges men by their wages" on a Giallo Point produced gem called "Night Walker." The MC powerhouse paints a vivid picture of life in the streets & the women who'll do anything for the mighty dollar. Cash is the main motivation for their illicit actions…but dead presidents can lead to a tragic end.
6) ROCDWELL & FENIX2 "Keep On Moving" with positive vibes and a motivational anthem powered by Sumerio Square's uplifting soundscape. The unstoppable MCs realize that the only way to make life better is to take action & change the things that are holding them down. With talent to spare and a firm plan in place, they'll rise to the top in no time!
7) J. LATELY drops some Creature In The Woods laced funk that guarantees him plenty of company despite the fact he'd rather be "Alone." The lyricist flexes a smooth, hypnotic flow that perfectly meshes with the track. He's talented, creative, and currently on a high you'll never be able to comprehend…which explains why his shawty keeps creepin' thru his phone.
8) SLEEP SINATRA & ABE THE GRIOT get interstellar over GameOfDeath's cosmic production on "Zyklon B!" Keeping a level mind as their rhymes levitate over the heads of their opponents, the mic marauders conquer brave new worlds & protect Hip Hop's integrity with pure, unabashed skill. Dreamscape delivers nightmares to the competition. Stay woke!
9) SKYZOO drifts over letters like Ouija boards! The King Poetic of the m-i-c delivers the !llmind laced "Finesse Everything" to give listeners a taste of the action from the upcoming "Peddler Themes" EP. Lyrics & flows are self-assured and on point as DJ Afar adds extra spice to the sonic backdrop with precision cuts!
10) FREAK THA MONSTA bodies a boom bap banger from his upcoming "Slanguage Arts" LP & enlists CHRIS RIVERS for some witty wordplay on "False Move." The self-produced colossal cut puts the world on notice that there's a new underground hero in town! NYC is bringing' the heat…and these two emcees keep supplying the fuel!
Well that's it for this week. Catch ya next time and…DON'T SLEEP!
– Kevin Keith