It's that time again. Don't even think about sleepin' on Insomniac's Weekly Top Ten! Sit back, relax…let's get the show on the road!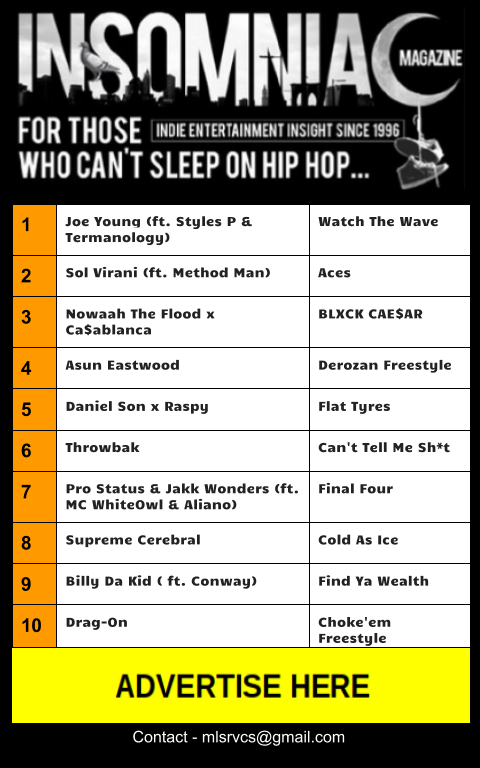 1) JOE YOUNG proved his might on the mic with the STYLES P & TERMANOLOGY featured super banger, "Watch The Wave." The Dame Grease laced masterpiece power vaults out the speakers with a jazzy piano loop & enough raw rhyme energy to keep listeners groovin' off its vibes for months! The celebrated trifecta demonstrate the meaning of true lyricism as Dame channels production skills that blow all other behind the boards wizards away. Watch the Wave & check the sounds!
2) SOL VIRANI joined forces with METHOD MAN on his Digital The Activator produced joint, "Aces," to deliver a superb slice of underground Hip Hop for true heads worldwide! The "No Pork In My Gumbo" highlight showcases a moody sonic backdrop that gives Sol & Meth free rein to rip the mic! These artists don't flow with the current, they flow astray. Fans of quality music will be glad they broke tradition!
3) NOWAAH THE FLOOD & CA$ABLANCA link up for a new round of audio excitement called "BLXCK CAE$AR. The Kurse laced gem conjures a mellow atmosphere that is in stark contrast to the super spitters' violently animated verbal blows. Both emcees hurl lyrical daggers at the track and reach a higher plateau of sonic achievement in the process. Hail "BLXCK CAE$AR" and respect the game!
4) ASUN EASTWOOD amps listeners up with a Y-Not produced loosie called "Derozan Freestyle" that brought the bars and delivered the Boom Bap! You'll be in awe of the Toronto Mic Terror as he runs laps around the competition and demonstrates why the forthcoming "Nimbus Project" will be THE project to beat. When the master goes to work you need to stop what you're doing and pay attention. Asun Eastwood's on the scene & Hip Hop will never be the same!
5) Giallo Point's about to hit fans with that "Remo Gaggi!" Before the compilation drops, he gives listeners a taste of what to expect with the top tier DANIEL SON X RASPY mastercut, Flat Tyres." BBM & CDVZ own the underground so come with high expectations…they'll always be fulfilled! When Daniel starts rhyming the competition goes running! Raspy croons the path to success as Giallo blesses the boards with yet another gem!
6) THROWBAK already unleashed the dope "Man Down" joint with Daniel Son & Thadd Ross when he decided to double down and hit us with the Sultan Mir laced "Can't Tell Me Sh*t." THAT was the track that really sent our staffers into a tailspin with its emboldened lyrics and soul-swept soundscape! The power spitter regales listeners with his determination to make it in the industry while Sultan provides the perfect sonic accompaniment to ensure his proclamation is heard loud & clear! Play this joint once then 20 more times after that to truly appreciate the artistry!
7) PRO STATUS & JAKK WONDERS delivered new "Magic & Bird II" magic by enlisting MC WHITEOWL & ALIANO for the fantastic "Final Four." Top of the line lyricism & Boom Bap beats reign supreme in a sonic arena structured to weed out the weak of heart. When you play the game, play to win! Only TRUE champions make it to the top. Four of them put in work on this track!
8) SUPREME CEREBRAL murders men with verbiage as he attacks the competition on the Cuns produced, "Cold As Ice." The track is all about power! Bugzy Nino's got it on the mic and Cuns exhibits it behind the boards! The end result of their collabo is a rewind worthy joint you'll play at full blast. It's cold as ice and dope as hell!
9) BILLY DA KID's main goal is to bring the spotlight back to Shaolin. Well, he did that AND MORE with his CONWAY featured masterwork, "Find Ya Wealth." The stellar Harry Fraud laced gem delivers a groove so funky you'll still be nodding your head hours later! The bass and synth arrangements are reminiscent of Larry Smith's production on the classic Whodini track, "One Love." With that kind of sonic DNA being filtered throughout the joint you just KNOW you're gonna win! Billy & Conway drop jewels that make S.I. & Buffalo proud! But it won't only be New York that appreciates the sounds. This joint's about to BLAST OFF worldwide!
10) DRAG-ON is so dope that he made us bend the rules & regulations of our entire countdown! Usually we don't include freestyle joints that utilize a pre-recorded track but the lyricist's "Choke'Em Freestyle" is a major exception. The impassioned spitter drops bombs over Meek Mill, Swizz Beatz, and Jeremih's "Classic" cut…and in doing so, displays skill & charisma lesser emcees pray to possess! We've said before that we like to end our chart with a banger. With punchlines galore, an ill flow, and raw aggression on the mic, Drag-On got us hyped and left us craving for more!
Well that's it for this week. Catch ya next time and…DON'T SLEEP!
– Kevin Keith