The winter's in our rear view as we launch into spring! But if those April showers are getting you down we have a remedy to wash away the pain…You guessed it! It's Insomniac's Weekly Top Ten! Experience the excitement & check the technique!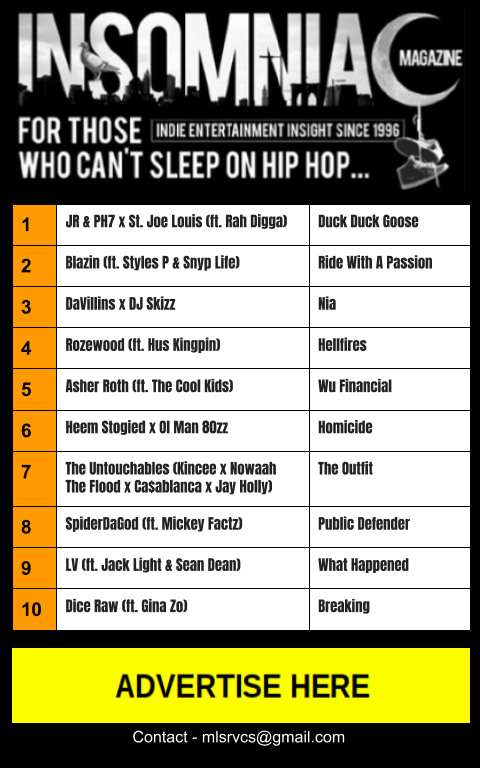 1) Cologne, Germany's production powerhouses, JR & PH7, linked up with lyrical savages, ST. JOE LOUIS & rhyme renegade, RAH DIGGA for a captivating game of "Duck Duck Goose." The colossal "Coral Cadavers" cut is the latest heat from Below System Records' sonic arsenal & all it takes is one listen to make you a believer! The track has a joyous vibe with sinister undertones…It's like a stalker creeping up on his victim at a street party! St. Joe Louis flex serious muscle & Rah Digga proceeds to SHUT. IT. DOWN. with a verse so intense it will send you flying across the room & crumpled in a heap on the floor!
2) BLAZIN brought that L.I. heat & teamed up with legendary lyrical ambassadors from the D-Block dynasty, STYLES P & SNYP LIFE, on the Poobs produced, "Ride With A Passion." The power joint from the upcoming "A Beautiful Tragedy: Chapter 1" project lunges out of the speakers & showcases a soulful soundscape sprinkled with dope cuts from DJ Tray. The super spitters step to the mic and devour the competition with ease. When you express passion in the booth the end result is success!
3) DAVILLINS & DJ SKIZZ pay homage to a certain Ms. Long with the funky "Cashmere Dice" centerpiece gem, "Nia." Rim & VillinP effortlessly flow over the dope aural canvas that conjures nostalgia & immediate sonic satisfaction! Nod your head to 2 minutes and 40 seconds of Hip Hop ecstasy. "We all slaves to the trade but I oversee her." Check out "Nia" on screen & below!
4) ROZEWOOD continues to explore the complexity & meaning of life…and DEATH with the HUS KINGPIN featured, "Hellfires." The contemplative "Ghxst In The Mirror" cut is big on moody atmosphere and deep lyricism that will go over the heads of listeners used to paint by numbers raps that devalue the genre. Rozewood & Lord Wavy have always used their gifts to push boundaries & elevate the art. That's why they're #TheWinners!
5) ASHER ROTH & THE COOL KIDS made us believe we had returned to the 36 Chambers with their funky new loosie, "Wu Financial." Flowing over production that would make the RZA drool, the spitters drop witty rhymes that make ya hit REWIND! 'Smoke pot while you're guessin' who's the next 'Pac & PRESS PLAY!
6) HEEM STOGIED & OL MAN 80zz dropped some "5 Finger Discount" heat called "Homicide" that murdered the competition! Heem flaunts an aggressive, unhinged flow that wraps itself around Ol Man 80zz's stellar production & refuses to let go! With a vocal tone eerily reminiscent of Eazy-E in places, the spitter shoots first and asks questions later! Enter the mind of an MC who doesn't give a F**K!!! When you have nothing to lose there are no limitations to your art!
7) In one of the most unexpected yet welcome news blasts to hit the underground, KINCEE, NOWAAH THE FLOOD, CASABLANCA & JAY HOLLY combined their considerable gifts to form THE UNTOUCHABLES. Over a B-Sun laced sonic backdrop, the heralded emcees showcase unchallenged displays of supreme lyricism on "The Outfit." If you cherish bars crafted with skill, wit, and all-knowing intelligence, this joint's for you! Lots of hyped up collabos wear thin…but for connoisseurs of true Hip Hop this Outfit will be the perfect fit!
8) SPIDERDAGOD & MICKEY FACTZ peel back the layers of the music industry & swoop in to eradicate the culture vultures on the E. Smitty laced, "Public Defender." The production is light years ahead of the pack and soars to the top of the heap with funky grooves & irresistible boom bap beats. When it comes to bars you'd be hard pressed to find better lyricists than these two! SpiderDaGod & Mickey Factz bring integrity back to the game!
9) LV, JACK LIGHT & SEAN DEAN are runnin' the show on the new power banger, "What Happened!" This is a track that comes packed with EXTRA STRENGTH heat designed to wake your senses and capture your full attention! It does exactly that with rapid fire lyrical firepower & beats galore! We'll tell ya what happened – LV, Jack Light & Sean Dean created a hit!!!
10) DICE RAW's "Breaking" was so soulful that we found ourselves continuously returning to it throughout the week! The way Dice's reflective lyrics set up GINA ZO's unbelievably funky hook is a marvel to behold! We always love to end our countdown on a strong note & there was no better way than this fantastic gem from "The Narrative." Listen. Take it in. And enjoy!
Well that's it for this week. Catch ya next time and…DON"T SLEEP!
– Kevin Keith