Insomniac Magazine hits ya FULL BLAST with an all-out sonic assault of the senses! Check out our Weekly Top Ten below. We promise you'll never be the same again!!!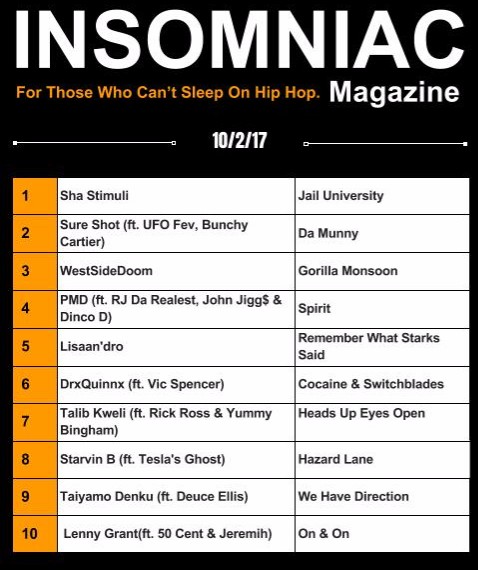 1) SHA STIMULI delivers a brilliantly original banger that challenges the industry's presentation of modern day Hip Hop on a gem titled "Jail University!" Do you need to have a record to make a record? That's the question Sha's asking…and he does so in a creatively fulfilling manner that's sure to impress even the harshest critic! The BK sensation surveys the attention paid to thug culture within the music scene & ponders how successful his career would've been if he chose prison over college. Is it a given that a potential life sentence will equal a life-long legion of fans? Will the drama & lure of inner city street life always overshadow skills on the mic? We don't have all of the answers…but Sha Stimuli's ground-breaking new track will sure give you a lot to think about!
2) SURE SHOT launches into high gear with a Theme Music Josh laced sonic adventure featuring UFO FEV & his Dunbar sparring partner, BUNCHY CARTIER! "Da Munny" sets listeners up for the upcoming power platter, "The Designer Tapes Volume 1" by steamrolling thru your speakers with such intensity it can never be derailed! The joint boasts a slow, sinister groove, free-flowing rhymes of supreme excellence, and a hardcore beat that promises to knock you into audio oblivion as soon as you press play! Make money, take money, and check out the dope track below!
3) You can always count on WESTSIDEGUNN for quality Hip Hop…but now that he's teamed up with a certain grimy, metal-faced villain the streets are officially shut down for any rappers struggling to reach their level of success. WESTSIDEDOOM ride Daringer's ominous audio excursion into the heart of darkness with unwavering confidence and rhyme skills meticulously delivered to the masses. Prepare for the "Gorilla Monsoon" as GxFR reigns supreme over the underground!
4) PMD has no wack cuts on his "Business Mentality" album…THAT'S A FACT!!! Now the Mic Doc blesses listeners with a dope single & visual from the project featuring rhyme renegades, RJ DA REALEST, JOHN JIGGS & Leaders Of The New School legend, DINCO D! On "Spirit" the lyrical powerhouses rip apart P's own self-produced soundscape and put all other emcees in their place! You ain't makin' money so stop frontin' like you have some place to be. Just sit down as they welcome you to the real world…This is how it goes!!!!
5) A long time ago, in a galaxy far, far away MC's prided themselves in sounding original. All opposed to this unspoken code of honor were banished from the kingdom of Hip Hop…never to be heard from again. Unfortunately the Evil Empire infiltrated the palace to upend the balance of the culture & send the industry reeling into a contemporary Clone Wars of destruction & despair. Luckily LISAAN'DRO is here to save the day! On the Elemnt produced sonic event, "Remember What Starks Said," the impassioned lyricist shuts down anyone who attempts to sound like him & bite the unique style deeply embedded within his DNA. Listen to Ghostface & get your own s**t!!! Tony never lies…and neither does Lisaan'dro!
6) Chicago's DRXQUINNX & VIC SPENCER transport listeners to a new dimension of sight & sound as they spearhead a nefarious audio abduction called "Cocaine & Switchblades!" Sonically, it's unlike anything you've heard before…The track flaunts an ever-changing musical backdrop that gives the effect the lyricists are trapped inside a suspense thriller dementedly telecast on an eternal loop! Surprise vocal change ups and maniacal mic assists only add to the insanity! Don't shoot up & slash your wrists…you're not in the nut house! It's only a song…and a dope one at that!!!
7) TALIB KWELI, RICK ROSS & YUMMY BINGHAM take it to the top as they deliver an uplifting message of self-empowerment and cultural pride on the emotionally heartening J. Rhodes laced "Heads Up Eyes Open!" Talib is truly one of the most inspirational and forward thinking lyricists on the scene…and his passion for the people is clearly contagious because it brings out one of the most deeply positive verses from Rick we've ever heard in his entire career thus far. Yummy, of course, kills it on the hook while J Rhodes raises our spirits & saves our soul!
8) STARVIN B & TESLA'S GHOST dismiss the dimestore gangstas & corny critics clogging up the industry's pipeline on the EyeDee laced street mover, "Hazard Lane!" The super spitters drag wack rappers across the tarmac as they snatch stripes from the sea of spineless "artists" in heavy rotation on commercial radio. Stay in your lane & never veer off path. One wrong move could be hazardous to your health. You heard the message, now heed their words. Get the f**k out of the way because they're comin' for your throat!!!
9) TAIYAMO DENKU & DEUCE ELLIS carve a path of their own as they glide over Dcypha's solid, soulful production on "We Have Direction!" The two lyricists flex on the mic like a dream tag team of the underground as they energize the proceedings with flawless flows. The Johnny Guitar Watson sample famously used for Redman's classic "Sooperman Lover" joint gets an updated revamp. Only Dcypha could give it the justice it deserves. Salute the crew!
10) This joint contains the perfect recipe for a hit! Combine Case & Joe's "Faded Pictures" with Steady B's "Serious" sample from The Turtles' classic "I'm Chief Kamanawanalea" track, add dope flows from 50 CENT & UNCLE MURDA in his LENNY GRANT persona, then sprinkle JEREMIH's fantastic falsetto atop Reefa & 12Keyz' colossal creation and you get "On & On!" The gem has actually been percolating on the scene since early summer but you'll all agree Eif Rivera's cinematic eye candy filled clip breathes new life into the certified smash!
Well that's it for this week. Catch ya next time and…DON'T SLEEP!
– Kevin Keith