Insomniac hits ya again with the latest Top 10. Don't hesitate on the heat! Just check out the tracks below!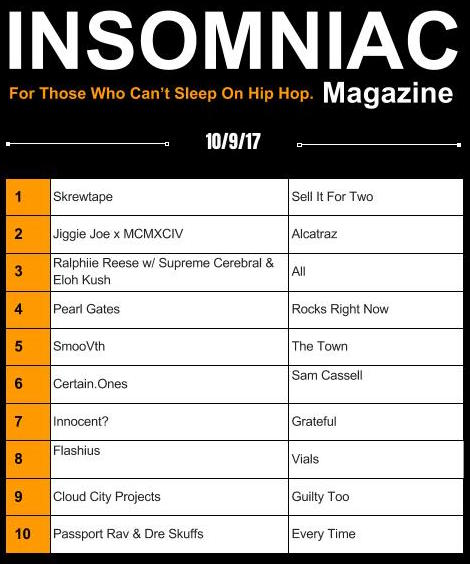 1) It's out with the old & in with the new as SKREWTAPE destroys all who dare step in his path on the IceRocks produced banger, "Sell It For Two!" The ill lyricist brings power & passion to the mic on the underground gem that stomps suckas into submission! A new champ has entered the building! Watch the super spitter head to the front of the pack as weak rappers continue to lag behind!
2) JIGGIE JOE x MCMXCIV bring it back to sippin' 40's on the front steps while catching wreck on blckwnder's seriously funky joint, "Alcatraz!" The track itself is a testament to the power of simplicity. While other artists are delivering overproduced crap devoid of soul, Joe, MCMXCIV, and blckwnder work miracles with a spare beat & dope rhymes. This is that minimalist boom bap s**t that true heads can't get enough of…And we definitely need more of it!!!
3) RALPHIIE REESE, SUPREME CEREBRAL & ELOH KUSH conjure Golden Era Wu-Tang memories as they take it "All!" The lyrical titans reign over the underground with deadly dialect designed to take out the opposition. It's a mic massacre that must be heard to be believed. Waste no time. Just PRESS PLAY & listen!
4) PEARL GATES takes listeners back to The Heights as he delivers superior rhymes over raw-edged boom bap on the "Live From The First" master cut, "Rocks Right Now!" The savage spitter gets into BEAST MODE to launch his full scale attack on a track that will overwhelm the senses! Hip Hop is alive & well! Witness Pearl Gates in action!
5) SMOOVTH dismisses the commercial clown show running rampant throughout the industry and showcases true lyricism on the Dr Rheal laced gem, "The Town!" With a super-charged flow & reality raps that can't be matched, #TheWinners powerhouse guns 'em down with verbal ammo & leaves a mass of bodies laying in his wake. Who runs the town? You already know the answer!
6) Guerrilla Grooves Radio's very own FRED ONES joins BOBBY CRAVES, MOOKNETO, REIGN SUPREME, and FERAL SERGE for new CERTAIN.ONES heat called "Sam Cassell!" You know how #TheOnes get down! It's all about pure lyricism & earth-shattering beats! Take a sonic ride to another universe & phone home to this muthaf**kas!
7) INNOCENT? and producer, Stan Da Man, have a number of reasons to be "Grateful!" For one thing they consistently create dope music that is consumed & respected by the underground! The next reason is pretty obvious – After taking stock of the recent onslaught of tragedies(which include the devastation suffered by the populace of Puerto Rico, Texas, and Mexico from natural disasters), the duo are simply happy to be alive! Solid rhymes & a triumphant track shine a light on a powerful piece of art. Take a listen, then donate to the cause!
8) FLASHIUS unwinds ill rhyme schemes to bring back somethin' that was missing on the Spectacular Diagnostics produced, "Vials!" What was that missing element? SKILLS. An' You best believe Flash's got 'em! Listen to a new knuckle sandwich deli function and experience a g-pack of pure heat!
9) CLOUD CITY PROJECTS demonstrate the "forgotten" art of MCing on the b-Able laced, "Guilty Too!" TRUTH CLIPSY, TRYF BINDOPE, REV, CLAS A. POET, and GATSBY rip the track with ease as DJ PELT contributes funky cuts for a well-rounded session of underground excitement! This is just one shining jewel from the "No White Flags" project. Check out the action-packed appetizer before digging into the entire platter!
10) PASSPORT RAV & DRE SKUFFS examine American society and are far from pleased at what they see. Lace434's evocative track incites the lyricists to speak directly from the heart. They recount civil rights struggles from the past and explore the sad reality that in this day & age very little has changed. Black people are in the crosshairs & genetic annihilation appears to be the order of the day. Any progress is eventually derailed. It seems to happen "Every Time!"
Well that's it for this week. Catch ya next time and…DON'T SLEEP!
– Kevin Keith