The underground can't be contained!!!! Check out Hip Hop's most influential chart below! It's time for Insomniac Weekly's Top Ten!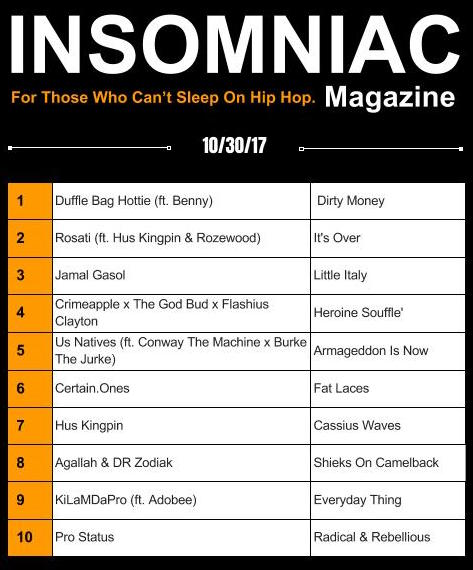 1) DUFFLE BAG HOTTIE & BENNY detail the extreme lengths they endured to get the paper on new "Max 2" heat called "Dirty Money!" It's the latest gem stamped with the GxFR gold seal of approval, so expect nothing but the best! Benny & DBH deliver street poetry of the highest order. Experience the sounds & salute the team!
2) ROSATI links up with his #TheWinners brethren, HUS KINGPIN & ROZEWOOD, for an infectious Xtreme laced power blast titled "It's Over!" Tight, self-assured rhymes are layered atop a dream soundscape for the ages! Put your money on this! #TheWinners takin' over this s**t!!!
3) JAMAL GASOL recounts hard knock days in the hood as he delivers Cuns powered sonic brilliance called "Little Italy!" The Dirty Waters mic phenomenon delves into dark days of his hustling past as he rises from rock bottom to take over the entire game!
4) CRIMEAPPLE x THE GOD BUD x FLASHIUS team up to hit 'em with some "Heroine Souffle'!" What is that you ask? It's what you get when you combine a top tier lyrical onslaught with the kind of sonic grandeur that brings the underground to its knees. Check out the crew as they crash the boat & sail off to greatness!
5) US NATIVES join forces with CONWAY & BURKE THE JURKE to drop a barrage of dope bars & beats on "Armageddon Is Now!" John E Cab & Ill Clinton lace the affair with high-powered heat that fuels the MCs to spit FIRE! DJ Cru Cut adds a powerful element of his own with impressive work on the 1 & 2's further enhanced by Shawn Johnson's cleverly crafted visual!
6) SERGE, DALI, DZL, and SKLOBI take listeners on a new CERTAIN.ONES adventure titled "Fat Laces!" The dope track delivers on the rough & ready hardcore component embedded in the crew's DNA! Man your battle stations and prepare for the attack!
7) HUS KINGPIN showcases his lyrical dominance on a Giallo Point powered soundscape called "Cassius Waves!" The "DreamTeam Vol. 1" slice of audio opulence motivates the "Wave Juggernaut" to stomp out all enemies while keeping listeners in awe with his passionate delivery & impenetrable flow!
8) AGALLAH & DR. ZODIAK get to business on a new "Moonrock Mixtape Vol. 3" banger called "Shieks On Camelback!" The heavy hitters are still runnin' the game as they knock out busters and demonstrate true talent & creativity on the mic! You can't even come close to what they're bringin' to the table…so don't bother trying!!!
9) Production mastermind, KILAMDAPRO, enlists the mic talents of ADOBEE for a jazzy gem called "Everyday Thing!" The musical titans start the day by heading back to the lab & end the day with dope songs like this! Hard work pays off with a well-deserved slot on the chart! Much respect to the crew!
10) PRO STATUS gets "Radical & Rebellious" with a "Dreams That Never Came" Jakk Wonders laced master cut you won't soon forget! Of course we had to end off with a banger…and these two never fail to deliver on that front! Raw rhymes & the best Boom Bap are ALL you need! Absorb the heat. You can't f**k wit' THE REALEST!!!
Well that's it for this week. Catch ya next time and…DON'T SLEEP!
– Kevin Keith