Insomniac Magazine wakes up the underground with another list of powerful boom bap! Check out the star-studded countdown below!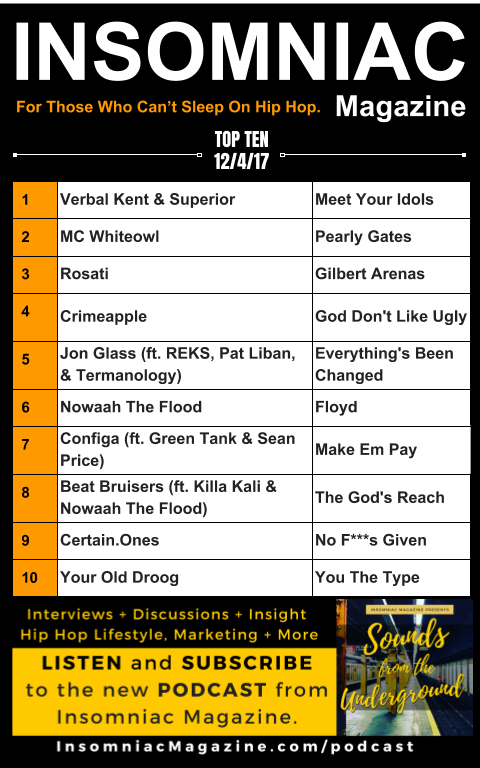 1) Brilliant concept adorned with top of the line beats & rhymes! VERBAL KENT & SUPERIOR don't simply take out their competition. They MURDER them!!! That might seem like bad news for you wack ass emcees but at least in death you'll get to "Meet Your Idols!" The duo are doing you a favor by slaughtering you because you'll be able to hang out on a cloud with Tupac, Biggie, Big L, ODB, Guru & all of your favorite Hip Hop legends. Maybe they'll even teach you a thing or two about the proper way to rock the mic…Of course by then it'll be too late.
2) MC WHITEOWL invades the airwaves with a Bombeardo powered banger that exposes all the media engineered f***ery dragging down modern society! The supreme lyricist calls out the masses for worshipping materialism while being desensitized to the REAL problems affecting our lives. Bombeardo perfectly complements his words of wisdom with a boom bap enhanced slice of Lou Donaldson's "Ode To Billie Joe" that brings the entire affair home! The "Pearly Gates" are open! Enter at your own risk!
3) ROSATI delivers gloriously funky Sickone produced heat called "Gilbert Arenas!" #TheWinners master lyricist stays focused through poetic lenses while manifesting greatness & allowing fans to bathe in the glow! When you hear a track this dope you have to sit down & appreciate it. We'll be sitting here a long time 'cause Stylez Davis keeps dropping gems with no plans of ever stopping!!!
4) They say "God Don't Like Ugly"…but he most definitely loves CRIMEAPPLE's raw & authentic brand of superior lyricism! On this go round, the MANTECA mic maverick taps into Sadhugold's sensational sonic craftsmanship for a new joint that transcends time & space to create a sound that will be universally heralded no matter what the era. You're in for a treat. Crimeapple & Sadhugold conjure up a banger that's simply beautiful!
5) JON GLASS & BALANCE THE UNDISCOVERED B.U.M. traverse underground's superhighway of boom bap supremacy with REKS, PAT LIBAN, & TERMANOLOGY on the high caliber audio achievement, "Everything's Been Changed!" The lyricists reminisce on hard times that seem like good times in retrospect as the artists grind thru the cold & heartless Hip Hop industry! Nothing's the same but dope music lives on forever!
If you haven't yet listened or subscribed to Insomniac Magazine's new podcast. Take time and do it now:
Insomniac Magazine presents
"Sounds from the Underground" Podcast
6) NOWAAH THE FLOOD KO's the competition like "Floyd" Mayweather on a new EyeDee powered mega banger! The enigmatic rhyme slayer maintains his unbroken record of hit tracks as he gets your b**ch moist without uttering a single word. His very presence is enough to make rivals flee in fear! You ain't f***in' wit' tha god! Bow down & show some respect!
7) CONFIGA liberates a new "Configuration Vol.1" banger with SEAN PRICE & GREEN TANK designed to "Make Em Pay!" BARS & BEATS collide for an earth-shattering event that promises to reign terror on weak lyricists & industry plants! Vengeance is theirs! Don't get in the way!
8) SUPLEX of BEAT BRUISERS summons cherished underground deities, KILLA KALI & NOWAAH THE FLOOD, to unleash a lyrical beatdown on the industry's demonic forces for an expertly crafted gem called "The God's Reach!" The Disciples For Hire show no mercy in their attack & destroy trap lords blocking their path while cleansing Hip Hop of its mumble-mouthed impurities! Reach for the heavens & experience the glory!
9) CERTAIN.ONES throw their middle fingers up & deliver "No F***s Given" to small-minded critics & haters who step to them with that bulls**t!!! They're not trying to impress anyone because they KNOW they're dope! NETO, CRAVES, SERGE, and GREENDUTCH are the very manifestation of pure, unadulterated Hip Hop! The villains have returned & these minions are despicable!
10) YOUR OLD DROOG is back and he's got jokes! On the funky & hilarious Adult Swim Single, "You The Type," Y.O.D. delivers so many clever, rapid fire snaps that we pity anyone unlucky enough to get on his bad side! The fearless wordsmith always manages to elevate every track he appears on & this gem proves he can still burn the mic AND YOUR EGO to the ground!
Well that's it for the week. Catch ya next time and…DON'T SLEEP!
– Kevin Keith