Many people were celebrating the end of 2016 more so than the start of the new year. However, we would be remiss if we didn't give one more toast to all of the amazing Hip Hop talent that blazed the net with impressive barz, booming beats, and masterful production. And, here we are in 2017 with a bountiful list of Hip Hop's elite. Salute!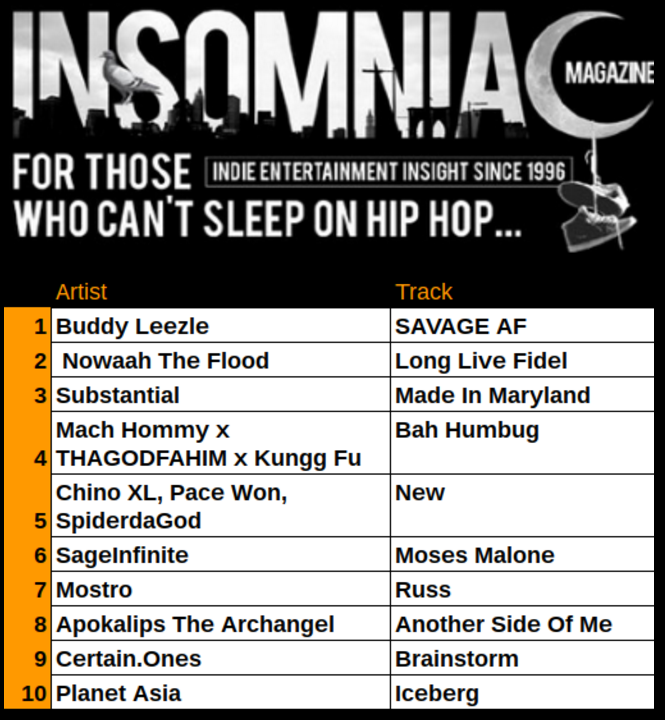 1) Buddy Leezle- "SAVAGE AF"- Buddy Leezle's massive Tyler Crisp laced banger "SAVAGE AF!" made it's way to the top of the Insomniac Magazine top 10. From the title of the track, you know this Philly emcee is taking no prisoners. So click play and proceed with caution.
2) Nowaah The Flood- "Long Live Fidel"- We already told you, Nowaah The Flood is a certified BEAST on the mic…and like the rhyme animal he is, the supreme lyricist dropped impressive Hip Hop heat on his Gensu Dean laced "Long Live Fidel." Don't hesitate, hit play now!

3) Substantial – "Made In Maryland" –  There's no way were could sleep on Substantial's bass-laden entry this week. This top choice emcee rips apart an Oddisee laced gem from his forthcoming "The Past Is Always Present In The Future" album. Go ahead, do it, hit the button, check the steez!
4) Mach Hommy x THAGODFAHIM x Kungg Fu – "Bah Humbug" -Straight gritty though and through, this entry brings grime to a new level and Hip Hop heads gotta love it.  Even though the holidays are now officially over that doesn't mean Mach Hommy, THAGODFAHIM & Kungg Fu can't still complain about 'em! Check out the greatest Grinches to ever grip the mic on the Camoflauge Monk laced "Bah Humbug."
5) Chino XL, Pace Won, SpiderdaGod – "New" – Powerhouse emcees are hard to come by, and these dudes bring it without a doubt. Chino XL, Pacewon, Spider Da God, and producer E. Smitty show and prove that real Hip Hop is alive and well in the '17. Check out the lyrical bloodbath bathed in Boom Bap below!
6) SageInfinite – "Moses Malone" – All star SageInfinite plays the game like "Moses Malone" on this silky smooth and dope M.W.P. laced gem. Don't miss a moment of the boom bap action. Rock that joint now!
7) Mostro – "Russ" – Know that there are dope flows galore on this track. We've said it before and we'll say it again – Buffalo brings the heat! Check out how Mostro 'stole his whole style from the Future like Russell Wilson' on the brand new Program produced banger, "Russ!"
8) Apokalips The Archangel – "Another Side Of Me" – This dope emcee drops an introspective creation that serves as a wonderful example of how true Hip Hop is multidimentional. Apokalips The Archangel shines on this powerful TipToe Stallone produced gem. Listen below and look for his first solo album of the same name to drop in the near future.
9)  Certain.Ones – "Brainstorm" – Certain.Ones delivered one last power-fueled banger before the ball droped. The crew, Feral Serge, JOMAC, and 10kBC, are certainly the ones to look for in 2017. Don't believe us- hit play.
10) Planet Asia – "Iceberg" – This Hip Hop vet never ceases to deliver the dopest sonic treasures.  The talented emcee drops a little "verbal voodoo" over Nicholas Craven's powerful production. Check out the incredible steez-