Apparently winter's not coming this year…because there's enough HEAT on Insomniac's Weekly Top Ten to make you think it's summer time all over again! The artists on this list really know how to BRING IT! Mic skills, dope content, and that good ol' BOOM BAP! It's all for you & this line up truly delivers!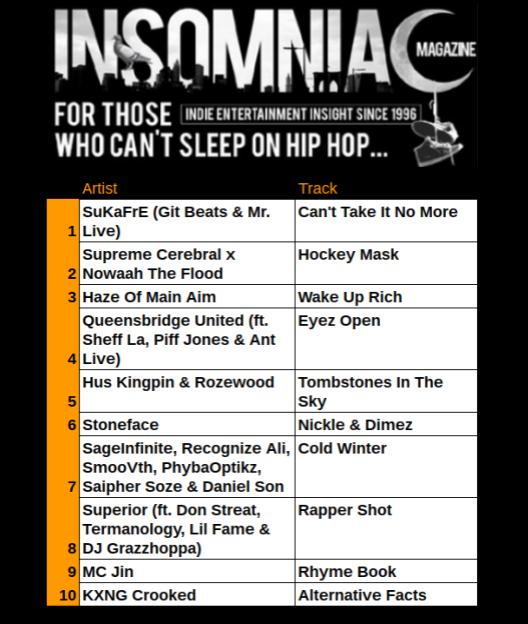 1) GIT BEATS returned from his self-imposed seclusion to form a new crew with MR. LIVE called SuKaFrE. The duo's mission statement was to preserve the honor of the True School and lay waste to all the wack rappers & producers who continuously clog up the airwaves! They did just that with the explosive banger, "Can't Take It No More," which STOMPED out everything in its path! Beats and rhymes were superbly executed to ensure maximum head nod, lemon face satisfaction! They can't take it no more but we want this musical celebration to continue!
2) SUPREME CEREBRAL & NOWAAH THE FLOOD spit FIRE, BLOOD, and VENOM on the Kurse laced sonic triumph, "Hockey Mask!" When the gods united we knew that Hip Hop would never be the same…but DAMN, when was the last time that you heard a track so perfectly suited for the two lyricists bodying it?!? This joint is pure cinema! Sound effects, colorful rhymes, and a mood-altering soundscape add up to the biggest movie of all time. F**k Scorsese! We've got Kurse! Supreme Cerebral & Nowaah The Flood are the leading men in this flick and they win an Oscar for being "Most Gifted!"
3) HAZE of Main Aim was a major standout on Magno Garcia's "Before The King" cut, "Make A Way"…and now he delivers a Grubby Pawz laced solo blockbuster joint called "Wake Up Rich." The power track which includes a star turn on the 1 & 2's by DJ Cutz contains a wealth of lyrical gems. An emcee who can break down the often mundane & empty existence we call life with lines like these: "I could wake up rich tomorrow/take a swig from the bottle/that s**t still wouldn't kill all the sorrow/physical frame is feelin' so hollow/it's like I'm tryin' to clear a sample/cause I'm asking these cats for some soul to borrow" must be honored for his extraordinary insight and clever wordplay. Haze takes full control of the track and leads listeners into an experience they will never forget! Waking up rich is a dream for many…but Haze possesses a wealth of talent that exceeds any million dollar cash reward!
4) QUEENSBRIDGE UNITED'S new "Eyez Open" joint featuring SHEFF LA, PIFF JONES & ANT LIVE isn't the kind of track that grows on ya. YOU GET IT IMMEDIATELY! The menacing sound effects, threatening piano keys, and ill rhymes intertwined with propulsive Boom Bap is enough to take your breath away and leave you gasping for air! It's 2 minutes and 51 seconds of unrelenting energy that can't be stopped! Slide Beats knocked this joint WAAYYYY out the park. Each lyricist is a part of the championship team. QB wins again!
5) #TheWinners hover over the competition and carve a skull as their atlas! HUS KINGPIN & ROZEWOOD delivered another wave of lyrical brilliance while keeping the underground in awe on the Bronze Nazareth laced "Tombstones In The Sky." The track is a fitting death march for any rappers who try to test the power duo. We can't think of many emcees who possess the depth, character, and raw skill of Lord Wavy & Ghxst Gxd. With Bronze Nazareth providing the musical terrain, these WINNERS receive another prime moment to shine!
6) North Philly's STONEFACE kept Hip Hop fiends coming back for more on The Soundbenderz produced banger, "Nickle & Dimez." The manner in which the emcee rips the track is a lesson in pure SAVAGERY! Dishing out an onslaught of breakneck bars is what the power lyricist does best. He slaps the soundscape into submission and bends it to his will until it begs his forgiveness! Stoneface shows no mercy on the track. He dominates the proceedings and achieves kingpin status in the process. The world is his to own. Bow down to the new ruler. "The Stone Age" is upon us.
7) SAGEINFINITE, RECOGNIZE ALI, SMOOVTH, PHYBAOPTIKZ, SAIPHER SOZE & DANIEL SON burn thru Giallo Point's fiery "Cold Winter" soundscape with precision bars and expert flows that tower above the paint-by-numbers approach to rhyming executed by other so-called artists. The all-star collabo is taken from SmooVth & Giallo's forthcoming "Medellin" album & serves as the ultimate example of why these emcees are kings of the underground. "N***as ain't rapping right." But THIS crew's got the game on lock!
8) Super producer, SUPERIOR, is releasing a new album on February 17th. To begin "The Journey" he drops a monster collabo featuring DON STREAT, TERMANOLOGY, LIL FAME & DJ GRAZZHOPPA called "Rapper Shot." The lyrical force and fittingly superior production on this track are enough to scare off any lame poseurs and even make the most successful artists in the game go back in the lab for rewrites! This crew crushes rappers' dreams! Stay out of the way & watch the masters go to work!
9) MC JIN makes a triumphant comeback on the scene by delivering his "super hero" origin story over a funky, mystical track called "Rhyme Book." Listeners will know they're experiencing uncharted levels of greatness the second they hear clever, intricately crafted rhymes like: "You can recognize a pioneer by the arrows in his back" and "The fire I spit/you'd think I lit a matchstick/far from a freshman/I don't belong on that list/I use my words to/infect the students like the bird flu/the school nurse too/ that's how you make a class-Sick." Fans are clamoring to hear anything the ultra-talented emcee drops next. And although his upcoming album is called "Nobody's Listening," the buzz generated from his return proves he couldn't be more wrong.
10) KXNG Crooked is one of the most brilliant lyricists on the planet! That statement is true…unlike the series of "Alternative Facts" the esteemed emcee runs down on this hilariously biting Donald Trump/Kellyanne Conway F**k You track. The West Coast Wonder has always excelled at merging political and social commentary with deft lyricism…and of course this track is no exception. The song should be the rallying cry for all the protests taking place around the world. Then again, what's all the fuss about? America is safe under Donald Trump's leadership. Nah. That's one Alternative Fact too scary to joke about.
Well that's it for this week. Catch ya next time and….DON"T SLEEP!
– Kevin Keith