All the New Jacks get smacked…Here comes Insomniac! Yep, we're back for another Top 10. Get ready for the highlights of the week. Sit back, relax and LET'S GO- It's Insomniac Magazine's weekly top ten for those who can't sleep on Hip Hop!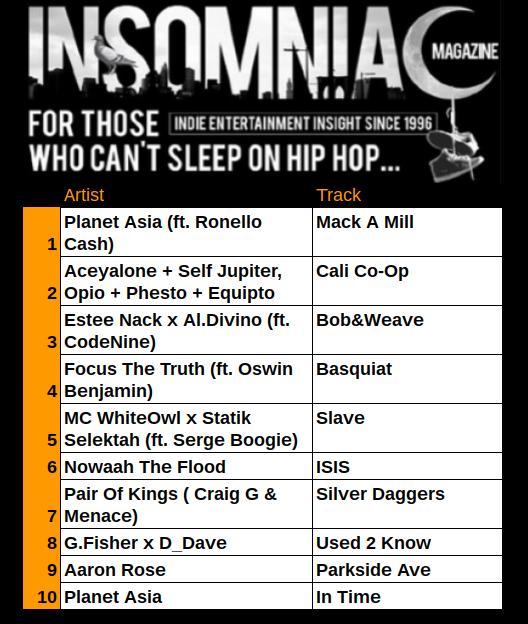 1) PLANET ASIA is a king of lyricism and DirtyDiggs are kings of production. Where do majestic figures of such noble sovereignty reside? At the top of course. On the mind-blowing, soul driven, monster joint, "Mack A Mill"(featuring an explosive star turn from RONELLO CASH), the lyricists let listeners in on a little secret – even when they're resting they're still trying to clock mills. That show money don't stop! "Guess there's no sleep for the extremely gifted! Take a dip in the pool of creativity & bathe in the power of REAL Hip Hop!
2) When Freestyle Fellowship & Souls Of Mischief band together on a joint you should expect good things. Well that's exactly what you get when ACEYALONE, SELF JUPITER, OPIO, PHESTO & EQUIPTO catch wreck on "Cali Co-Op." Don't even bother asking if the lyrics are tight! If you haven't figured that out before you EVEN hit play maybe you need to start listening to Polka music! The esteemed emcees achieve new levels of creative elevation befitting their abundant skills and ride the dark Hines Buchanan laced Boom Bap backdrop to the top!
3) All hail ESTEE NACK x AL.DIVINO as they team up with CODENINE for a POWER presentation of raw ferocity on the mic called "Bob & Weave!" One listen is not enough for this compellingly minimalistic track that sports some of the most venomous flows to ever be conceived from these underground champions! When the track ends and you find yourself craving more you'll realize when it comes to rhymes, they're "grand slammin' 'em out the Fenway!" We could go on forever but you've done enough reading. Press play and become a part of the experience!
4) FOCUS THE TRUTH & OSWIN BENJAMIN pull no punches as they make art for the masses on the Brock Berrigan produced, "Basquiat." The rhymes fly fast & furious with far more impact than that flick or any of its sequels! The two do share something in common in the sense that the verses will floor you & leave you mangled like you're the victim of a four car collision! 'Wordplay & delivery are breathtakingly on point while the track keeps us captivated far beyond its duration! Who's the winner here? We are. Focus & Oswin transmit excitement to our ears!
5) MC WHITEOWL is fast becoming the go to guy for dope s**t! The ultra-talented emcee excels at everything he does(MCing, Deejaying, producing)and appears to be one of the most chill & humble guys on the planet. Nonetheless he'll bust your ass if you step to him on the mic! He proves that statement once again as he links up with Certain.Ones supreme lyricist, SERGE BOOGIE, on a new Statik Selektah laced aural canvass. The power spitters ride the ragtime infused Boom Bap rhythms into the next millenium as they master the "Slave" and show the poseurs how it's done!
6) NOWAAH THE FLOOD came thru like a thief in the night to drop his latest dope ass track! The M.W.P. produced, "ISIS," possesses all the qualities we're beginning to associate with the rising lyrical powerhouse – sinister, gritty soundscapes that bang & of course BARS GALORE! Nowaah is too busy gettin' dirty in the trenches to pay you any mind. Can you believe n***as are trying to get him to join ISIS??? F**k that bulls**t, he's the nicest!
7) Never has there been a more suitable moniker for a Hip Hop duo than PAIR OF KINGS. The reason the name is so fitting is because the group is composed of legendary Juice Crew All-Star, CRAIG G & artist supreme, DJ MENACE, of ill collective, Tha Addicts. "Silver Daggers" is the first taste of things to come from the power pair and a dope one at that! The Analog laced groove is a slice of mellow soul that allows the lyricists to do what they do best – RIP THE MIC!
8) G FISHER & D_DAVE are like strangers in their hometown as they notice the aftermath of gentrification and degradation that results from the passage of time on "Used 2 Know." The "Enterprize Everything" LP cut will instantly connect with anyone who walks down the block, looks around, and goes "What happened to the neighborhood?" Change is a certainty but it's not always welcome. G Fisher & D_Dave hop on a soul-fueled track and address the problem head on!
9) AARON ROSE, the artist formerly known as A La $ole, brings Pro Era power to a J57 laced Boom Bap gem called "Parkside Ave." The two have been in the lab for what seems like an eternity mixing up an "Elixir" that promises to be the salvation for Hip Hop Heads eager for new sounds. This track delivers with Aaron's incessant mic onslaught dominating a murky aural backdrop that threatens to keep your head nodding 'til it falls off! There are a few dope joints circulating the block…but Parkside is where our heart lies!
10) The Great PLANET ASIA kicked off our list & he also closes it out with another DirtyDiggs produced sonic masterpiece titled, "In Time." Free your mind with this expertly designed construct of extraordinary funk that could only be delivered by TRUE Masters of The Game. Planet Asia & DirtyDiggs = Hip Hop's Saviors. Check out "Egyptian Merchandise" and CHERISH every track.
Well that's it for this week. Catch ya next time and…DON'T SLEEP!
– Kevin Keith