Insomniac Magazine brings you the best music from the underground…and don't expect that to stop now! Check out the latest heat from the street in this week's Top 10!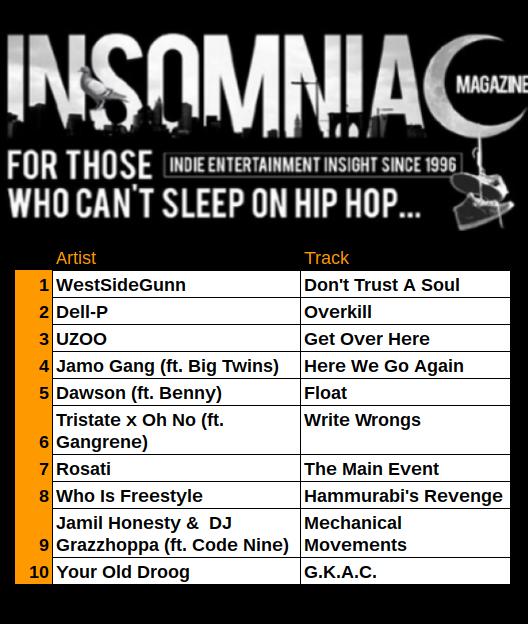 1) WESTSIDEGUNN should have his faced carved in stone on a monument representing today's top Hip Hop warriors. Even then he wouldn't be satisfied(Because who can settle for a tribute in simple granite when you have platinum dreams to achieve?!?). On the Fly God's "Riots On Fashion Avenue" mega banger, "Don't Trust A Soul," the Griselda capo wrestles the Mil laced soundscape to the ground and beats it into submission. Gunn may have major trust issues but his paranoia breeds dope music!
2) DELL-P has a 2017 takeover in mind as evidenced by his fresh on arrival surefire smash, "Overkill," produced by The Wurxs. The high powered, adrenaline fueled joint powers forward with hard beats, a soulful gospel choir sample, and of course the illest rhymes you'll hear all week! Overkill is the title but there's nothing excessive about the Philly emcee's latest gem. Don't think about slowing down. We're ready to hear much more!
3) UZOO already impressed us with their collective creative gifts on "Attack." Now the group's lyrical linchpin, JOEY BATTS, steps up to the plate to set ablaze a soul-laced track created by fellow crew conspirator, Rudy. "Get Over Here" delivers on both beats and rhymes! Joey becomes more animated with every line as the organ saturated soundscape raises the bar on how funky a song can actually get! The rhyme animals have busted out of the cage. Get over here & check 'em out!
4) The JAMO GANG union of RAS KASS, EL GANT, & J57 is powerful enough to trigger a massive heart attack in any Hip Hop fan…but now they've added BIG TWINS to the mix on "Here We Go Again!" The music's just as exciting as you expected it to be. So call the coroner…life support's not even an option. We could tell you these guys have lyrics for days, but we think you already know that considering the talent involved. How's the production? Come on, it's a J57 joint! Stop asking questions. Just shut up & PRESS PLAY!
5) DAWSON utilizes hardcore beats and haunting rhythms to reflect on death & ascension in his new BENNY featured masterpiece, "Float." The Eibol produced gem is the perfect showcase for the lyricist since the understated soundscape allows so much room for introspection. Once Griselda super soldier, Benny, leaps into action, the energy of the track is elevated even further before the song finally comes to a powerful and extremely satisfying conclusion that will keep listeners begging for more!
6) TRISTATE & OH NO have LOTS of dope joints on their "3 Dimensional Prescriptions" album but we kept coming back to the GANGRENE featured "Write Wrongs!" The Coogi colored lookin' Coca-Cola smooth flows and soul grooves reeled us in and transported listeners to an inter-dimensional Hip Hop realm of quality tracks! How can a song even be this good? It's impossible. That's why we know we're in some alternate universe or perhaps experiencing an incredible dream. Mental elevation as a result of sedation? Don't EVER wake us up!
7) ROSATI is on his Rocky s**t and lets everyone know that the "Denzel with the pen" is back in town on the DJ Skizz laced "The Main Event." The joint contains a non-stop barrage of lyrical jewels that demand instant replay action and flawless production from one of the most gifted beatmakers in the game. You've witnessed all the opening acts. Now Rosati & Skizz provide the big ticket main event you've been waiting for!
8) The music industry better prepare itself for lyrical armageddon…because WHO IS FREESTYLE's cup runneth over with the most earth-shattering rhymes on the planet! On the Hamorabi produced, "Hammurabi's Revenge," The Arsonists spitter delivers raw fury on the mic that signals total destruction to his competitors. Let's get ready to rumble! The battle begins…
9) JAMIL HONESTY & DJ GRAZZHOPPA delivered "Mechanical Movements" with CODE NINE of TRAGIC ALLIES and shook up the game with Grade A beats and rhymes that offered much needed authenticity amidst the industry fakery listeners are forced to endure. The best way to describe this track is to say it's PURE Hip Hop in every sense of the word. The artists take the music back to the essence. The creativity and craftsmanship are unparalleled.
10) YOUR OLD DROOG is dropping an album called "Packs" on March 10th. To get us amped for the occasion he brings the power of storytelling back on a gem he co-produced with Nice Rec & ID Labs called "G.K.A.C." "Gotta Kill A Cop" is straight up aggressive FIRE laced with Y.O.D.'s witty wordplay & clever observations. The joint is an excellent lead in to what promises to be a great project. Your Old Droog is back in business to reign supreme in 2017!
Well that's it for this week. Catch ya next time and…DON'T SLEEP!
– Kevin Keith