Ahhh yes, it's awards season again and, although for true Hip Hop heads, the Grammy's will put you in the mood for a nap, the one thing you won't be able to sleep on is Insomniac Magazine's Weekly Top Ten. Get ready for the action, prepare for the excitement…The time to PRESS PLAY is NOW!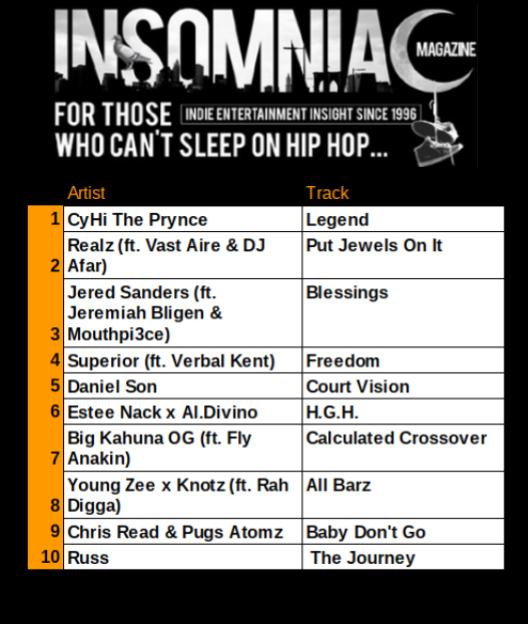 1) CYHI THE PRYNCE has been taking a lot of flak for the gap between tracks & a long-awaited album that seemed like it would never arrive. All of the drama will quickly be forgotten the second listeners hit play on "Legend." The Honorable C.N.O.T.E. & Mark Byrd laced slice of sonic brilliance allows the Stone Mountain, Georgia sensation to drop a checklist of insanely quotable lines that will make listeners shake their heads in awe(Holly Holm & Ronda Rousey might be forced to have a rematch just because the s**t's so dope)!!! When a lion is let out of a cage you run. All emcees will be scattering after listening to this gem! It's G.O.O.D. Music that should be promoted to GREAT. Haters bow down & respect the LEGEND!
2) REALZ joined forces with VAST AIRE & DJ AFAR for a merciless takeover of the underground on the Falling Down produced "Put Jewels On It." The "Blue Lion Chamber" banger sneaks up on the listeners & puts them in a chokehold until they submit to the soulful Boom Bap pouring from the speakers. This is raw, gritty, unpolished perfection. 'You can't copy their styles. Their carbon's original.' All hail the universe for bringing the gods together for such a powerful track!
3) JERED SANDERS' "Nobody Famous." album is filled with an abundance of replay-worthy cuts…but one of its greatest "Blessings" is found in a JEREMIAH BLIGEN & MOUTHPI3CE featured power track that promotes soulful Boom Bap & uplifting spirituality in equal doses! Not since Kanye's "Jesus Walks" has there been a song so irresistibly funky that it'll make make you WANT to shed your mortal coil for an eternity of more quality music like this! Don't do anything drastic though. Jered's joyous track is designed to soothe the souls of listeners on THIS plane – "We're still alive/so we're blessed don't you know…" Check for the charismatic rhymes and triumphant soundscape while you elevate your existence. Maintain the path to Glory & always STAY BLESSED!
4) SUPERIOR enlists VERBAL KENT for "The Journey" as he paves the way to "Freedom." The magnificent 3 minute power gem finds the Chicago super lyricist lashing out at other emcees for their weak rhymes & lack of ambition. Verbal's delivery gets increasingly more intense as he leads the charge of greatness over Boom Bap laced sonic terrain that can't be duplicated or destroyed. Superior supplies the goods with outstanding production. He proves his mastery behind the boards once again and confirms to listeners that Hip Hop remains in good hands!
5) We could write a book on how dope DANIEL SON is, but you don't need any extra reading material when you can HEAR the HEAT! The Brown Bag Money force of nature delivered a 2 minute stream of consciousness tour de force called "Court Vision" that effortlessly BODIED the 3-4 minute efforts of most of his peers. The great selrok gives the extremely focused spitter exactly what he needs by supplying the Boom Bap as we reap the rewards. Daniel Son's on his way to legend status. Get your court side seat and watch him score another win!
6) ESTEE NACK x AL.DIVINO MAKE MOVIES! The esteemed lyrical ambassadors of the underground demonstrate flawless flows over a cinematic Grubby Pawz laced soundscape called "H.G.H." No mere mortal can withstand heat like this…so you better suit up and prepare for the force of raw, unbridled Hip Hop as it dominates your speakers! What's good wit' the blunt? Estee Nack, al.divino, and Grubby Pawz SMOKE the competition!
7) BIG KAHUNA OG prepares the world for a "Camouflage Dawn" as he teams up with FLY ANAKIN for new Mutant Academy madness laced by Ozark called "Calculated Crossover." Lyrical dominance is what this crew is known for. Merge those skills with one of the most innovative soundscapes to hit the underground & the end result is pure insanity! Their rise to the top may be calculated but tactical moves mean that their reign over Hop Hop is all but assured!
8) You can never go wrong with a Dreadchild laced track! YOUNG ZEE x KNOTZ team up with RAH DIGGA for the title cut from the "All Barz" LP & best believe it's a BANGER! If a joint has the word "Barz" in the title it better deliver…and oh yeah, it does that & then some! With 'protein barz packed into every sentence' the crew catch serious wreck on a joint overflowing with Boom Bap! Competitors can't come close. Experience the raw fury below!
9) CHRIS READ & PUGS ATOMZ serve up a jazzy "Colo(u)rs of The World" confection that will keep heads nodding in approval on "Baby Don't Go." Powered by the classic "Funky Drummer" breakbeat, Pugs flaunts his supreme flow on Chris' hypnotic soundscape and elevates the genre with a masterfully constructed cut that true fans of both Hip Hop & Jazz can appreciate. Take a trip on a jet plane & keep this playing in your headphones along the way.
10) RUSS takes "The Journey" to fame & fortune but promises to bring true believers along for the ride in his latest self-produced gem. The rising lyricist/producer is one of the most self-contained acts in the biz and it's a pleasure to watch his ascent in the industry. How could he not reach the peak of the mountain when he drops heat like this? The soulful, adventurous groove allows the spitter to reflect on his career with ultra-creative bars that promise to hold your attention & keep your finger on the replay button. There ain't no destination. The journey is everything. Russ brings the entire experience to life in 4 minutes of sonic ecstasy!
Well that's it for this week. Catch ya next time and…DON"T SLEEP!
– Kevin Keith