Don't Sleep On These New Hip Hop Releases
Insomniac Magazine brings another installment of  audio excitement with the latest edition of our Weekly Hip Hop Top Ten! Check out the power on display and always support the underground!!!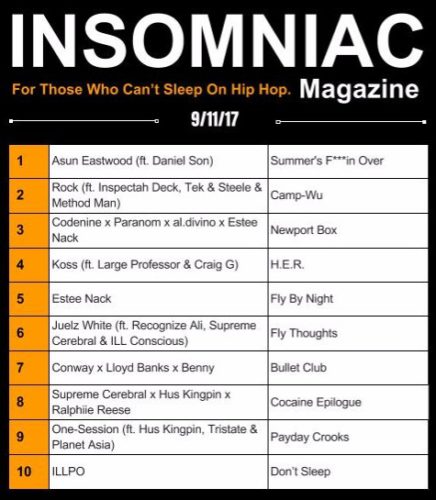 1) ASUN EASTWOOD & DANIEL SON tell listeners to brace for a cold winter as they end the season off with one last blast of heat on "Summer's F***in Over!" The Futurewave laced mega-banger takes the action up north where the super lyricists DESTROY all emcees who dare step in their path. You know they're in a different league so puff on that cigarette, grow out your beard, and simply relax. The rhyme gladiators are throwin' down on the mic. Be glad you're invited to the show!
2) ROCK makes droppin' hits look easy by delivering ANOTHER banger from the "Rockness A.P." album!!! INSPECTAH DECK, TEK & STEELE & METHOD MAN are the legend's latest co-conspirators on a new track called "Camp-Wu" that has all the participants involved bringin' their A-Game! The Ford Tuff & Pascal Zumaque produced gem amps up the energy with a high-powered sonic backdrop and lyrics that will make true heads rejoice & have the Looney Tunes characters running for cover!!! Cut the conversation short if someone tells you they're not feeling' this! Whoever that is, you can be sure they're not worth talking to!
3) CODENINE, PARANOM, AL.DIVINO & ESTEE NACK deliver smooth lyrical jewels over Mr. Rose's silky, laid back soundscape on "Newport Box!" When supreme spitters collaborate on a track magic happens. These MCs represent the highest echelon of underground talent so best believe they give it their all! Absorb the glorious bars of the gods & respect that menthol flow!
4) KOSS delivers more magnificent "Born To Live" material with the LARGE PROFESSOR & CRAIG G featured "H.E.R." The reflective power gem focuses on the passion, creativity, and intelligence that went into the origins of Hip Hop being reduced to nursery rhyme raps, lazy production, and idiotic antics rewarded by social media. Here today, gone tomorrow Rap is all the rage…but the music of Koss, Large Professor & Craig G will live on forever!
5) ESTEE NACK swings & NEVER misses! So imagine what happens when he teams up with production powerhouse, Giallo Point?!? Well, stop wondering because the colossal Crate Divizion crafted "Fly By Night" is here!!! You'll get hit wit' The Hawk as a lyrical onslaught gets set to jump off! If the competition decides to go out at night they'll only fall prey to the venomous vulture swooping down for the attack!
6) Official Crate Music keeps the hardcore heat happenin' as JUELZ WHITE drops a new banger featuring RECOGNIZE ALI, SUPREME CEREBRAL & ILL CONSCIOUS! "Fly Thoughts" are what you need for the mental as pearls of lyricism enter your mind and take hold of your soul! Your consciousness will awaken and your body will follow as you nod your head to the hypnotic soundscape…until your neck snaps!!! Was it worth it? HELL YEAH!!!
7) CONWAY, LLOYD BANKS & BENNY usher in a G-Unit/Griselda collabo for the ages called "Bullet Club!" The Daringer powered cinematic epic on wax supplies raw, thorough, flawless lyricism enmeshed in the hardest production the east coast has experienced in decades! Check this joint out and catch a bullet. It ain't a bad thing. You're now part of the club!
8) Clypto keeps us in #TheLoop with a new wave of aural excellence featuring SUPREME CEREBRAL, HUS KINGPIN & RALPHIIE REESE. "Cocaine Epilogue" is a moody sonic setpiece that conjures images of late, sleepless nights with violence waiting at every turn. The paranoia builds to a fever pitch as our esteemed orators lead us through the darkness. Take a hit & watch Clypto let that clip go!
9) ONE-SESSION gives fans a dope #TheWinners/Gold Chain collabo called "Payday Crooks!" HUS KINGPIN, TRISTATE & PLANET ASIA do the heavy lyrical lifting as they flex superior flows that spark envy in the souls of their competitors! One powerfully minimalistic track with the RIGHT emcees to bring it all home results in a seriously satisfying listening experience you won't find anywhere else. #TheWinners stay on top, the military take over the terrain, and of course, the crooks always steal the show!
10) Fans of ILLPO, DRUGS BEATS, and REAL Hip Hop are already up on the brilliant "Worst Case Scenario" album. But if you missed it somehow, here's another chance to experience that outstanding sonic achievement with the release of the single/video, "Don't Sleep!" You know we love to leave you Insomniac chart-checkers with a banger so here's one that's simply unforgettable! Incorporating Isaac Haye's classic track, "The Look Of Love," NC's power duo DO DAMAGE!!! Check out the action & stay up!!!
Well that's it for this week. Catch ya next time and…DON'T SLEEP!
– Kevin Keith