If you were sleeping before it's time to WAKE UP! Check out Insomniac's Weekly Top 10!!!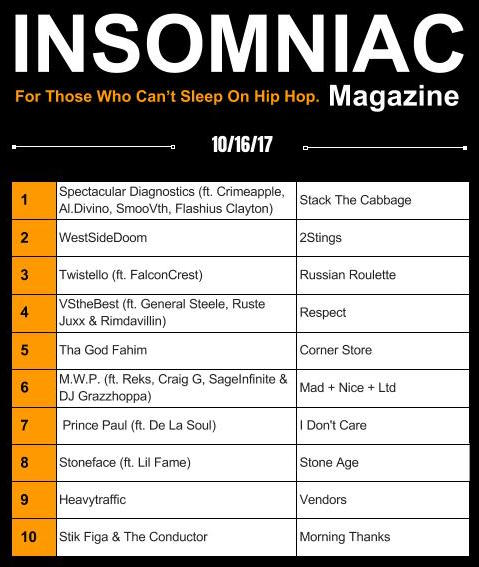 1) SPECTACULAR DIAGNOSTICS designs another superior soundscape overflowing with flawless bars from the underground's most coveted rhyme technicians! CRIMEAPPLE, AL.DIVINO, SMOOVTH & FLASHIUS CLAYTON do the honors and DO DAMAGE on a banger called "Stack The Cabbage!" Verses of steel eradicate everything in their path & put lesser lyricists to shame!
2) WESTSIDEDOOM launch a second attack with the Alchemist produced sonic blast, "2Stings!" We know the Venomous Villain always shines with his soul-corrupting control of the mic but WESTSIDEGUNN clearly steals the show! The Griselda Giant dominates the track in the same way he lords over the industry. GxFR remains on top!
3) TWISTELLO links up with FALCONCREST for Abraham Lilson powered heat called "Russian Roulette!" Lethal lyrics collide with beats of destruction for a powerful presentation of underground action! You'll never know what to expect. just spin the barrel & give it a try!
4) Production mastermind, VStheBEST, fuels GENERAL STEELE, RUSTE JUXX & RIMDAVILLIN with enough sonic firepower to take down an entire building on the new power banger, "Respect!" When you have a lineup like this you'll never be let down! Check the skills & experience the raw!!!
5) It's not easy being a "Supreme Dump Legend"…unless you're THA GOD FAHIM! On the Nicholas Craven crafted gem, "Corner Store," the lyrical champ gets nostalgic over a minimalist soundscape laden with weeping jazz horns. Play the track once & reflect on your own life. There's plenty going on at the corner store. Do yourself a favor & check it out!
6) M.W.P. basks in the "Afterglow" of underground success with the REKS, CRAIG G, SAGEINFINITE & DJ GRAZZHOPPA featured banger, "Mad + Nice + Ltd." The super producer revives the spirit of 90's boom bap with an irresistibly head-nodding track complemented by dope cuts & power bars from a trifecta of lyrical kings. The crew's mad nice! All you need to do is PRESS PLAY & listen!
7) PRINCE PAUL reunites with DE LA SOUL for a previously unreleased masterwork called "I don't care!" Whenever the creative powerhouses get together something magical happens. Needless to say, this is yet another gem from the crew that doesn't disappoint. I don't care about all the hype surrounding new rappers in the industry. Prince Paul & De La Soul represent TRUE talent in the game!
8) STONEFACE ushers listeners into the "Stone Age" with a new BP laced banger featuring LIL FAME! When you need some hardcore s**t you know where to turn! Stoneface unleashes raw fury over the gritty production while Lil Fame plants his legendary imprint on the sonic landscape & tears up the scene!
9) You know SADHUGOLD reigns supreme on the production tip but you probably had no clue he was equally adept on the mic! The Tropes produced "Vendors" showcases spitter supreme, WILES MARTYR, and the underground phenomenon as they build HEAVY TRAFFIC to take over the industry! Check out the best & ignore the rest! These lil' n***as is Jacob but Heavytraffic's The Ladder!!!
10) Mad props must be given to anyone who can take music that sounds like something out of a Renaissance Fair & turn it into a boom bap dream! STIK FIGA & THE CONDUCTOR achieve that with a whimsical underground delight called "Morning Thanks!" Creativity is the lifeblood of Hip Hop & this track is most certainly overflowing. These Hip Hop titans deliver the goods…so give 'em a big salute for the effort & always show your THANKS!
Well that's it for this week. Catch ya next time and…DON'T SLEEP!
– Kevin Keith