A New Year has arrived…and if there's one thing we learned it's that Mach-Hommy, THAGODFAHIM, Denmark Vessey & Koncept Jack$on ain't playin' in 2017!!!! These particular artists have multiple slots on this week's chart & the joints are so good we can't imagine how they'll ever be able to top themselves! But now it's time for us to shut up & time for you to dive into the music. Check out all the countdown champs below as we present Insomniac's Weekly Hip Hop Top Ten!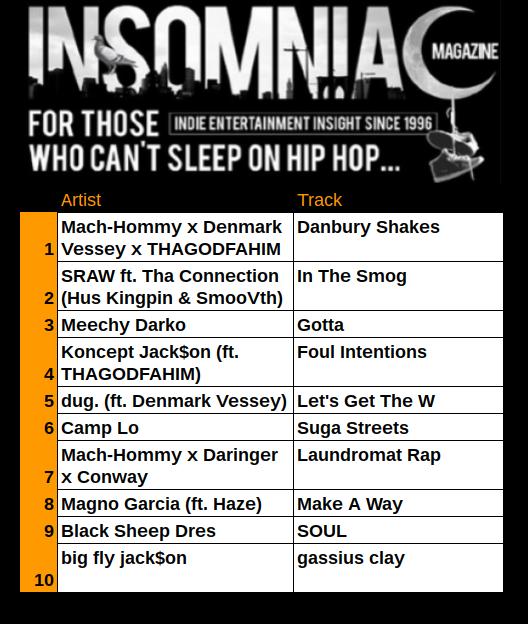 1) MACH-HOMMY & THAGODFAHIM ring in the New Year at the top of the charts with the DENMARK VESSEY laced "Danbury Shakes." The triumvirate of terror rule the Hip Hop kingdom with an iron fist as they combine majestic flows with elite beats designed to keep listeners in awe & the competition at bay. It's underground excitement of the highest order. Press play on this gem & check the skills!
2) There is no greater lyrical connection than the one between Hip Hop Heavyweights, THA CONNECTION, aka HUS KINGPIN & SMOOVTH. When #TheWinners members team up to bless the mic you can always expect something special…which is exactly what you get on the SRAW laced Boom Bap mega-track, "In The Smog." Stockholm's sonic genius crafts a joint so utterly addictive you'll need a few months in rehab to recover! Lord Wavy & SmooVth bring star power to the soundscape as they dominate the surroundings with their "CAME, SAW, AND CONQUERED," take no prisoners method of mic supremacy. We can picture mix-show DJs having a field day with this one…but they better watch out! The heat off this track will scorch their turntables as the radio station burns to the ground!
3) MEECHY DARKO ran off his extensive checklist of conquests over an insanely funky, minimalistic soundscape laced by The Architect called "Gotta." The Flatbush Zombies spitter sounds especially animated on the track. That makes a lot of sense considering the joint is so dope that it would even inspire someone's great-grandma to start rhyming! The wild vocal ad-libs deliver extra punch to the timeless gem that would've easily fit into an early 80's Hip Hop playlist without anyone blinking twice. Hopefully Meechy will continue along this path for the rest of his solo drops. "Gotta" is the perfect example of a Hip Hop track that could swiftly rise up the pop charts without sacrificing it's underground roots.
4) KONCEPT JACK$ON & THAGODFAHIM might have "Foul Intentions" in mind for the competition…but for fans they've got nothin' but love! The Unlucky Bastards & GRAYMATTER produced masterwork is all about lush grooves, Boom Bap beats & of course…DOPE RHYMES! 'You need to get your salary fixed' and spend whatever it costs to see the lyricists perform the next time they roll thru your town. They're on some ill "Deluxe Schematics" type ish. You might not be able to absorb what that means now. But when the project drops the WORLD will understand!
5) Chicago production powerhouse, DUG, joins forces with the ultra-talented DENMARK VESSEY for a top notch track befitting the underground champions called, "Let's Get The W." Stream of consciousness rhymes tear into the sonic terrain with precision & higher level artistic craftsmanship. Listeners need quality Hip Hop to wash out the bad taste of mumblecore rappers stumbling over Trap beats! dug. & Denmark Vessey deliver a caliber of musical excellence few can ever hope to achieve!
6) SONNY CHEEBA & GEECHI SUEDE have been "the hottest cats in town" since they shook up the airwaves with their smash hit, "Luchini," back in the 90's. Now the CAMP LO compadres drop a new Ski Beatz laced joint to end the year off right! "Suga Streets" consists of the dynamic duo's smooth trademark flows and a soundscape that can only be described as CLASSIC! Take another journey into the group's creative musical realm. You won't be disappointed!
7) MACH-HOMMY & CONWAY teaming up for five minutes of DARINGER laced "Laundromat Rap" is like watching two prizefighters go toe-to-toe in the ring. Spare but deeply effective production provides the perfect aural arena for the rawest emcees in town to showcase their skills. It's gritty, grimy, and unmistakably GRISELDA!
8) MAGNO GARCIA joined forces with HAZE on a gospel-fueled track called "Make A Way" that promises to be the salvation for true Hip Hop Heads searching for quality music! The Grubby Pawz produced gem from the lyricist's excellent "Before The King" album will uplift your spirit and empower listeners to rise above all negativity and bring positive changes to their lives & the world at large. Magno Garcia & Haze power through the darkness to deliver a much needed ray of light in the music industry. Check the sounds!
9) The legendary DRES of BLACK SHEEP drops some Chaundon laced "SOUL" on the listeners that will funk up the speakers with triumphant horns, a Boom Bap beat, and can't-miss lyrics. The emcee bounds onto the track with a proud, confident delivery that instantly pulls the audience into the proceeding musical mania. It's a fun, exciting slice of authentic Hip Hop that will keep your finger on the REPLAY button. Legends never die. They just keep making better music.
10) BIG KAHUNA, FLY ANAKIN & KONCEPT JACK$ON form like Voltron to become BIG FLY JACK$ON and hit listeners with the power punch of "gassius clay!" The supernatural Mutant Academy spitters rhyme their asses off over otherworldly rbchmbrs production that will leave listeners backflipping like Hank McCoy to the sonic canvass designed by these uncanny artists. Press play & take the adventure. When The Sentinels are in your town you know where to run!
Well that's it for this week. Catch ya next time and…DON'T SLEEP!
– Kevin Keith