Insomniac Magazine brings you the MOTHER of all Top Ten lists! Check out the tracks below & respect the skills!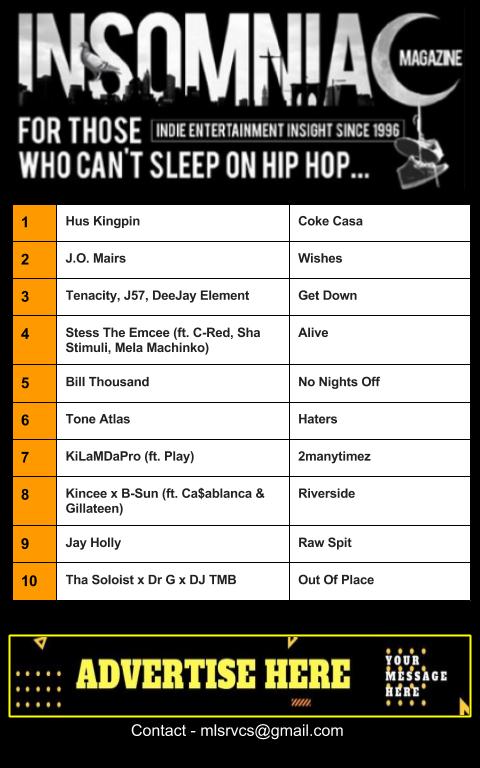 1) HUS KINGPIN takes listeners on a trip to "Cocaine Beach" as he drops gems on a Big Ghost Ltd laced soundscape called, "Coke Casa." #TheWinners Wonder- Lyricist continues to dominate the underground with intriguing content & powerful flows. Sniff the Nebula Plasma & Ride The Wave!
2) J.O. MAIRS boldly strides onto the scene to issue a smackdown with a shovel as he delivers menacing bars on the brand new "Wishes." If there's anyone equipped to shut down the idle chatter over old school vs. new school it's the lyrical dynamo BLACKING OUT on the track below. J.O. puts the hard-hitting track in a chokehold. The genie hidin' in the lamp is getting BEAT DOWN!
3) Sometimes all it takes is one drunken night in the studio to create serious heat! Just ask TENACITY, J57, and DEEJAY ELEMENT. Their new track, the insanely funky "Get Down," is irresistible!!! Don't be a f**k boi! Ride out to the Exile laced action & feel the vibe!
4) STESS THE EMCEE keeps Hip Hop "Alive" by teaming up with C-RED, SHA STIMULI, and MELA MACHINKO for a BackpackBeatz laced slice of sonic nirvana. Being the illest emcee at your 9 to 5 isn't exactly a good thing when you're shooting for the stars…but these artists will keep hustlin' 'til they make it! In our minds, they're already there. This type of superior artistry on display is rarely achieved. The fact that they reached such a high level of creativity is reason enough to celebrate & look forward to what they come up with next!
5) BILL THOUSAND is taking "No Nights Off"…and his work ethic paid off because the emcee's new TK laced cut is a hit!!! The lyrical mastermind makes the pen bleed as he spits rhymes others wish they could conceive. Roll wit' the heat or get f**ked up like a Trump toupee!
6) TONE ATLAS turns "Water To Wine" and watches the "Haters" fall by the wayside! Whether it's "Gold Bars" or "Known Associates," the super lyricist consistently delivers that meticulous underground material true heads covet! Don't be mad cause he's eatin'! Push forward & rise to the top!
7) KILAMDAPRO & PLAY transport your mind, body, and soul to a sonic astral plane of pure ecstasy on "2manytimez." The lush rhythms lull fans into a state of emotional bliss as the lyrics delve into dark subject matter that make us think about the state of the world and remember not to take things for granted. Open your heart to love even though pain is all but assured.
8) KINCEE x B-SUN team up with CA$ABLANCA & GILLATEEN for a banger that's destined to be embraced by Harlem residents as well as true heads the world over. The joint begins with a Tupac vocal sample from "Juice" as his Bishop character lights up an unfortunate rival like the 4th of July! The emcees BODY the kinetic track like the underground kings we know them to be. Go wherever you like…but don't step to the boys from "Riverside!"
9) JAY HOLLY gets ill over Giallo Point's production and comes for your throat with that "Raw Spit!" Channeling focused aggression & passion to complement his extraordinary bars, Jay does justice to Giallo's superb Boom Bap soundscape! Lots of new rappers are softer than a cream puff, but Jay Holly is all about that hardcore!!!
10) We exit the countdown with another top shelf banger as THA SOLOIST, DR G x DJ TMB teleport listeners to another galaxy on the stellar underground masterpiece, "Out Of Place." If you feel like you're losing touch with reality when you listen to the joint that's exactly the point! Tha Soloist utilizes his gruff vocals to maximum effect as he shreds the magnificent soundscape into pieces. Start your journey & PRESS PLAY!
Well that's it for this week. Catch ya next time and…DON'T SLEEP!
– Kevin Keith