Strap yourself in & prepare for a new adventure…Insomniac's Weekly Top Ten is ready for liftoff! Enlighten your underground awareness & explore the power of Hip Hop. Check out the list below…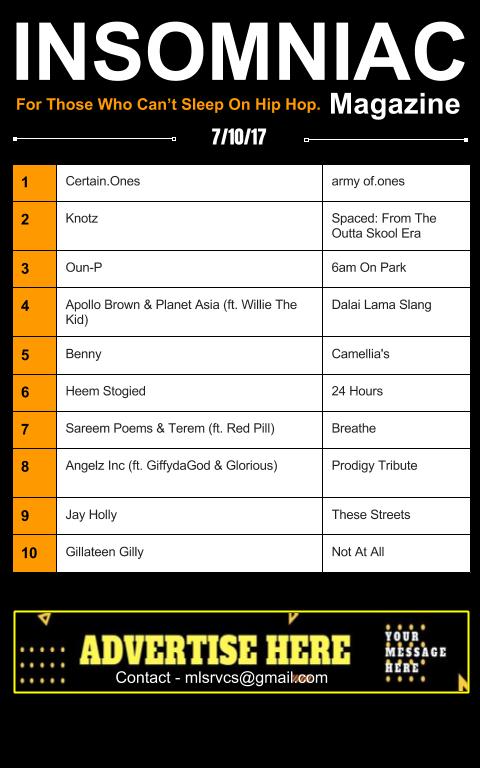 1) Flashback of a flashback! It's MC WHITEOWL, BOBBY CRAVES, FERAL SERGE, BADBELLY & WANN SKLOBI f**king up the set with a dope new CERTAIN.ONES banger titled "army of.ones!" For a collective who have never met face to face, the super group serve up such synergism on their material that you would think they all grew up in the same crib, fighting over the last sip of O.J.! The rhyme visionaries saddle up to the ominous Boom Bap beat & showcase their range with a whirlwind of bars & styles that amplify the excitement & keep the party jumpin'! The battle to save Hip Hop has begun & the army of.ones will boldly lead us to victory!
2) KNOTZ make a hot summer even HOTTER with the delivery of an intergalactic Boom Bap gem titled, "Spaced: From The Outta Skool Era!" Dreadchild hits listeners with another stellar soundscape as he & Aswad Mikal launch into a first rate rhyme spree that will decimate any opposition. New rappers think they have the edge with their mumblecore leanings & commercial radio support…but if they went toe to toe with the Outta Skool Era you would never hear from those poseurs again!
3) OUN-P is on that street s**t again as he stacks cash & delivers dope rhymes on a J-Quest produced power joint called "6am On Park!" Life's a game of inches but the ill lyricist extends his domination of the underground with a solid mix of style, flow, and content that grant him a solid foundation in the cutthroat music industry! 6am might seem like a good time to sleep but on Park the action's just getting started!
4) APOLLO BROWN & PLANET ASIA join forces with WILLIE THE KID to serve up "Anchovies" for your underground palette in the form of "Dalai Lama Slang!" The combo of top shelf barz and beats will overtake your senses and make you pledge your unwavering loyalty to the Gold Chain Military! Keep talkin' that slang & we'll keep listening!
5) BENNY brings hope to the hood while slicing up the competition on the Green Lantern laced slow burn banger, "Camellia's." When The Butcher enters your town you can expect a Grade-A selection of prime lyrics served raw & bloody! Benny stays at the forefront of the Hip Hop scene while other emcees are on the chopping block!
6) Don't let the title fool ya! HEEM STOGIED drops a new banger that you'll be keeping on rotation for FAR longer than "24 Hours!" The Futurewave produced track flaunts a commanding beat and cinematically majestic groove that evokes the supreme spitter to lash out at his enemies and detail the sinister methods he'll employ to ensure his rise to power! Hurry up & check this one out! The clock is tickin'!
7) SAREEM POEMS & TEREM team up with RED PILL to step away from the social media madness & appreciate the joys of life on a new gem called "Breathe." The soulful rhythms and mellow vibe of the track perform a dual function of relaxing our mind & uplifting our spirit as we're encouraged to unplug from the internet and "be grateful for the life we got!" Sharp rhymes & solid production will carry us through! Inhale, exhale & enjoy every second.
8) ANGELZ INC super spitters, GIFFYDAGOD & GLORIOUS, deliver a powerful "Prodigy Tribute" that also serves as a star-making vehicle for their own prodigious expertise on the mic! Armed with alliteration & clever wordplay, the duo rip into a menacing sonic backdrop that keeps your head nodding as you applaud the crew's verbal artistry! Mobb Deep's master lyricist will live on forever. Prodigy traverses the heavens & he's protected by Angelz!
9) JAY HOLLY keeps "These Streets" safe from the proliferation of wack emcees by spitting FIRE over Eyedee's insanely captivating soundscape! Using graphic imagery to describe his gritty surroundings, Jay takes listeners on a dark journey that reveals the multi-layered facets of his lyrical talent. They say REAL emcees move the crowd…Well, Jay Holly's about as real as it gets!!!
10) GILLATEEN GILLY leaves listeners with a major highlight to close out the countdown! The Kyo Itachi laced "Not At All" keeps the speakers shaking with boulder-crushing beats, irresistible rhythms, and a smooth as silk delivery enveloped in threatening undertones to make all challengers run away in fear! Don't enter the "Gillatron" if you're not a worthy opponent. The rhyme machine will chew ya up & spit you out if you can't hold your own on the mic!
Well that's it for this week. Catch ya next time and…DON'T SLEEP!
– Kevin Keith