Insomniac's Weekly Top Ten. You know the drill. Time to begin!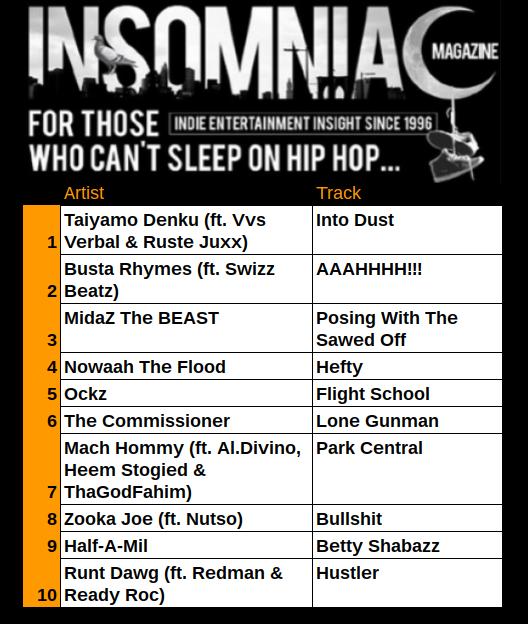 1) TAIYAMO DENKU joined forces with Vvs VERBAL & RUSTE JUXX to deliver a sinister DCypha produced Boom Bap masterpiece called "Into Dust" & now nothing will ever be the same! Each emcee spits with the kind of raw intensity that reaffirms the fact they're savages on the mic! You'll get snuffed from behind with the illest of lines like: "I'm the type that says f**k your b**ch! Hand my girl a strap-on so she can f**k your b**ch!" These are the kind of rhymes you spit when you've got nothing to lose. But they'll end up gaining new fans as a result. Unhinged? Maniacal? Menaces to Society? Hell yeah! And we're lovin' every minute!
2) Now THIS is the BUSTA RHYMES we wanna hear! When The Conglomerate Kingpin teamed up with SWIZZ BEATZ for the off-the-wall, high-energy power gem, "AAAHHHH!!!" it had us hopping on office desks & throwing trash cans through windows like Mookie back at Sal's pizzeria! We couldn't help but get amped listening to the joint. Now it's your turn. Try to sit still. We dare you!
3) MidaZ The BEAST was looking out his window "Posing With The Sawed Off" and we didn't even mind taking two to the dome after trespassing for checking out the sounds! The Orlando super lyricist never fails to deliver a flawless performance on the mic & this track is no exception. MidaZ' calm demeanor in the booth belies the menace (or more aptly, BEAST) that lurks within. Hard as granite on a smooth & soulful track. The contrast is tantalizingly irresistible!
4) NOWAAH THE FLOOD pulled another gem from his "Private Stock" and delivered a "Hefty" serving of sonic heat to the masses! The Mali Empire laced joint creeps up on the listeners with a slow, power-fueled tempo that permits the lyricist to "spit narcotics" across the underground until the entire Hip Hop landscape is flooded with his product. Custies are lining up around the block. We wouldn't have it any other way!
5) OCKZ surveys the game and watches the downfall of players who get caught up in the prestige & quick cash on the superbly produced RAKI laced gem, "Flight School." The emcee's gruff delivery immediately grips the listener and brings them into a fast life that is ultimately short-lived. Live the illusion and you'll soon face reality. Listen as Ockz breaks it down!
6) Everybody can't be a WINNER. That's why you HAVE to pay attention when #TheWinners Capo, Hus Kingpin, announces that there's a new champion in town. The All Ceven produced "Lone Gunman" is our introduction to the lyricist known as THE COMMISSIONER…and with a moniker that powerful you best believe his music's official! The dark, foreboding energy of the track sets the tone for the gritty rhymes that follow. Vivid. All-consuming. It's a journey through the streets you won't soon forget!
7) When you hear that MACH HOMMY, AL.DIVINO, HEEM STOGIED, and THAGODFAHIM are teaming up on a track you can pretty much assume it's gonna be a banger without even listening. Fortunately we DO listen…and yeah, the August Fanon laced "Park Central" was indeed beautiful music to our ears. Then again, f**k beauty!…'Cause this joint was as dirty, ugly, and raw as it gets! You can save the glittery, sing-song, whiny crap for pop radio. This crew keeps things hardcore. Fly off at the mouth & watch 'em get up in yo' face!!!
8) Let's be clear, ANYTHING coming out of production superstar, Domingo's camp is certifiably dope. Wack joints instantly repel off of his indestructible force field of sonic wizardry…which is why the only "Bulls**t" you'll ever hear associated with his name is the title of the Buckwild laced master cut by lyrical powerhouses, ZOOKA JOE & NUTSO. The "Generation Next" triumph showcases how exciting Hip Hop can be when artists make quality music instead of trash! The next level spitters give the infectious soundscape their all as we pump the volume 'til our ears bleed!
9) When DOM KENNEDY & HIT-BOY collaborate as HALF-A-MIL you should know that dope ass tracks are part of the package. "Betty Shabazz" kicked off the action from their recently released EP with soulful grooves and smooth rhymes that made us play it once, twice, three ti…hell, we couldn't stop! This is just the right kind of laid back joint you need to find your own Betty Shabazz. If she doesn't come running when you press play, the b**ch ain't worth it!
10) RUNT DAWG dropped some "ItsMrWilliams2U" heat on the listeners by enlisting REDMAN & READY ROC for the Boom Bap wet dream, "Hustler!" This is on that throwback basic beats and grooves s**t that we can't get enough of! Witty to downright hilarious lyrics are delivered with exceptional skill(Come on, look at the talent involved)! You don't need overproduced tracks & silly hi-hat rap to get over. Just keep it raw and the fans will come. Hip Hop at its purest essence. Be true to self and you'll NEVER go wrong!
Well that's it for this week. Catch ya next time and…DON'T SLEEP!
– Kevin Keith