Thanksgiving is over. Now the real feast begins. Sit back, relax, and check out the Top 10!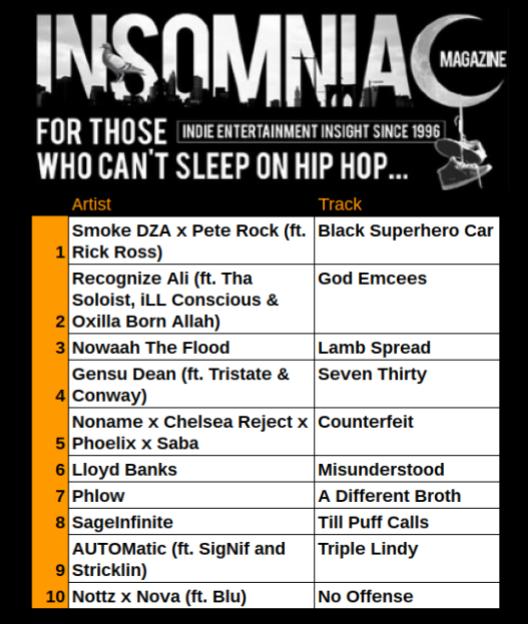 1) SMOKE DZA & PETE ROCK enlisted RICK ROSS for a new "Don't Smoke Rock" power cut called "Black Superhero Car" that dominated the sonic landscape with flawless production and dope rhymes to boot! The soul-powered track sounds like something straight out of a 70's blaxploitation flick with it's triumphant soul groove that inspired the lyricists to glide across the beat like Shaft strutting across Times Square. This track is THE TRUTH. When it comes to the illest joints in town, DZA, Rock, and Rozay are in the driver's seat!
2) "F**k all you Willy Wonkas!" RECOGNIZE ALI joined forces with THA SOLOIST, iLL CONSCIOUS & OXILLA BORN ALLAH for a lyrical onslaught of verbal artillery on the Karnate laced, "God Emcees." The supreme spitters wouldn't even take a breath if it wasn't for the clever doo wop break interwoven into the track. It's 3 minutes of smack ya in the face, fist pumping, underground heat so deep you might get buried in it! If you like your Hip Hop hardcore this one's for you. Peace to the Gods!
3) NOWAAH THE FLOOD bills himself as "The Livest MC In The Wilderness Of North America" and we're inclined to believe him after listening to the stellar Clypto produced masterwork of sound, "Lamb Spread." This is dope so pure your heart might explode! Everything clicks on this joint – the flow, delivery, production, content…hell, even the drop outs are so on point that you'll be keeping this track on rewind for the rest of the week. Give the lyricist a BIG salute. What he's doing ain't easy…but he sure does it damn well!
4) GENSU DEAN delivered the goods yet again with his latest power platter "RAW." Out of the multitude of gems that nearly blinded us with their bright display, the TRI-STATE & CONWAY featured "Seven Thirty" proved to be the centerpiece ornament we couldn't put down. Venomous verbals are spit over a golden groove that was so powerful it almost convinced us to take up contract killing as a hobby! There's something about the pairing of Tri-State & Conway with Gensu Dean produced heat that drove us crazy. We're gonna keep playing the joint 'til we're certifiably insane!
5) 119 Productions unveiled a new single from their forthcoming "Countdown 2 Midnight" compilation tape and damn, it was a good one! Press play on the NONAME, CHELSEA REJECT, PHOELIX, & SABA featured track, "Counterfeit," and you'll feel like you're transported to an ethereal world of cautious optimism that rises above past tragedies & injustices while simultaneously name checking them. Each emcee spits deft-defying lyrical sonnets that channel the blood, sweat, and tears of a warrior! Maybe we're smokin' that La,La, La…but there's nothing counterfeit about this track. It's as real as it gets!
6) LLOYD BANKS may be "Misunderstood" but when the G-Unit Juggernaut's Beat Butcha laced banger came blaring out our speakers we received the message loud and clear! Lloyd's definitely playin' for keeps as he delivers his raw and raspy vocals to maximum effect over a bone-crushing beat that true heads will cherish! This is Mr. Banks at the top of his game…and we're ready for more!
7) There's a party going on and PHLOW is bringin' it to the masses! The Teck-Zilla laced masterpiece, "A Different Broth," telegraphs pure Old School vibes with New School arrangements plus unfiltered energy from Lagos, Nigeria's super lyricist who is destined for stardom within the Hip Hop arena and beyond. Phlow & Teck-Zilla's got a different broth cooking. Stand in line & get a taste!
8) SAGEINFINITE is so talented & self-assured that he doesn't really have to rhyme. In all honesty he can let the buzz he's receiving speak for itself and wait "Till Puff Calls." All it takes is one listen to the majestic lyricist's flow and mastery of wordplay to realize that he's better than your favorite rapper's favorite rapper. The ShoZAe produced piece of perfection is a mere sample of what he has to offer. Struggle artists better call him for paid features now cause in a minute he'll be way out of reach. Can you hear him now?
9) Milwaukee, Wisconsin's, AUTOMATIC, ran the "Marathon" and WON with the SIGNIF & STRICKLIN featured "Triple Lindy!" The slinky, soul & jazz fueled track brings the best out of each emcee as they rip the joint to shreds. 'What good is a mic if it's not in their hands?' We don't want to find out. Keep spittin' that heat and you'll always have fans cheering you on!
10) NOTTZ & NOVA have a joint project in the works & if the entire platter is as good as the BLU featured first single, "No Offense," lots of artists are gonna be running back in the studio to try & keep up! Some might believe the track is a basic beats and rhymes affair. But for those who do, we advise you to listen again because there's an advanced underpinning of solid Boom Bap and complex couplets that hold the entire structure together. To break it down, creativity is being pushed to the limit. No offense, but other crews don't stand a chance.
Well that's it for this week. Catch ya next time and…DON'T SLEEP!
– Kevin Keith