For more than 20 years now, Insomniac Magazine continues to spread the word that stellar independent Hip Hop is alive and well. We've previously covered Jus P, an exemplary example of why this is the case. Now, we'll dig into an interview with this talented emcee from Queens, New York, as he explains, "by way of Long Island." He's impressively consistently released a bevy of projects, including three through indie label Chambermusik Records. His titles span collaborations and solo projects, including full-lengths, mixtapes and more. In this discussion, Jus P shares his entry and journey within the independent Hip Hop music industry.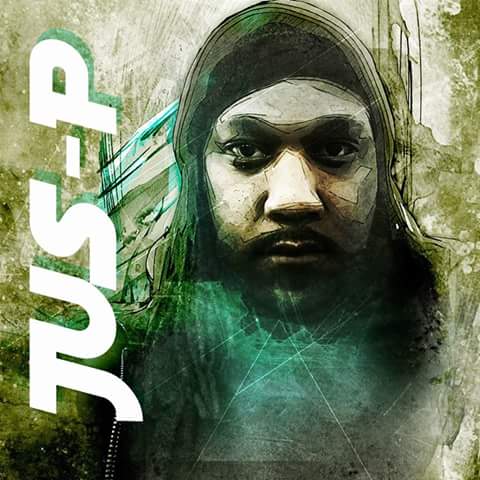 Can you discuss how you got into Hip Hop? When did you first begin recording?
I first got into Hip Hop was through an older cousin. Before the age of 12 my pops had me on things like Prince and Aerosmith Ozzy Osbourne. My mother had me listening to gospel and weird light fm elevator type music. Going to my cousin's house I was exposed to things like N.W.A. P.E. LL Cool J. Acts like Wu-tang, Snoop, The Fugees inspired me to pick up the pen. Dr. Dre, Tupac, Boot Camp all had a hand in me wanting to rhyme. Artists that inspire me are Nirvana, Janis Joplin, Kanye West, among many more. I get inspired by people and situations around me. In high school I formed a group with GS ADVANCE. I was in many battles and showcases in New York and Atlanta all through high school. When I went to college I got into serious recording and putting albums together. I went to Five Towns College which is a school that focuses on business and entertainment, and in that one year I went there, I crossed paths with so many amazing people. Chrissette Michele went there, Julissa from BET, Dynasty who has worked with Dj Premier, William Cooper of Black Market Militia and many more were all there that same year.

What would you say is a perfect album?
To me a perfect album from any era would be like Wu-tang's "Enter the 36 Chambers," Nirvana's "Nevermind"… To me, albums like those not only capture moments in time but are also timeless. Every song was made with the best possible effort, they flow together cohesively and deal with various emotions and situations.
Tell me about the Supafriendz.
The Supafriendz projects were to chronicle my encounters with different artists that I've worked with though Chambermusik Records. I've featured on a few Solomon Child's albums, projects from Holoacuast and The American Poets 2099 family. I've worked with Buddha Monk and The Brooklyn Zu collective. The Supafriendz albums were just to have all my experiences in one place. The interesting thing about "Supafriendz 2" is it was first meant to be an album with Solomon Child's and myself. It was supposed to called "Enemies of the State." Songs like "Running with Knives" and "Dragon Sickness" were made for the album. Due to scheduling conflicts, we never finished. I took those and others I had with people like the Shield Enforcers [and] Drayard Hell Razah and made a sequel to Supafriendz.
How do you differentiate your sound and style from other emcees?
I differentiate my style and sound from others in a number of different ways. My life and experiences are a big part. I'm naturally a go against the grain type. By me being as honest as I can be and revealing my personality I already set myself apart from others. Combining that with the principles of a true emcee, makes me an elite emcee.

Please share the biggest lesson you've learned so far during your journey within the music industry?
The biggest lesson I've learned so far is that besides hard work and talent you also need consistency . Whatever you put in you have to keep at it consistently. Have a balance with your personal life and your dream and keep at it constantly.
Can you discuss some moments in Hip Hop marketing, in the past or currently, that left an impression on you?
Moments in Hip Hop marketing that left an impression on me were things like what Jay Z did with Samsung and The Magna Carta album. Bushwick Bill having his eye injury on the cover of the Ghetto Boys' album. Also, with Conway having his face all over a cult like fashion line. I think that's dope.
What marketing activities do you feel have been the most impactful in helping boost your footprint in the game?  
The marketing activities that have been most impactful to me are having special rewards and give-a-ways to people that support. If you buy a project directly from me or GS ADVANCE, you'll likely also receive bonus songs, custom graff pictures from one of my graff heads- anything exclusive. To me those things have been the most impactful. Treating each supporter special. I connect to audiences the most using Facebook. The label uses all other forms of social media Twitter and I.G. and my music gets promoted through that, but I interact with the people that support through Facebook.
What's a Jus P show like?
I love performing. A Jus P show is like that scene in the movie Juice where Q is at the dj competition and tears the whole place down. Real traditional Hip Hop, but also progressive. A lot of energy and crowd interaction. My shows are like all other parts of my art. Tailor made for the situation and audience.
Can you discuss how you go about working with producers and rhyme collaborators? How do you connect? What's your typical recording flow?
I've worked with all different types of emcees and producers from all other the world, but I like working the most with the people in my circle: GS ADVANCE, Sharp Grizwold, 5star and S.C. productions. Making music with them there is a history and bond. They know my style and I do theirs. It also allows us to push things forward. With outside producers and emcees it first has to be mutually beneficial [and] a respect and friendly competition type of thing. I connect with them in anyway possible. Online or in the streets. Sometimes we're together in the lab or shooting ideas back and forth. To me, it's whatever gets the job done.
What do you classify as success in the music industry?
I think success in this game is progression and meeting small goals. Reaching heights that I previously didn't . Gaining new listeners and new platforms.
What kind of tracks can we expect to hear in upcoming weeks?
In the next few weeks I'll be releasing more music from Supafriendz 2. More radio appearances and shows.
What I got coming in the near future is an e.p. with Innocent called "Tried by 12," an e.p. with Skramble Sessions with the grimey toof. As well as a full length lp with G clef of Chambermusik, more music with GS ADVANCE and the Shadow Clan.
I want to thank Insomniac magazine for taking this time out with me. Peace to all that's rocking with me. All the blogs and radio spots. Peace to all that's ever checked me or my music . I do this for all of you. Stay tuned more fire on the way. 
interview by I. Vasquetelle