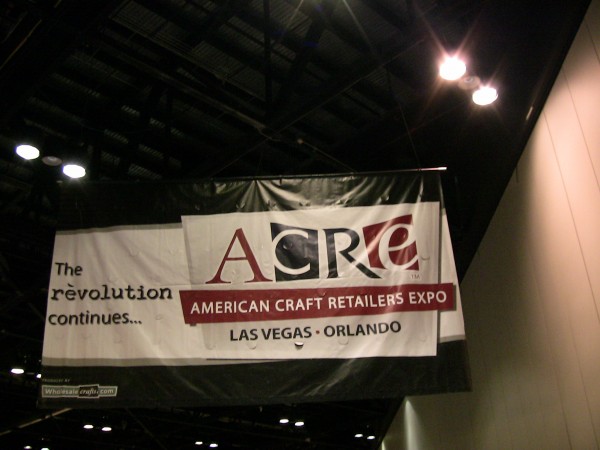 American Craft Retail Expo provides an amazing opportunity for artists of various mediums to showcase their creations for all types of buyers. The trade show, which takes place in Orlando and Las Vegas each year, is a wholesale marketplace where artisans can present their unique products to a variety of retail buyers representing everything from gift shops to galleries.  Display booths are lined with elegant handmade glassware, sleek apparel, cosmetics and a wide array of interesting goods.
(Above: The PoCo Paper display features beautiful pieces of tile art which is created by hand amazingly from recycled paper and apparel.)
The variety of wares represented throughout the expo is extensive. Some artists' creations were transformed from everyday items, such as tin cans and tires, into beautiful jewelry. One creator displayed gorgeous looking instruments made from gourds. Other items resembled high end pieces, for example, glass art that one could envision on display within a museum. This marketplace is an impressive environment that enables entrepreneurial artisans to connect with buyers seeking to bring in unique goods into their places of business.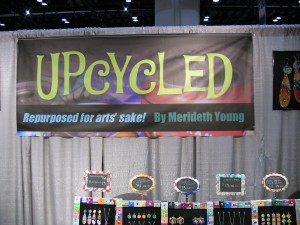 Who doesn't appreciate visiting a quaint gift shop that has an amazing treasure that will make the perfect gift for a special someone; or, coming across a funky boutique that has that brilliant piece of home decor that will make a bare space in your living room an attraction? It's possible, those special finds wouldn't have made it into retail without the business that takes place at ACRE. This years' Florida event, from 1/25 – 1/27, was well attended by serious artisans and retail buyers.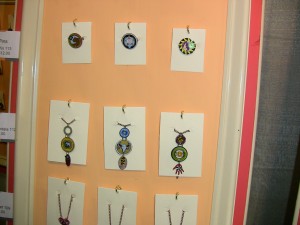 (Above: These chic pieces of jewelry, created by designer Maura Cartwright, were on display in Uncapped's booth.)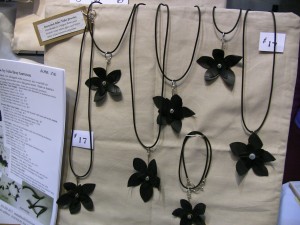 (Above: These awesome necklaces by Julia Bray Garretson were once tires.)
(Images from both the 2013 and 2014 A.C.R.E. events at the Orange County Convention Center.)
 The ACRE Vegas show takes place from April 29th through May 1st.
by I. Vasquetelle
{ Comments }