Insomniac Exclusive
interview by Tony "Rescue One" Samuel
Tony S: When it comes to guys like Jay Z and Puffy, these cats basically followed in your footsteps;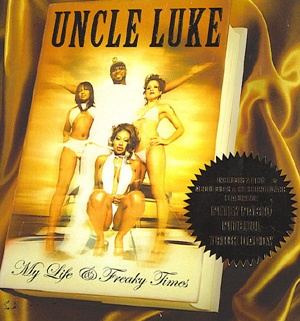 along with Russell Simmons footsteps…you guys lay down the blueprint. Do these guys show you any respect?
Luke: Oh yeah…I saw a interview the other day when they asked Jay Z about me and he gave me my props and I am sure if somebody asked Puffie he would give me as well. When I first met Jay Z he was with Biggie. He was just one of the cats that was rolling with Biggie…the same thing with Puff. The first time I met him he was just hanging out with some industry people.
Tony S: Back in the day, you had a celebrated battle of videos and diss songs with Dr. Dre and Snoop Dogg. What originally caused that beef?
Luke: It was some stuff long time ago. I did a record…they did a record…there was a problem…I did a record on how I felt…just regular beefing and it got squashed.
Tony S: So everybody is cool today, right?
Luke: I am cool with Dre…but I have a problem with Snoop…over something that happened at a little league football game…his people was kicking one of mine…the little football kids…it almost broke out into a riot. I think he should apologize to the kid and to the kids' parents…for his people acting stupid like they did…I have a problem with any man that will allow people in his crew to kick another kid. I got problem with him. It's not to the point where I am going to go and beat him down. It's something he have to deal with as a man.
Tony S: You and your crew have been responsible for a lot of hits. How do you approach the whole songwriting process?
Luke: I just put hot tracks on man…as long as it's a party track…that's what gets me cracking…gets me moving, ready to go.
Tony S: As a business man…what would you consider to be three of your most celebrated power moves in the industry?
Luke: Winning the Supreme Court decision. Being the first black owned and operated independent artist record company…as far as the career, being the man that I am and getting the respect from my peers.
Tony S: What were the circumstances that resulted in you filing for bankruptcy in the mid 90's and losing your music catalog?
Luke: I wanted to get out of my contract with Sony. I was able to reject the contract in bankruptcy court. They wasn't paying me my money! So in order for me to get out of the contract…I filed bankruptcy…Chapter 11…you can reject any contract that you wish to reject.
Tony S: Did you learn anything from this experience?
Luke: I learn things every day and when you listen to the audio book you will learn how I really feel about that whole process.
Tony S: How does a girl become a Luke dancer?
Luke: How does a girl become a Luke dancer? She has to be tri-sexual. We are having a contest around the country (Miss Freaky Soul 2006). It's good that you asked about that. A girl just have to be real innovative, sexy, classy, educated and real sexually oriented.
Tony S: A lot of people don't know about the philanthropic side of Luke. Tell us about the national youth football league. Tell us how and why you started this organization?
Luke: I started that program 17 years ago…I found that a lot of kids in programs did not have funding like they needed to have…So I got with my partners and some other influential business people in Miami…I started my own league…I started the program to help kids. I am giving out charters to other business people, athletes and entertainers to start their own leagues in their own cities…it's a good way for athletes and entertainers to give back…
Tony S: That's cool. More cats in the industry need to do things like that. As a businessman, what advice would you give to someone who is trying to follow in your footsteps?
Luke: I would tell them to read a lot of industry books. Learn about the business before you get in…don't believe you can learn about the business by looking at a music video or a movie about the business. Learn about the business by reading books.
Tony S: Besides the music and DVD's…what's next in the pipeline from Luke?
Luke: Luke Adult Entertainment division…something I have been working on for the last several years…do the same thing I did for Hip hop…business wise… strip clubs around the country, DVD movies…classy movies with plots…a real interactive website and do a magazine on the level of Hustler or Playboy…do it real classy.
Tony S: Thank you and best of look in all your projects.
Luke: I appreciate it.
UNCLE LUKE
My Life & Freaky Times – in stores now!
{ Comments on this entry are closed }