Fugee's Affiliate Makes  A Splash
As a teenager,
Big Maf
spent countless hours in lyrical combat on the corners of Avon and Chancellor Avenue in Newark, New Jersey – often being the last MC standing.  Big Maf is now ready to take the world by storm with his accomplished and unique style of Hip Hop.  According to Maf, he was an influential member of the Refugee Camp, touring worldwide with the
Fugees
.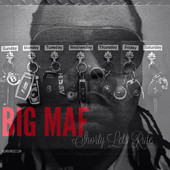 As a member of the Refugee Camp, Maf said he was always counted on by Wycelf to create the ill vibe.  Maf said his creativity in studio sessions made him a force to be reckoned with by platinum stars.  He said he created the vibe that helped to produce  multi-platinum records.
As a true Jersey Representa, Maf has been called "the hottest rapper with a reggae style flow".  Maf said he is now on a "musical crusade", intent on bringing great production and lyrics into the Hip Hop game.  His style is original and he delivers real authentic materials.  Feel his presence and know that Big Maf is the real deal!  Check out the new hot single for the summer by Big Maf - Shorty Let's Ride!  It's the blazing summer anthem for 2013!  Now available on iTunes!
Tony Samuel
{ Comments }