Chuckie Campbell is the perfect example of a performer who isn't afraid to go against the grain. While many of today's rappers focus on the materialistic aspects of life, Chuckie chooses to approach his music from a more conscious perspective. His latest video, "All I Meant"(Ft. Cole Jonique), from the critically acclaimed "More Die Of Heartbreak" album represents his viewpoint on the human element that binds and connects us all – Love. In this particular case, it's love in the more ROMANTIC sense of the word.
The video opens through the viewers' eyes. We peer through a gate to see a young businessman amble through a railyard. He looks around, contemplative in thought while swigging alcohol from a flask. His head bows in defeat as an overwhelming sense of loss washes over his face. The track drifts in while a female dancer performs expressionistic, balletic poses. Chuckie emerges from the shadows to enlighten the listeners with lyrics describing the true meaning of love as we are treated to glimpses of the businessman's domestic life & the issues that created distance between him and the woman he cherished.
Steve Pyne is the director of the piece. Each frame is artfully shot & creatively edited to convey the deep emotion Chuckie describes in his lyrics. Cole Jonique's heartfelt vocals also contribute to the strength of the track. With songs like this, it's easy to see why the Buffalo emcee recently won for Best Hip Hop/Rap Performer and Best New Artist at the ALL WNY Music Awards. He is currently on a tour booked through Deep Thinka Records. Listeners who are looking for more substance & quality in their music should definitely pick up a ticket and check him out.
– Kevin Keith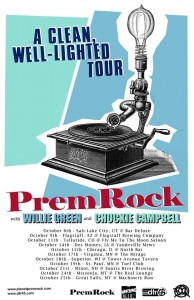 Remaining Tour Dates are as follows:
Oct. 24th – Missoula, MT @ The Real Lounge
Oct. 25th – Great Falls, MT @ Machinery Row
{ Comments }