Well readers, it's time for the Insomniac Weekly Top Ten list again…and to be as blunt as possible, this one HURT. We don't know what it was about this past week, but every artist seemed to be on their "A Game!" Numerous arguments and debates occurred over several artists' lack of inclusion on the list. One writer even threatened to quit! But hey, that's how passionate we are about the music. This is the only job we can think of where making things harder on us is a good thing. As long as each artist keeps bringin' the heat, we'll keep bringin' the best talent to the list. So here we go…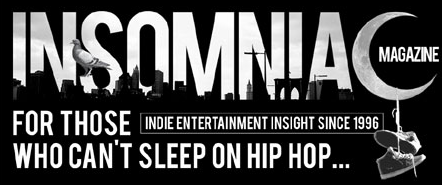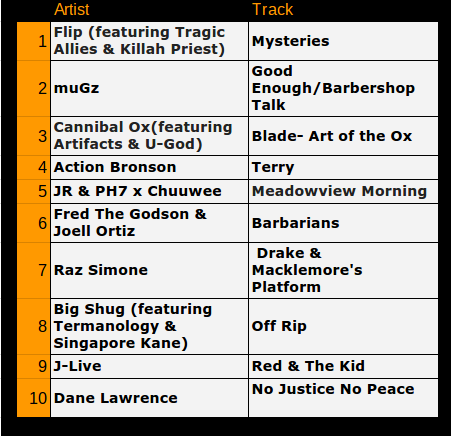 1) FLIP proves that the best Hip Hop can come from any part of the world. He's an Austrian producer, DJ, and emcee who has been providing us with quality music for over 20 years! On his new "Reflections" album he teams up with the underground's elite. But it's his "Mysteries" track in particular(featuring TRAGIC ALLIES & KILLAH PRIEST)that transported us to a sonic realm where TRUE talent shines brighter than the sun.
2) When you think of a superstar emcee who's reppin' for Canada you think of…MUGZ! Okay, maybe he's not the first name you think of…but that'll probably change after listening to the Jelan Abrams & Chill Boogie produced, "Good Enough/Barber Shop Talk." The Montreal lyricist kept the music funky & we kept him on repeat ALL WEEK LONG!
3) CANNIBAL OX have ALWAYS given fans great music. When we heard they were releasing a new album called "Blade Of The Ronin"(after an EXTREMELY long hiatus) the entire staff cheered in excitement. On the Black Milk produced, "Blade: The Art Of Ox," Vast Aire & Vordul Mega teamed up with Artifacts & Wu-Tang Clan's U-God to create an aural masterpiece!
4) ACTION BRONSON makes everything better. Just listen to Mr. Wonderful finesse an already amazing Alchemist produced track with his colorful lyrics & superb delivery. Very few can deliver the goods like Bronson does on "Terry." That's why fans are salivating for the album to drop!
5) Producers, JR & PH7 and Sacramento lyricist, CHUUWEE, hit us with another incredible track from their collabo album, "The South Sac Mac." "Meadowview Morning"(featuring Bueno & Sean LaMarr)stirred up a lot of memories while also providing the sonic energy we needed to make it through the week.
6) FRED THE GODSON & JOELL ORTIZ's "Barbarians" track should be featured on a VH1 show called "When MONSTER lyricists ATTACK!" The earth-shattering Heatmakerz production shook up the Insomniac office. Walls crumbled…Ceilings collapsed…Employees ran for cover!!!….But when the smoke cleared & the song ended, we found a small card in the rubble with Fred The Godson's name on it, saying: "Sorry for the damage. But look out for the 'Contraband 2′ mixtape…Coming soon!"
7) RAZ SIMONE is emerging as a true leader in underground Hip Hop. His outstanding work ethic and dedication to the craft are unparalleled. "Drake & Macklemore's Platform" is yet another powerful showcase for the unlimited talent the lyricist possesses. We respect the music…and the MESSAGE.
8) BIG SHUG couldn't go wrong with the DJ PREMIER laced joint, "Off Rip." The Gangstarr Foundation member enlisted serious spitters, TERMANOLOGY & SINGAPORE KANE for the track and what can we say except, "WE WANT MORE!" 'Looks like we'll be getting it too. Shug's "Triple OGzus" album drops March. 17th.
9) J- LIVE paid homage to Hip Hop mixtape and radio pioneers with his new track, "Red & The Kid." He even adopted Greg Nice's classic delivery for the tune. It was great to hear the names of underground radio legends who aren't often mentioned(Martin Moor, Lamel & Kwame) but what about Kevin Keith & The Dirty Dozen, and IZ-Real from WPRK's Draztik Radio? Oh well. Maybe he'll make a sequel.
10) DANE LAWRENCE's "No Justice No Peace" was stuck in our heads all week. The searing lyrics by Dane…The triumphant, masterful production by KDOTONTHEBEAT. This was the perfect song to cap off Black History month…or ANY month! It was so powerful…and so greatly appreciated.
Whew! That's the end of another list. Catch ya next week…and, DON'T SLEEP!
– Kevin Keith
{ Comments }