If you've ever stumbled across one of the many outdoor festivals New York City has to offer and swayed to the lush, island rhythms emanating from musicians on a nearby stage, odds are that you were listening to an incredibly gifted band from south shore Long Island called Noah's ARC. Formed by a group of friends and family who all shared a love of Ska, Rock Steady, Dub and Roots Reggae, the band has been showcasing their own unique brand of groove-based music since the late 90′s.
Noah's ARC (aka "No One's ARC") is composed of Carl "Hookey Dookey" Obrig (saxophones, penny whistles, percussion), "The Mouse" Mark Rios (drums), Craig "Padre" Pagano (guitar/vocals), Scot Gropper aka "Blip Blopper"(keys/guitar/vocals), James "The Conspiracy" Pipa (bass/guitar/vocals) and "The Criminal" aka "Deathwish", Noah Pagano (bass/guitar/vocals). Aside from festivals, the group also perform at colleges and clubs throughout the northeast U.S.(Note: The writer of this article saw them at the Garibaldi stage at Washington Square Park & they were phenomenal!)
So check out the band when they're in your area. You'll be amazed at how they incorporate elements of rock, funk and free jazz into their performances without losing the essence and purity of the musical traditions of Jamaica. Noah's ARC may be a local group at the moment…but this powerful band will soon be embraced by the world.
Below, the group performs with legendary vocalist, Watty Burnett of the world famous Congos(who plays select dates with the band).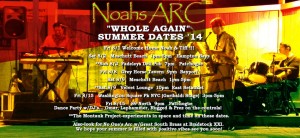 { Comments }