The month of July is drawing to a close & you can feel the summer slowly slipping away. But don't panic. Even when the sunny weather becomes nothing more than a memory, you still have Insomniac's Weekly Top Ten list to hold you down. It's the one thing in life that will last forever! So sit back, relax & check it out below.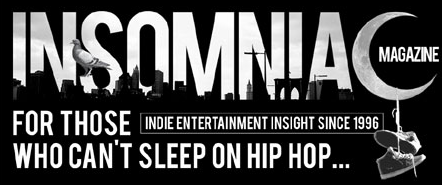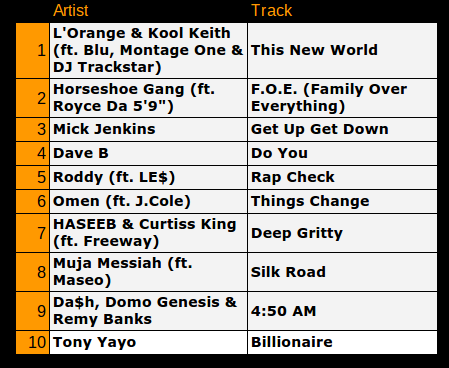 1) L'ORANGE & KOOL KEITH finally released the long-awaited "Time? Astonishing!" album and pushed musical boundaries even further with their remarkable space age chemistry. One major stand out cut was the BLU, MONTAGE ONE, and DJ TRACKSTAR featured "This New World." Hardcore beats, piano keys, sci-fi samples, and abstract rhymes collided to produce an intergalactic masterpiece. Who needs time when Kool Keith & L'Orange make music THIS astonishing?!?
2) HORSESHOE GANG joined forces with ROYCE DA 5'9″ to emphasize the importance of "family over everything," and did so brilliantly on the scorching "Knocking On Raps Door" EP cut, "F.O.E." KXNG Crooked's real life brothers-in-arms flex their amazing rhyme skills over a track that made us stand up and take notice. Royce laces the production with lyrical icing that sweetens the groove & firmly plants this family at the forefront of the music scene.
3) MICK JENKINS threw fans a curve ball & released a Stefan Ponce and ThemPeople produced track that was decidedly more uptempo than the material we're used to hearing from the Chicago lyricist. We felt that the cut perfectly showcased some much needed diversity from the emcee & made us even more excited about his forthcoming "Wave(s)" album. When you want to hear quality music, check through Mick's catalog & show your neighbors you have good taste by blasting "Get up Get Down."
4) DAVE B's reign at the top of Insomniac's Weekly Top Ten list is bordering on legendary status. The Seattle emcee does it again with a Stewart Villain produced funk jaunt through musical ecstasy on his latest cut, "Do You." Dave remains at the top of his game with his spell-binding flow & Stewart amps up the proceedings with joyous horns and synths that elevate the proceedings. We don't know how Dave keeps winning, but we definitely know we don't want him to stop!
5) RODDY is the truth! In fact it's so true, we'll say it again…RODDY IS THE TRUTH! The Jet Life lyricist already stormed our charts with his DJ Relly Rell produced "Apologies" and now he's back with another irresistible cut called "Rap Check." Production duo Cookin Soul provide the heat that fuels the whole affair & LE$ drops in to spit super-charged bars of FIRE!!! This is some dope ish! Keep 'em comin'!!!
6) Dreamville artist, OMEN, hit listeners with his J. COLE featured track "Things Change," and exhibited deep lyrics and creative flows on the mellow cut from the "Elephant Eyes" album. The song will make you travel down memory lane…but forget all hope of ever revisiting the past. Why? Things Change.
7) West Coast lyricist, HASEEB, and producer CURTISS KING will be dropping an insane amount of heat on their upcoming collabo project, "The Daisy Chain." How can we be sure? Simple. One listen to the FREEWAY featured "Deep Gritty" told us everything we needed to know. Rhyme skills that go way beyond the norm and dope production are what we appreciate here. These Hip Hop titans most definitely deliver.
8) MUJA MESSIAH gets a major co-sign from DE LA SOUL's MASEO before walking listeners down the musical majesty titled "Silk Road." The Minneapolis mic sensation spits electric bars over a high energy track designed to stun your senses. It's one of the tasty sonic treats from "Angel Blood Soup." Despite the title, this particular track is delicious!
9) Imagine New Jersey's DA$H, Odd Future's DOMO GENESIS & World's Fair lyricist, REMY BANKS, teaming up to spit bars on a Black Noi$e produced track. Well, imagine no more because the time is now! "4:50 AM" gave us what we always want from these guys…raw lyricism at its finest! It's one of those one-off collabos that needs to happen more often. You'll enjoy listening to "4:50 AM," no matter what time of day it is!
10) Other G-Unit members get most of the shine, but TONY YAYO's contributions to the Hip Hop genre shouldn't be discounted. I mean, the man had some of the funkiest freestyles this past year and was instrumental in dusting off & breathing new life into those old 80's & 90's tracks everyone forgot about. That "everyone" doesn't include us. Those tracks were integral to the music's origins and we GREATLY appreciated his efforts. With that said, Yayo now gives us a sample of what's to come on his "El Chapo 3″ mixtape with the cut "Billionaire." It's dark, gritty and pure Hip Hop…In other words, music for INSOMNIACS!
Well, that's it for this week. Catch ya next time and…DON"T SLEEP!
– Kevin Keith
{ Comments }