Insomniac's Weekly Top Ten is back for another 'go round & the selection process was one of the most grueling we've had in months! So many of our faves were right on the cusp of the countdown, but ended up on the cutting room floor due to the sheer volume of dope material. What that means is that it was a good week for Hip Hop. A week you can check out, in all its glory, on the Top 10 list below.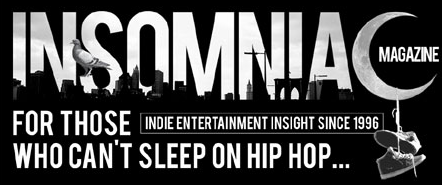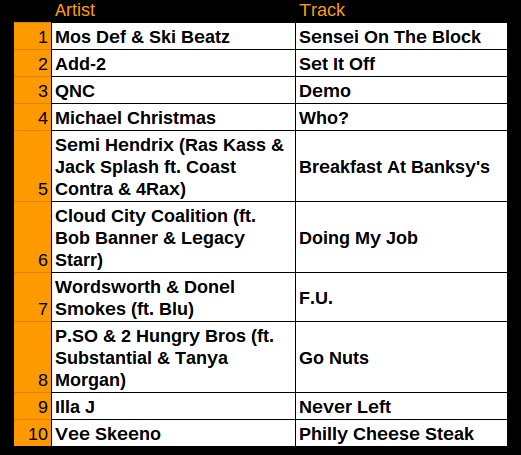 1) Yasiin Bey's MOS DEF persona couldn't be restrained any longer! The lyricist bounded back onto the scene to drop a stealth collabo with super producer, SKI BEATZ, that blew up the internet and left fans salivating for more! "Sensei On The Block" contains Caribbean steel drum patterns, deep basslines and of course Mos' intricate & energetic wordplay. Will we get an entire platter of new joints from these two? Only time will tell. But in the meantime, let's savor Hip Hop at its finest!
2) Chicago's ADD-2 debuted on our chart at #10 last week with "Stop Play Rewind" and lands firmly in the #2 slot this time around with the 9th Wonder produced, "Set It Off." The lyricist delivers clever, controversial, and humorous rhymes over a slow-rolling soundscape that can be described in one word…FUNKY! Add-2 & 9th Wonder should be celebrated for this piece of sonic nirvana! When things aren't going your way, throw on this track and SET IT OFF!
3) Q BALL & CURT CAZAL (aka QNC) return to the countdown with the B-side to their chart-topping 7″ single, "At The Same Time." "Demo" is the kind of track that steam rolls past the glut of sonic garbage currently riding the airwaves. It involves the winning combination of Main Source's "Live at The Barbeque" drum pattern, Kool G. Rap & DJ Polo's "It's A Demo" hook and of course that incredible energy and unparalleled skill Q Ball & Curt bring to the entire affair. Let's sit down and talk Hip Hop…and let's begin with QNC!
4) MICHAEL CHRISTMAS brought lyrical dexterity and a great sense of humor to his Qreamybeats produced joint, "Who?" The cut simmers with a funky but low key jazz groove before kick starting into action with the emcee's spirited flow. The playful, 2 minute nod to Mike Jones' familiar catch-phrase is exactly what we needed to hear to get us through the week. Michael Christmas has a way of cutting through the B.S. to transform any difficult situation into one that's light & breezy.
5) SEMI HENDRIX, composed of legendary emcee, RASS KASS & Grammy nominated producer, JACK SPLASH, served up some serious heat on the title track of their forthcoming album, "Breakfast At Banksy's. The brilliant rhymes and incredible beats were dope enough…but they didn't stop there. Ras Kass' sons, COAST CONTRA & 4RAX, were enlisted to add their own energy to the cut and push it over the top. Dope material! We'll have breakfast with these guys any day!
6) BOB BANNER is no stranger to our Top 10 list & now his CLOUD CITY COALITION comrade, LEGACY STARR, joins him for their new D.R.U.G.S beats produced banger, "Doing My Job." The joint is from the upcoming "Hell Of A Drug" mixtape and showcases skills galore. These guys are just doing their job. No one can do it better!
7) WORDSWORTH teamed up with BLU for a cut from his DONEL SMOKES produced collabo album, "New Beginning," and as expected with talent of this caliber, it kicks ass!!! The two lyricists deliver a Master Class in rhyming while Donel crafts memorable melodies and beats that will be cherished for years to come. "F.U."(Fingers Up)is the type of track that sneaks up on you & takes over your very being. It's soulful, cerebral and simply put…Outta sight!
8) P.SO & 2 HUNGRY BROS linked up with SUBSTANTIAL & TANYA MORGAN for a new joint & proceeded to "Go Nuts." Well, what did you expect from underground Hip Hop's cream of the crop? On this dream team track from the "Feast of Legend" EP, we're treated to a high energy display of lyrical showmanship that brings the house down. Hip Hop AND HiPNOTT don't stop!
9) ILLA J brought both the heat and vivid memories of his brother, J Dilla, with the phenomenal Potatohead People produced track, "Never Left." The cut instantly grabbed our attention with its smooth sonic backdrop & J's mellow yet captivating rhyme style. Dilla might not be here in physical form…but songs like these prove he never left.
10) There's nothing basic about VEE SKEENO's music. He's one of the most talented lyricists on the rise we've heard in a long time. Intricate, textured rhymes are often complimented with equally complex yet accessible soundscapes…and that's the case here with the artist's new "Philly Cheese Steak." Listen to the jhawkDaSoul produced track and you'll learn what quality is about. This is how it should be done!
Well, that's it for this week. Catch ya next time and…DON'T SLEEP!
– Kevin Keith
{ Comments }