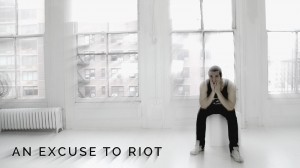 Julian Rhine is not your average musician. He is a powerhouse of kinetic energy, hell-bent on shattering the mainstream "group-think" outlook on life sold to us by the government and the media. His individuality registers with every note. Each lyric peels back another layer of this controversial artist; drawing our attention & intriguing us enough to dig deeper. It wouldn't be much of a stretch to call him a true force of nature.
"An Excuse To Riot" provides the ultimate platform for Julian's viewpoint of the world. The video features the musician railing against the corruption he has witnessed…and experienced, throughout his lifetime. People crawl, jump around and yell in apparent agony…overpowered by the weight of endless frustration and deceit that threatens to destroy them.
Other scenes showcase Julian playing the drums and guitar. We also see him sitting alone in a room…But he's never truly at peace. The viewer can feel the rage burning inside. With all of these images flashing by, the one that stands out the most would be the destruction of a TV set. It symbolizes the end of modern media as we know it. Julian Rhine's music has the potential to change things for the better. Let him lead the way.
– Kevin Keith
Check out Julian Rhine LIVE at NYC's CMJ 2014 – Fri, Oct 24, 11:59pm at The Bitter End. Go to Eventbrite for tickets & additional info.
{ Comments }