The days are getting longer. The weather is getting warmer. Spring is finally here!…and so is another Insomniac Weekly Top Ten list. You know what to do…Check it out below!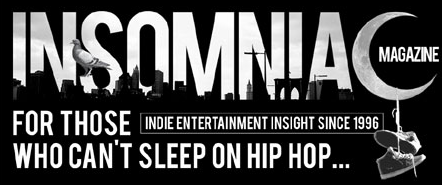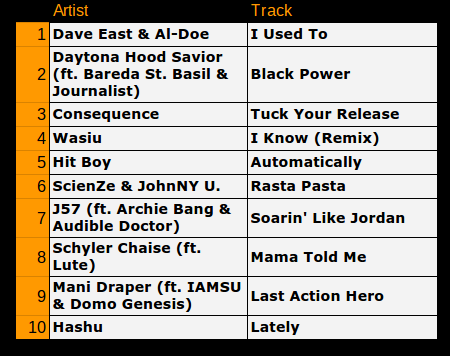 1) DAVE EAST & AL-DOE demonstrate the magic that can happen when lyrical forces from Harlem & the Bronx collaborate on a project. "I Used To" showcases triumphant, top of the line production from Sonaro who throws in a musical mother lode of electric guitar, piano, classic break beat sample, and hints of auto-tune for this underground gem. The emcees rhyme about the work they put in BEFORE Hip Hop saved the day(Yeah, THAT kind of work)! They even incorporate a catchy hook reminiscent of Dej Loaf's "Try Me" that elevates the song to another level. "I Used To" is a major win!
2) DAYTONA HOOD SAVIOR teamed up with BAREDA ST. BASIL & JOURNALIST to deliver "Black Power"…and we couldn't be more grateful! Speaking out against divisive issues in the black community over a driving, unstoppable track that will forever be imprinted in our minds is the reason this cut rides the top of the Insomniac charts. We're excited to hear more from Daytona & his crew. We know they won't let us down.
3) CONSEQUENCE went into the lab with Mike Cash & crafted some sonic funk for our eardrums. We couldn't stop nodding our heads 'cause "Tuck Your Release" bumps like nobody's business! Cons effortlessly flows over the track while letting fans know he's watching the competition. If emcees try to take his spot they'll lose because he "sleeps with one eye open like Fetty Wap." Beat that!
4) WASIU took over his Canadian comrades, Dear Lola & Thomas White's, "I Know" track and added the wit, creativity and high-spirited flow we've come to expect from the lyricist. Mood music for the soul!
5) HIT BOY enlisted SmokeyGotBeatz for production duties on "Automatically" and brought some serious heat to the table that makes us want his upcoming mixtape to drop NOW! We're lovin' the flow & reflective 90's vibe of the music.
6) ScienZe & JohnNY U. showed listeners what DOPELEAGUE was all about with this EOM produced cut called "Rasta Pasta." We played it once in the office, then played it again…and again. Each time we turned it up louder & LOUDER! Some of our staffers went deaf…but DAMN, it was worth it!
7) J57 joined forces with ARCHIE BANG & AUDIBLE DOCTOR for the new banger "Soarin' Like Jordan." The beat decimates all club and stereo speakers & leaves lesser tracks lying in its wake. Combine the music with lyricists who understand & showcase the true meaning of Hip Hop and you get a track that…SOARS!
8) SCHYLER CHAISE teamed up with LUTE and delivered a powerful new Noel Figuereo produced cut called "Mama Told Me." If this is how North Carolina gets down we need to trip there immediately!
9) MANI DRAPER joined forces with IAMSU & DOMO GENESIS for a Jake One produced cut called "Last Action Hero." It's mellow, soulful…and if you want to hear some laid back bars from three Hip Hop heavyweights, look no further.
10) HASHU expressed youthful energy AND angst on the Yacht Club produced banger "Lately." We felt the passion in his lyrics & respected the burgeoning talent of this emcee on the rise. Something tells us we'll be hearing a lot more from this lyricist. The Insomniac crew can't wait!
That's it for another week. We'll catch ya next time and…DON'T SLEEP!
– Kevin Keith
{ Comments }